Roadside kiosk
Comments

3
8,294pages on
this wiki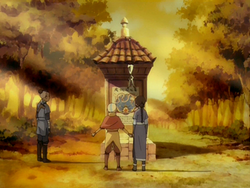 Roadside kiosk
Physical information
Government
Location on map
The
roadside kiosk
,
located
in the upper northwestern region of the
Earth Kingdom
, was a small government-built newsstand to facilitate transmission of messages by
citizens
. It was similar to a large bulletin board and was one of thousands of kiosks planted all around the country.
[1]
During the Hundred Year War, the Fire Nation occupied this area and used the kiosk for its own purposes. A variety of information was posted here, from festival flyers to wanted posters, including those of Aang, Jeong Jeong, and Chey.[2]
References
Edit