Republic City press
Comments

29
8,335pages on
this wiki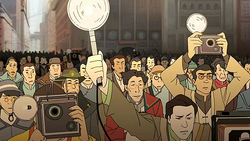 Republic City press
General information
| | |
| --- | --- |
| Purpose | To keep people informed about recent events in Republic City |
Chronological information
Being a large metropolis,
Republic City
is home to a large number of
journalists
, including reporters and photographers, who gather information about various daily events and report said events via
radio
broadcasts and
newspapers
.
After Avatar Korra officially relocated to Air Temple Island in order to commence her airbending training, she publicly announced that she would be staying there during a press conference in front of City Hall. A large crowd had gathered, and many reporters asked the Avatar about her plans for the future and how she was going to deal with the city's rampant crime and Anti-bending Revolution. During the assembly, many journalists took photographs of Korra.[1]
Republic City's journalists were also present at a gala organized by Councilman Tarrlok in the Avatar's honor at City Hall. There, Korra was bombarded with questions about Amon and the Equalists and asked why she refused to be a part of Tarrlok's task force. When one of the journalists asked Korra if she was afraid of Amon, she lost her composure and announced that she would join the task force if that was what the people of Republic City desired. Tarrlok swiftly swooped in and ended the press conference by stating that the press now had their headline.[2]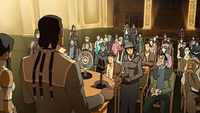 Tarrlok's task force received considerable media attention after executing its first successful raid in which several Equalist chi blockers were apprehended. Tarrlok and Korra posed together with the bound chi blockers for a gathering of photographers and many pictures ended up in the city's newspaper the following day. During a later press conference, a female journalist inquired why Korra had been unsuccessful in locating Amon. Eager to prove to herself and the city that she was not afraid of anyone, Korra promptly stepped up to the microphone and publicly challenged Amon to a midnight duel on Aang Memorial Island. After this statement, the journalists barraged Korra with questions, however, she quickly left.[2]
After the Equalists' attack on the Pro-bending Arena, Tarrlok called another press conference during which he criticized Chief Lin Beifong for her recent unsuccessful missions. When she later arrested Lau Gan-Lan outside of Cabbage Corp's headquarters for supposedly working with the Equalists, the press was ever present. Chief Beifong announced to them that Cabbage Corp would be temporarily shut down.[3] Members of Republic City's press were also present to take photographs after Team Avatar re-captured escaped chi blockers and Equalists.[4]
Following a duel between Tarrlok and Korra that resulted in major damage to City Hall, members of the press gathered to take photographs of the damage and Equalist weaponry that Councilman Tarrlok had planted to frame the Equalists for her capture. The news of the attack was then broadcast over the radio.[5] Following Tarrlok's kidnap, a picture of him appeared on the front page of the United Daily News.[6]
References
Edit
↑ "Welcome to Republic City". Michael Dante DiMartino, Bryan Konietzko (writers) & Joaquim Dos Santos, Ki Hyun Ryu (directors). The Legend of Korra. Nickelodeon. April 14, 2012. No. 1, Book One: Air
↑ 2.0 2.1 "The Voice in the Night". Michael Dante DiMartino, Bryan Konietzko (writers) & Joaquim Dos Santos, Ki Hyun Ryu (directors). The Legend of Korra. Nickelodeon. April 28, 2012. No. 4, Book One: Air
↑ "The Aftermath". Michael Dante DiMartino, Bryan Konietzko (writers) & Joaquim Dos Santos, Ki Hyun Ryu (directors). The Legend of Korra. Nickelodeon. May 19, 2012. No. 7, Book One: Air
↑ "When Extremes Meet". Michael Dante DiMartino, Bryan Konietzko (writers) & Joaquim Dos Santos, Ki Hyun Ryu (directors). The Legend of Korra. Nickelodeon. June 2, 2012. No. 8, Book One: Air
↑ "Out of the Past". Michael Dante DiMartino, Bryan Konietzko (writers) & Joaquim Dos Santos, Ki Hyun Ryu (directors). The Legend of Korra. Nickelodeon. June 9, 2012. No. 9, Book One: Air
↑ "Turning the Tides". Michael Dante DiMartino, Bryan Konietzko (writers) & Joaquim Dos Santos, Ki Hyun Ryu (directors). The Legend of Korra. Nickelodeon. June 16, 2012. No. 10, Book One: Air