Refugees
General information
Chronological information
Refugees
are citizens of the
Earth Kingdom
who fled their
Fire Nation
-
occupied
towns and villages during the
Hundred Year War
. Most of these citizens sought protection in the
capital
city,
Ba Sing Se
, the only safe place left in the
world
from the Fire Nation before it too was
captured
.
Background
Edit
To help displaced citizens reach locations such as Ba Sing Se, hidden stations and transport hubs such as Full Moon Bay were created all over the Earth Kingdom to house refugees or provide transportation.[1]
Freedom Fighters
Edit
Many young children and teenagers who lost their homes and family to Fire Nation raids and attacks banded together and formed the Freedom Fighters, a revolutionary group led by Jet, which aimed to rid the world of firebenders. Team Avatar first encountered the group when they accidentally walked into a Fire Nation camp. The gang agreed to aid the Freedom Fighters in removing Fire Nation presence from the village of Gaipan, unaware that the group was planning to blow up a nearby dam and thereby flood the village, killing both the Fire Nation soldiers and the innocent villagers. Sokka, who had suspected foulplay beforehand, discovered the plot and was able to evacuate the village in time, before he and the rest of Team Avatar abandoned the Freedom Fighters for their unjust actions.[2]
The Great Divide
Edit
Members of the Gan Jin and Zhang tribe fled their Fire Nation-occupied villages to seek refuge in Ba Sing Se. Though they initially intended to travel separately, the two tribes eventually joined together and, with the help of a canyon guide and Team Avatar, crossed the Great Divide and continued on toward the Earth Kingdom capital.[3]
Full Moon Bay
Edit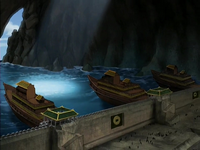 The exiled Prince, Zuko, and his uncle, Iroh, also sought refuge following their condemnation by Princess Azula. The two, under the guise of Lee and Mushi, boarded a ferry headed to Ba Sing Se along with Jet, Smellerbee, and Longshot of the Freedom Fighters. Team Avatar also made their way to Full Moon Bay with Tahn, a pregnant Ying, and his sister, hoping to reach Ba Sing Se aboard one of the bay's ferries. However, the group decided to go through the Serpent's Pass after the trio that they had met earlier desperately sought their help, as their tickets and passports had been stolen and the attendant on duty refused them any additional tickets. The group, along with Suki, eventually reached the end of the pass and continued on toward the walls of Ba Sing Se.[1]
Ba Sing Se
Edit
Many of the refugees made it to Ba Sing Se. However, once they arrived at the Earth Kingdom capital, they discovered there was not much help for them, as all the refugees were forced to live in the Lower Ring of the city, where conditions were not suitable for a prosperous lifestyle.[4]
References
Edit
See also
Edit