"Hey. I'm Qin Lee. I work up in communications."
— Qin Lee to an engineer.[1]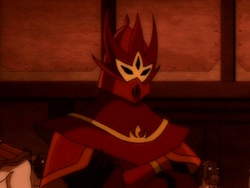 Qin Lee
Biographical information
Physical description
Personal information
Chronological and political information
Qin Lee
was a member of the
Fire Nation
Royal Procession
who worked in the communications department on a
Fire Nation airship
.
On the day of Sozin's Comet's arrival in 100 ASC, Qin Lee and the rest of the airship crew reported to the lower deck after Sokka, impersonating the captain, announced that a birthday celebration was being hosted. Qin Lee and an airship engineer from the lower decks then began a friendly, yet awkward, conversation about how they had never met because of the size of the airship. After being interrupted by an Imperial Firebender, who actually celebrated a birthday that day, a hatch opened, dropping Qin Lee, along with the other crew members, into the sea near the shore of the Earth Kingdom, near Wulong Forest.[1]
Appearances
Edit
Avatar: The Last Airbender Edit
Book Three: Fire (火)
Edit
References
Edit