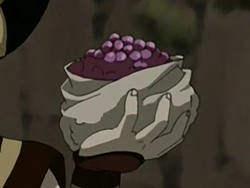 The purple berry is a sweet, succulent fruit found throughout the Fire Nation. Although harmless, it stains a person's tongue temporarily purple after being consumed and can cause a bellyache if too many are eaten.[1]
History
Upon Team Avatar's arrival in Jang Hui, Katara saw the distress of the villagers and decided to aid them, proposing that they stay another night. Sokka fiercely protested, arguing that it would severely disrupt their tight time schedule. To force them to stay, the young waterbender secretly fed Appa purple berries. The berries stained his tongue purple, making him appear sick, giving the group no choice but to stay until the sky bison recovered. Because of this, Katara was able to help the village at night while masked as the Painted Lady. Sokka later discovered her trickery when Toph accidentally ate some of the berries, which consequently dyed her tongue purple as well.[2]
References
See also
Ad blocker interference detected!
Wikia is a free-to-use site that makes money from advertising. We have a modified experience for viewers using ad blockers

Wikia is not accessible if you've made further modifications. Remove the custom ad blocker rule(s) and the page will load as expected.