"Join Amon, and together we will tear down the bending establishment!"
— The protester attempting to rally support for the Anti-bending Revolution.[1]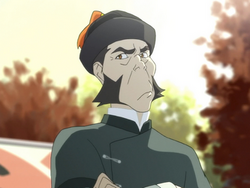 Protester
Biographical information
Physical description
Personal information
Chronological and political information
| | |
| --- | --- |
| Profession | Equalist supporter (formerly) |
Image gallery (3)
The
protester
is a non-bender who once publicly advocated the
Equalist
movement
.
[2]
[1]
Early life
Edit
The protester grew up in Republic City and from an early age had a desire to be at the center of attention. He accomplished this by vehemently challenging the opinion of the majority, including that of his parents, who were dedicated supporters of Avatar Aang despite being non-benders. His anti-bending sentiment was gradually accepted as the Equalist movement became more prevalent throughout the city, which led him to pursue his agenda full-time as a graduate student at Republic City University.[2]
Encountering Korra
Edit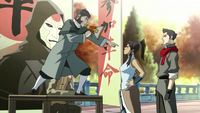 In the presence of Avatar Korra, the protester rallied several passerby at Republic City Park against the young waterbender's views. After realizing she felt compelled to contest his bold remarks about bending being "tyrannical" and that those who practiced it forced the non-benders of the city to live as "lower-class citizens", the protester focused his attention on her. Quickly singling her out as a bender herself, he used Korra's hotheaded attitude to his advantage and directed the interest of the crowd to her perceived wrongful viewpoint. In response to Korra's failure of making a strong rebuttal, the man dismissed the bender by saying her statements made no sense, followed by a roar of protest from his fellow supporters.[1]
Several days later, he encountered Korra once more at the park, this time with Mako by her side. They pressured him to reveal the location of the revelation rally, but the protester firmly denied their request. He soon called an officer to his assistance, after which Mako and Korra fled the scene.[3]
Amon's defeat
Edit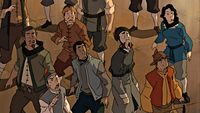 This protester was later present at the Equalist Victory Rally where he witnessed Avatar Korra accuse Amon of being a waterbender and later blast him out a window and into the harbor. He then attempted to direct the crowd's rage and anger at Korra, accusing her of being an "evil Avatar", but promptly stopped and stared with disbelief as he witnessed the revelation of Amon's waterbending abilities.[4]
Appearances
Edit
The Legend of Korra Edit
Book One: Air (气)
Edit
References
Edit
↑ 1.0 1.1 1.2 "Welcome to Republic City". Michael Dante DiMartino, Bryan Konietzko (writers) & Joaquim Dos Santos, Ki Hyun Ryu (directors). The Legend of Korra. Nickelodeon. April 14, 2012. No. 1, Book One: Air
↑ 2.0 2.1 2.2 Welcome to Republic City. Nickelodeon (April 20, 2012). Retrieved on April 20, 2012.
↑ "The Revelation". Michael Dante DiMartino, Bryan Konietzko (writers) & Joaquim Dos Santos, Ki Hyun Ryu (directors). The Legend of Korra. Nickelodeon. April 21, 2012. No. 3, Book One: Air
↑ "Endgame". Michael Dante DiMartino, Bryan Konietzko (writers) & Joaquim Dos Santos, Ki Hyun Ryu (directors). The Legend of Korra. Nickelodeon. June 23, 2012. No. 12, Book One: Air