Professor
Talk

0
9,337pages on
this wiki
"A teenager is a teenager, apparently, even if he's a head of state."
— The professor upon noticing Fire Lord Zuko's lack of attention.[1]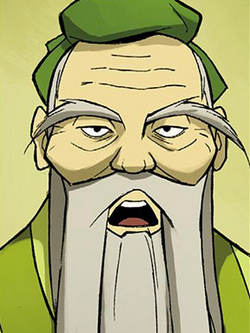 Professor
Biographical information
Physical description
Personal information
Chronological and political information
The
professor
was an academic invited by
Earth King
Kuei
to discuss the future of the
four nations
after the events of the
Battle for Yu Dao
. He was considered to be an expert on ancient
Earth Kingdom
theories of government.
History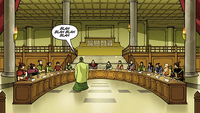 Some time after the events of the Battle for Yu Dao, the professor was asked by Earth King Kuei to give a lecture in Yu Dao on ancient theories of government, in the hopes they could be used to "build a society of the future". In attendance at his lecture, among a number of other dignitaries, were Avatar Aang, Katara, Sokka, and Fire Lord Zuko, all of whom, with the exception of Katara, showed little interest in what the professor was saying. However, his mention of the word "family" peaked Zuko's interest, and upon the Fire Lord's request, the professor reiterated an ancient Earth Kingdom philosophy regarding the nature of family and government, and how the two are invariably intertwined. Upon finishing his statement, he returned to delivering his lecture with the same monotony as before.[1]
Appearances
Graphic novel trilogies
Trivia
The philosophy the professor was explaining, regarding the connection between ruling a family and governing a state, bears similarity to Confucianism, which often compares a good head of state with a good chief of a family.

The professor also bears physical similarities to Chinese philosophers, such as Mencius and Confucius.
References
↑ 1.0 1.1 DiMartino, Michael Dante; Konietzko, Bryan; Yang, Gene (w), Sasaki of Gurihiru (p, i), Kawano of Gurihiru (col), Heisler, Michael; Comicraft (let). The Search Part 1 (March 20, 2013), Dark Horse Comics