"Poor Toph. She must be so scared."
— Poppy Beifong regarding her daughter.[1]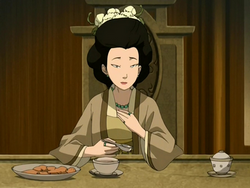 北方罌粟
Poppy Beifong
Biographical information
Physical description
Personal information
Chronological and political information
Image gallery (3)
Poppy Beifong
was
Toph
's mother and a
wealthy, high-status figure
in
Gaoling
. Like her
husband
, Poppy cared deeply for her daughter, but was far too protective of her, unwilling to acknowledge what she was capable of.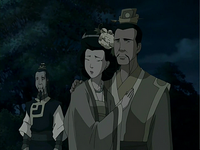 Poppy and Lao failed to recognize what was best for Toph and believed her blindness was a handicap that made her weak and fragile. Due to this fear, Poppy was unaware of Toph's prodigious earthbending skills. When Toph and Aang were kidnapped by Xin Fu and his men, Poppy worried about her daughter's safety; after both had been saved, she sided with Lao in his increased fear for their daughter after her husband had witnessed Toph's mastery of earthbending. Realizing that she was a master earthbender only reinforced in her mind that Toph should be guarded even more closely. While Poppy did love Toph, she was extremely overprotective, prompting her daughter to run away from home to become Aang's earthbending teacher. Poppy and Lao assumed she was kidnapped by Aang and commissioned Xin Fu, the promoter of the Earth Rumble VI tournament, and Master Yu, Toph's earthbending teacher, to do "whatever it [took] to bring her home".[1] An endearing letter was forged in her name by Xin Fu and Master Yu when Toph was in Ba Sing Se, drawing her in so they could imprison her and take her back home.[2] Toph later asked Katara to help her write a letter to both her parents using Sokka's messenger hawk.[3]
Personality
Edit
Poppy Beifong was a very cheery and polite woman. Poppy cared deeply for her daughter and only wished for her safety, but she was far too overprotective of her, even going as far as hiding her existence from the rest of the town. She also seemed to be somewhat simple-minded, and preferred to be submissively supportive of her husband's decisions regarding the care of their daughter rather than making decisions herself.
Relatives
Edit
Appearances
Edit
Avatar: The Last Airbender Edit
Book Two: Earth (土)
Edit
According to Toph's passport[4] and the fake letter from her mother,[2] "Beifong" is written as 北方. "Poppy" is written in Chinese as

罌粟

.
Poppy bore a slight resemblance to Toph, more so while Toph was in her dress. However, she had a stronger resemblance to her granddaughter, Lin Beifong.
References
Edit