"You used to be the pride of the Fire Nation: Our top general, the Dragon of the West. Now, look at you. Look what you've become."
— Warden Poon to Iroh.[1]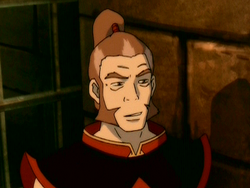 Poon
Biographical information
Physical description
Personal information
Chronological and political information
| | |
| --- | --- |
| Profession | Military official |
Warden Poon
was the warden of the
Capital City Prison
near the
Fire Nation Capital
. He was known to be a tough, insulting warden who bore little to no respect for the criminals under his watch. He especially despised
General
Iroh
, because he was a traitor to the
Fire Nation
. He saw Iroh as nothing more than a weak, washed-up, lazy, and wretched old man content to grovel in his own filth. Warden Poon spent most of his days walking up and down the prison corridors and verbally assaulting the prisoners in order to break their spirits.
[2]
Before and during the Invasion of the Fire Nation, Poon harassed Iroh because of the latter's military disgrace at Ba Sing Se.[1][3] He was also confident that Iroh would never escape the prison and was doomed to rot in his cell, never realizing that, the entire time, Iroh had been physically conditioning himself, and faking insanity in the process. During the Day of Black Sun, Iroh, having regained his previous fitness, succeeded in breaking himself out of the prison. Evidently, Poon and Iroh fought each other almost immediately after Iroh busted himself out, as Zuko found Poon lying on the floor, dazed and unable to stand. Poon told Zuko upon arrival that he had "never seen anything like it", and that Iroh had fought like a "one-man army".[4]
Appearances
Edit
Avatar: The Last Airbender Edit
Book Three: Fire (火)
Edit
References
Edit