"We're so thankful you're home safe."
— Pema to Korra during her recovery.[1]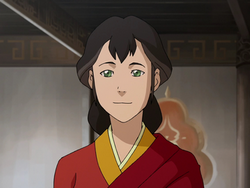 Pema
Biographical information
Physical description
Personal information
| | |
| --- | --- |
| Allies | Tenzin, Jinora, Ikki, Meelo, Rohan, Katara, Korra, Lin Beifong, Air Acolytes, Team Avatar, Bumi, Kya |
Chronological and political information
| | |
| --- | --- |
| Affiliation | |
Image gallery (13)
Pema
is the wife of
Tenzin
and the mother of their four children:
Jinora
,
Ikki
,
Meelo
, and
Rohan
. She is a non-
bending
Air Acolyte
who lives a serene life with her family on
Air Temple Island
. She is significantly younger than Tenzin and is kind and compassionate, with a lovely sense of humor. She enjoys spending time with spiritual endeavors and at times feels overwhelmed by her rambunctious children's
airbending
abilities.
[2]
Prior to 160 ASC, Pema decided to become an Air Acolyte, and during her time on Air Temple Island, she fell in love with Tenzin. However, he was in a relationship with Lin Beifong, which was starting to falter due to their different goals in life. Unable to bear seeing her true love spend his life with another woman, Pema confessed her love to the airbender, who broke off his relationship with Lin. The police chief attempted to put Pema in jail following this, but was unsuccessful.[3] Pema and Tenzin later married and started their family.[4]
When Pema traveled to the South Pole with her family to see Katara and Avatar Korra, she expressed to her mother-in-law her frustration about having only airbender children, as well as her desire for her fourth child to be a non-bender.[5]
Later, Korra journeyed to Pema's family's home and stayed with them for several months in order to complete her airbending training. The impetuous teenager turned Pema's quiet life upside down.[6]
When Korra did not come to dinner one night, a frustrated Tenzin confessed to Pema that he did not know how to get through to Korra. She comforted her husband by telling him that the best thing he could do for Korra at the time was to give her some space.[7]
When Councilman Tarrlok visited Pema and her family at dinner, she gave her husband a look of irritation, but after the waterbender noted that airbenders never send away a hungry guest, Tenzin reluctantly allowed him stay, much to Pema's discontent. She later attended a gala Tarrlok threw in honor of Korra along with her family at City Hall.[8]
While Korra was talking with Jinora and Ikki about how to approach Mako, Pema appeared from behind. Korra asked her how long she had been there, to which Pema replied that it had been enough time to understand the situation. She then told Korra the story behind herself and Tenzin's relationship, and advised the Avatar to be honest about her feelings, as she had been with Tenzin.[4]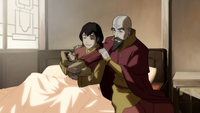 After Korra escaped from Tarrlok's hideout, she returned to Air Temple Island where Pema welcomed her with a hearty meal. After the dinner, Pema and Asami washed the dishes, and when Mako entered requesting more tea for Korra, Asami seemed angry with him, urging Pema to leave to allow them to talk things over. Later, as the Equalists began attacking Republic City, Pema gave birth to her fourth child, naming him Rohan. The family fled Air Temple Island minutes after the birth, heading to safety away from the city in order to preserve the Air Nomad race.[1]
Pema was later imprisoned by Amon along with the baby, while her husband and children were captured. She was later rescued and reunited with her family, after which they welcomed Tenzin's brother, Bumi. She joined her family and friends in a journey to the South Pole in hopes that Katara could restore Korra's bending, and eventually spectated Korra restoring Lin's earthbending at the Avatar Temple.[9]
Personality
Edit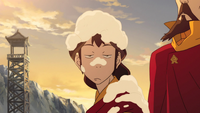 Pema is usually a serene, understanding, and happy person who assists her husband in his times of confusion or indecision.[7] However, she has expressed her slight annoyance with having children who are airbenders instead of "nice, non-bender[s]" like her.[5] Pema has also admitted that she was once a very shy individual,[4] which seems to have changed since her younger years, given that she was able to confess her love to Tenzin.

Relatives
Edit
Appearances
Edit
The Legend of Korra Edit
Book One: Air (气)
Edit
Pema is a Tibetan name meaning "lotus".
Pema shares her name with various important Tibetan Buddhist figures, including:

The Tibetan Buddhist nun, author, and teacher Pema Chödrön,
The birthname of Gendun Drup, the first Dalai Lama in Tibetan Buddhism, was Pema Dorje.
The sister of the 14th and current Dalai Lama, Pema Jetsun.

She is the first known non-bender to give birth to an airbender.
Pema's voice actor, Maria Bamford, also voiced the fan girl in "A Leaf in the Wind", as well as the Air Acolyte woman and the police woman in "Turning the Tides".
In the Greek dub of The Legend of Korra, Pema is voiced by the same voice actor that provides the voice of Asami.
References
Edit
↑ 1.0 1.1 "Turning the Tides". Michael Dante DiMartino, Bryan Konietzko (writers) & Joaquim Dos Santos, Ki Hyun Ryu (directors). The Legend of Korra. Nickelodeon. June 16, 2012. No. 10, Book One: Air
↑ 2.0 2.1 2.2 Welcome to Republic City. Nickelodeon (April 6, 2012). Retrieved on April 6, 2012.
↑ "And the Winner Is...". Michael Dante DiMartino, Bryan Konietzko (writers) & Joaquim Dos Santos, Ki Hyun Ryu (directors). The Legend of Korra. Nickelodeon. May 12, 2012. No. 6, Book One: Air
↑ 4.0 4.1 4.2 "The Spirit of Competition". Michael Dante DiMartino, Bryan Konietzko (writers) & Joaquim Dos Santos, Ki Hyun Ryu (directors). The Legend of Korra. Nickelodeon. May 5, 2012. No. 5, Book One: Air
↑ 5.0 5.1 "Welcome to Republic City". Michael Dante DiMartino, Bryan Konietzko (writers) & Joaquim Dos Santos, Ki Hyun Ryu (directors). The Legend of Korra. Nickelodeon. April 14, 2012. No. 1, Book One: Air
↑ Tenzin from Legend of Korra. Nickelodeon. Retrieved on February 25, 2012.
↑ 7.0 7.1 "A Leaf in the Wind". Michael Dante DiMartino, Bryan Konietzko (writers) & Joaquim Dos Santos, Ki Hyun Ryu (directors). The Legend of Korra. Nickelodeon. April 14, 2012. No. 2, Book One: Air
↑ "The Voice in the Night". Michael Dante DiMartino, Bryan Konietzko (writers) & Joaquim Dos Santos, Ki Hyun Ryu (directors). The Legend of Korra. Nickelodeon. April 28, 2012. No. 4, Book One: Air
↑ "Endgame". Michael Dante DiMartino, Bryan Konietzko (writers) & Joaquim Dos Santos, Ki Hyun Ryu (directors). The Legend of Korra. Nickelodeon. June 23, 2012. No. 12, Book One: Air