"How do we know you're not Fire Nation spies? Kyoshi stayed out of the war so far. And we intend to keep it that way!"
— Oyaji suspicious of Team Avatar.[1]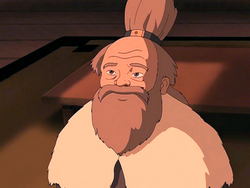 親父
Oyaji
Biographical information
Physical description
Personal information
Chronological and political information
| | |
| --- | --- |
| Profession | Government official |
Image gallery (1)
Oyaji
was the leader of a village on
Kyoshi Island
. When
Aang
and
his friends
first arrived on the island, he was initially distrustful of them, believing them to be Fire Nation spies and wishing for Kyoshi Island to maintain its neutrality in the
Hundred Year War
. However, he later stood beside them, and helped get his people to safety when the
Fire Nation
attacked.
Oyaji was appointed to the position of village leader around 79 ASC, twenty years before Team Avatar's arrival.[2]
When Avatar Aang, Katara, and Sokka came to Kyoshi Island, Oyaji, Suki, and the other Kyoshi Warriors were initially suspicious of Aang, but they believed that he was the Avatar once he displayed airbending abilities. He was later seen running to Sokka and the other Kyoshi Warriors, appealing to them for help as Prince Zuko and his troops were approaching. He later quietly thanked Aang after the latter used the unagi to extinguish the fires, a result of the fight between Aang and the Kyoshi Warriors and the Fire Nation.[1]
A few months later, he helped Katara and Sokka in their quest to clear Aang's name. He explained the legend surrounding Avatar Kyoshi's weapons and clothing while sternly trying to keep the siblings from touching them, and explained the meaning of the picture "Birth of Kyoshi". He also informed Sokka about Suki's departure from Kyoshi Island and the influence the group had on her.[3]
Appearances
Edit
Avatar: The Last Airbender Edit
Book One: Water (水)
Edit
Book Two: Earth (土)
Edit
The word Oyaji (親父) is an informal Japanese word meaning "dad", "daddy", "father", "old man", and a number of other ways of referring to a male parent or older relative.
Oyaji was voiced by James Sie, who also voiced the cabbage merchant in the original series, and later Lau Gan-Lan in The Legend of Korra.
He was proud of the fact that Kyoshi Island had stayed out of the war and was wary of outsiders who might threaten the island's peace.[2]
References
Edit