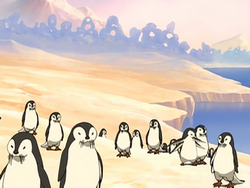 Otter penguin
General information
Chronological information
The
otter penguin
is an
animal
native to the
South Pole
and used for
recreation
by its inhabitants.
[1]
After being released from the iceberg, Aang's first request was if Katara would go penguin sledding with him, something she confusedly accepted. Later, upon seeing an otter penguin, a fascinated Aang immediately chased after it. Katara found him attempting to catch the animals, though with little luck. With Katara's help, he used fish to bait the penguins, and managed to catch one to go sledding on, after being nearly trampled by the hungry creatures. Katara caught herself a penguin as well and joined Aang to go sledding. As the two reached the end of the slope, their otter penguins tottered back up to the rest of the colony.[2]
Aang later rode an otter penguin while returning to the Southern Water Tribe village after being banished, in order to save the residents from Zuko.[3]
The otter penguin is an aquatic, flightless, mammal-like bird found mainly in the South Pole. It has four flippers and is approximately as tall as a human teenager. The creature's face is somewhat otter-like, with a small black nose and whiskers. It has a short neck that is almost indistinguishable from its chest, and its feet are webbed. The penguin's coloration is counter shaded, meaning its back, tail, flippers, and head are black, while its underbelly is white.[2]
Behavior
Edit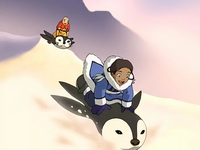 Although a bit clumsy on land, otter penguins are very talented and graceful swimmers. They love sliding down the icy shelves and hills of the poles, with or without a human passenger. Their smooth, oily feathers protect them from the cold water and also allow them to slide down icy slopes. Using the creature as a sled is a common recreational activity in the Southern Water Tribe. The animal does not seem to mind this since it enjoys sliding down the ice in this manner, and the added weight allows it to slide faster than normal. The otter penguin travels in large groups when on land. Although it will flee if chased, it can easily be lured with fish. The otter penguin is carnivorous, and its diet mostly consists of fish. It has one major natural predator, the tiger seal.[1]
Connection
Edit
The otter penguin in the World of Avatar in many ways resembles the real world penguin, specifically the emperor penguin and other larger breeds. The primary differences between the otter penguin and the real world penguin are the former's two extra flippers and otter-like face. Real world penguins are birds and thus have beaks and feathers.
References
Edit
See also
Edit