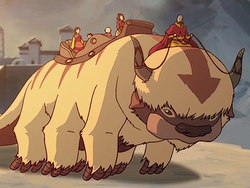 Oogi
Biographical information
Physical description
| | |
| --- | --- |
| Skin color | White and brown |
Personal information
| | |
| --- | --- |
| Allies | Tenzin, Pema, Jinora, Ikki, Meelo, Rohan, Korra, Mako, Bolin, Asami Sato, Lin Beifong |
| | |
| --- | --- |
| Weapon of choice | Air, body bulk |
Chronological and political information
Image gallery (5)
Oogi
is a
flying bison
owned by
Tenzin
and his family.
[1]
He is a descendant of a group of flying bison found by
Avatar
Aang
after the species was thought to be extinct due to the Hundred Year War.
Oogi carried Tenzin and his family as they traveled to the Southern Water Tribe to meet Korra, at which point Tenzin informed her that he would be unable to train her due to his responsibilities in Republic City. Oogi was also used to fly the family back to Air Temple Island.[1]
Oogi later flew Tenzin and Korra back to Air Temple Island under the command of the airbending master.[2]
When Korra went missing, Tenzin, Lin Beifong, and Team Avatar used Oogi to search for her.[3]
Following an assault of the island by Equalist forces and the birth of Tenzin and Pema's fourth child, Rohan, the entire family fled their home on the trusty sky bison.[4]
Following the defeat of Amon and the Equalists, Oogi was last seen sleeping peacefully in front of Katara's house in the Southern Water Tribe.[4]
Appearances
Edit
The Legend of Korra Edit
Book One: Air (气)
Edit
Oogi responds to the command "yip yip", just like Appa did in the original series.
When Sokka witnessed Katara and Aang in their relationship (as seen in The Promise Part 1 and Part 2), he stated that it gave him the "oogies".
References
Edit
↑ 1.0 1.1 "Welcome to Republic City". Michael Dante DiMartino, Bryan Konietzko (writers) & Joaquim Dos Santos, Ki Hyun Ryu (directors). The Legend of Korra. Nickelodeon. April 14, 2012. No. 1, Book One: Air
↑ "When Extremes Meet". Michael Dante DiMartino, Bryan Konietzko (writers) & Joaquim Dos Santos, Ki Hyun Ryu (directors). The Legend of Korra. Nickelodeon. June 2, 2012. No. 8, Book One: Air
↑ "Out of the Past". Michael Dante DiMartino, Bryan Konietzko (writers) & Joaquim Dos Santos, Ki Hyun Ryu (directors). The Legend of Korra. Nickelodeon. June 9, 2012. No. 9, Book One: Air
↑ 4.0 4.1 "Turning the Tides". Michael Dante DiMartino, Bryan Konietzko (writers) & Joaquim Dos Santos, Ki Hyun Ryu (directors). The Legend of Korra. Nickelodeon. June 16, 2012. No. 10, Book One: Air
See also
Edit