Old Fire Nation civilian
Comments

5
8,312pages on
this wiki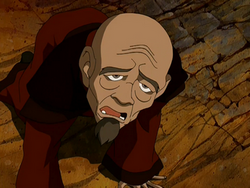 Old Fire Nation civilian
Biographical information
Physical description
| | |
| --- | --- |
| Hair color | Bald (formerly brown) |
Personal information
| | |
| --- | --- |
| Allies | Fire Nation, Sokka |
Chronological and political information
| | |
| --- | --- |
| Position | Fire Nation citizen |
| | |
| --- | --- |
| First appearance | "Jet" (only appearance) |
The
old civilian
[2]
was a citizen of the
Fire Nation
living in the
Earth Kingdom
town of
Gaipan
during the
Hundred Year War
. He was attacked and mugged by
Jet
and the other
Freedom Fighters
while traveling through the woods near his town.
[1]
Shortly after Team Avatar met Jet and his Freedom Fighters, Sokka joined them on a stakeout mission in the forest. He alerted the Freedom Fighters of the approach of a possible enemy, but urged the gang to call off the attack after discovering that the "enemy" was just a harmless old man. However, Jet leapt from the tree, and proceeded to land in front of the civilian, knocking his cane out of his hands. When the elderly man attempted to escape, he ran into the large body of Pipsqueak and fell to the ground, prompting the leader of the Freedom Fighters to roughly ask him if he liked to destroy towns and families. Just as Jet was about to kick the suffering civilian, Sokka intervened, arguing that he was "just a harmless old man". After the Freedom Fighters had mugged the man, they left him on the path in the middle of the forest, helpless and alone. Back at the Freedom Fighters' hideout, Sokka confronted Jet about his actions, and Jet gestured to a knife with a vial of poison in the handle, claiming the old civilian was an assassin sent to murder him.[1]
Jet then proceeded with his plan to eradicate all the Fire Nation soldiers by flooding the nearby village. After escaping from Pipsqueak and Smellerbee, Sokka attempted to warn the villagers about the impending attack, but no one believed him, and the soldiers even suspected that he was a spy. However, the elderly civilian vouched for Sokka and urged the others to trust him. Together, they were able to evacuate the village just before Jet destroyed the dam, effectively flooding and destroying the town.[1]
Appearances
Edit
Avatar: The Last Airbender Edit
Book One: Water (水)
Edit
References
Edit