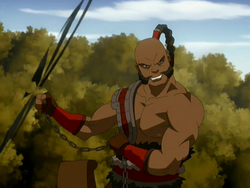 窝阔台
Ogodei
Biographical information
Physical description
Personal information
| | |
| --- | --- |
| Weapon of choice | Meteor hammer or bogo |
| | |
| --- | --- |
| Fighting style(s) | Melee style |
Chronological and political information
| | |
| --- | --- |
| Position | |
Image gallery (2)
Ogodei
was a member of a
Fire Nation
cavalry unit known as the
Rough Rhinos
.
[1]
He was a master of his preferred
weapon
: a bolo,
[2]
or chains. He was, along with the rest of the Rough Rhinos, responsible for destroying
Jet
's home village and causing the death of his parents.
[3]
In 91 ASC, he and the other members of the Rough Rhinos attacked the village where Jet was living. The team killed Jet's parents and destroyed the village, causing Jet to have a strong hatred for the Fire Nation for years after.[3]
In the spring of 100 ASC, Ogodei took part in the ambush of Aang and his friends while they were camping in a forest near Chin Village. As the three friends were making their escape, Aang and Katara realized that they had left some priceless possessions behind, his staff and her waterbending scrolls respectively. As Aang made a break for his staff, Ogodei attempted to stop him by swinging his ball and chain around a tree and pulling it down in the Avatar's path, but the young airbender nimbly jumped over it. The group eventually managed to escape on Appa, but they left Sokka's boomerang as a consolation prize.[4]
A few days later, the Rough Rhinos endeavored to capture the Earth Kingdom's Chin Village, the town near which they had fought Team Avatar, in honor of Fire Lord Ozai. During this attempted take-over, he used his weapon to assault Katara, but she easily defended herself by knocking away the weapon with a water whip. The chain wrapped itself around Ogodei. As he was bound and made helpless by his own weapon, Katara whipped his komodo rhino with her water, causing it to race off.[4]
Later that spring, the Rough Rhinos ran into Iroh and Zuko. Ogodei swung his ball and chain at Iroh, who kicked it away. The ball redirected and wrapped its chain around the foot of Kahchi's rhino. Iroh swatted the rear of the rhino that had been chained. The beast ran off while dragging Ogodei, who had one end of the chain attached to his belt, along with him. Iroh waved goodbye as he watched them go.[5]
Appearances
Edit
Avatar: The Last Airbender Edit
Book Two: Earth (土)
Edit
Avatar comics Edit
Book Two: Earth (土)
Edit
Ogodei's attire bore resemblance to the Fire Nation engineers who worked on the Fire Nation drill.[6]
Ogodei was seen twice attacking people directly with his ball and chain and both times, he was defeated by his own weapon.
In the comic "Sokka the Avatar", Ogodei is shown wielding a halberd, Kahchi's typical weapon, while Kahchi is shown using bogo chains, Ogodei's typically weapons.
References
Edit