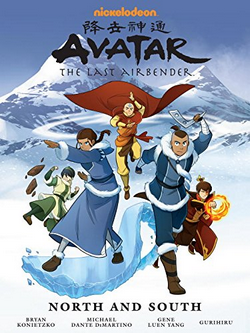 North and South is a trilogy of comic books set in the Avatar universe, continuing on from the events of Smoke and Shadow. Like its predecessors, North and South is written by award-winning comic author Gene Luen Yang, illustrated by Gurihiru, and published by Dark Horse Comics. Part 1 was released in comic book stores on September 28, 2016, and in mass market retailers on October 11, 2016. Part 2 was released in comic book stores on January 25, 2017, and in mass market retailers on February 7, 2017. Part 3 was released in comic book stores on April 26, 2017, and in mass market retailers on May 9, 2017. The library edition is scheduled for release in mass market retailers on November 7, 2017.[1]
The North and South trilogy includes:
Plot
When Aang leaves to aid Fire Lord Zuko with spiritual affairs in the Fire Nation, Katara and Sokka return to the Southern Water Tribe by themselves, where they are shocked to discover that their village has become a bustling city, with Hakoda in charge. The changes seem to have largely been due to the efforts of Malina, a member of the Northern Water Tribe who is seemingly striving for greater unification of the Water Tribes, but has unknown intentions.[1]
Trivia
This is the second graphic novel series of the franchise to have neither a two-worded title nor contain the word "the", the first being the Smoke and Shadow trilogy.
References
See also
Ad blocker interference detected!
Wikia is a free-to-use site that makes money from advertising. We have a modified experience for viewers using ad blockers

Wikia is not accessible if you've made further modifications. Remove the custom ad blocker rule(s) and the page will load as expected.