| | |
| --- | --- |
| | I am a 400 foot tall purple platypus bear with pink horns and silver wings. |
"Ha! Thanks for your patience, young ones! I think you will agree it was worth the wait."

— Old Man Yahshi to Team Avatar.
"New Recruits" is a comic book that takes place in Book Two: Earth, originally released in the December/January 2007 issue of Nickelodeon Magazine[1] and later released by Dark Horse Comics in Avatar: The Last Airbender — The Lost Adventures. It is considered non-canon due to its placement under the "Bonus Stories" section of The Lost Adventures.
Overview
The gang goes to a local Earth Kingdom tavern in search of some new recruits and allies to join them in their fight against the Fire Nation.
Synopsis
Aang, Katara, Sokka, and Toph apprehensively sit in wait at a bar for a talent scout who is supposed to bring potential recruits for Team Avatar. The scout, Yahshi, arrives and introduces four children: Analay, a shadowbender, who demonstrates her power by entangling Aang around a pillar with her shadow. The next potential recruit is Hiroshi, an earthbender who creates a rock dragon and is popular with Toph. The third child that Yahshi scouted is Visola of the North, a self-taught waterbender with customized weapons, who shows Katara how to surf on a self-made wave. Riley, the fourth and final child, is a skilled bender of cookie dough, causing Sokka to like him immediately. After debating in private who is worthy of entering Team Avatar, Aang sees that the four candidates are leaving the bar. When he asks Yahshi where they are going, the old man figures that they did not like being judged and are now in their own group.
Production notes
Nickelodeon Magazine write-in contest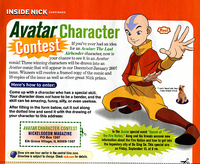 Goofs
Momo appears in the first panel of the comic and is nowhere to be found afterward.
References
See also