New Moon Celebration
Comments

21
8,319pages on
this wiki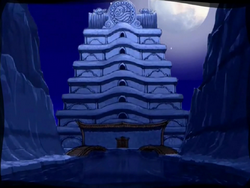 The New Moon Celebration was an annual festival held between the Northern and Southern Water Tribes during the antebellum period before the Hundred Year War. It was a commemoration held to reunite the two polar Water Tribes. Considering Avatar Kuruk's allegory while talking to Aang in the Spirit World, the celebrations were seemingly scheduled to correspond with a new moon. The only reference to the festival is from Kuruk's youth, from some unspecified time before 312 BSC.[1]
Due to the loss of communication between the sister tribes, there has been no known celebration since the beginning of the War.[2]
When Avatar Kuruk was young, he was proud, arrogant, and boastful. He never thought about settling down until he met the love of his life, Ummi, at one of the New Moon Celebrations held at the Northern Water Tribe. He stated that it was "love at first sight", and soon after, they were engaged to be married, but their relationship came to an end on the night of their wedding, following Ummi's capture at the hands of Koh.[1]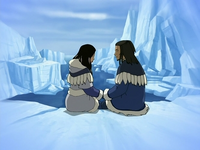 The New Moon Celebration was a time when the Northern and Southern Water Tribes could unite. Family and friends separated by miles of land and sea, literally on opposite sides of the globe, were able to see each other and reunite during these festivals. Judging from the single festival presented, there was a certain air of formality and spirituality present during these festivities. Many tribesmen dressed up for the occasion.
The festivals were essentially a social function. Tribe members from opposite sides of the world would meet here for the first time. This promoted inter-tribal and dynamic relations, interchanging gene pools and providing for a fluid cultural exchange. The meeting of the Tribal chiefs also allowed several discussions of matters and traditions to take place.
Appearances
Edit
Escape from the Spirit World Edit
References
Edit
See also
Edit