"My best friend. And a great tracker."
— Korra to Mako about Naga.[1]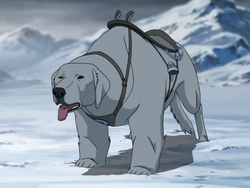 Naga
Biographical information
Physical description
Personal information
| | |
| --- | --- |
| Allies | Korra, Bolin, Mako, Pabu, Tenzin, Pema, Jinora, Ikki, Meelo, Rohan, Asami Sato, Tonraq and Senna, Katara, more... |
Chronological and political information
Image gallery (26)
Naga
is a female
polar bear dog
that belongs to
Avatar
Korra
as her
animal companion
and main form of
transportation
.
[2]
Despite her intimidating appearance, she is described as a "sweetheart"
[3]
and is regarded as Korra's best friend. Undyingly loyal, she is very protective of Korra and has learned how to use her strength to help her out of perilous situations.
[4]
When she was just a puppy, Naga became lost in the tundra around the Southern Water Tribe, until she was found and eventually befriended by a young Korra.[5] She subsequently became the Avatar's animal guide, best friend and main form of transportation. The animal proved to be quite agile, able to dodge moving cars at high speed and move quickly enough to keep up with them.[2]
In 170 ASC, Naga accompanied Korra to Republic City, where the polar bear dog caught some fish from the pond in the city's park after she was denied food from a stand by a broke Korra. As a guard rushed toward Korra, telling her that fishing was not allowed, the Avatar escaped on Naga. She later helped Korra evade arrest by the Metalbending Police Force, but she and the Avatar were eventually captured and sent to the police headquarters.[6]
While attempting to find Bolin, Naga was capable of sustaining a fast pace while chasing an Equalist convoy consisting of a truck and motorcycles. When Korra and Mako had their chi blocked and found themselves surrounded, Naga bit through her bindings, and she and Pabu scared the Equalists away, allowing the two to escape.[1]
While Korra and Bolin were enjoying dinner at Narook's Seaweed Noodlery, they were approached by Tahno. He and Korra began trash-talking each other, and the pro-bender attempted to provoke the Avatar into a fight. Since the Fire Ferrets would be disqualified from the Pro-bending Tournament if she were to lay a hand on him outside of the arena, the Avatar called Naga instead, who intimidated the Wolfbats' waterbender with a loud roar.[7]
When the Fire Ferrets found out that Amon had threatened the United Republic Council to shut down the Pro-bending Arena or face severe consequences, the team rode on Naga to City Hall so they could speak with the Council.[8]
Days later, Naga awaited the arrival of Mako, Bolin, and Asami to Air Temple Island, along with Korra and the three airbending children. Pabu arrived on the island as well, and she was greeted by the ferret with a paw to her nose. However, their peaceful greeting was soon interrupted by an excited Ikki who wanted to catch Pabu. With Ikki on his trail, Pabu ran several times underneath Naga. Meanwhile, Meelo had perched himself upon her head and was pulling her ears and imploring her to fly like a flying bison. Naga let this all pass by her and she did not react to it in the slightest. When Ikki and Meelo had enough of the two animals, they started playing with each other, Naga happily chasing Pabu across the temple's courtyard.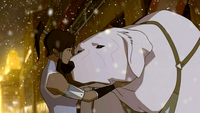 Later that evening, when Mako, Bolin, Asami, and Korra had formed an official alliance, they all attempted to sit on Naga's back at the same time and use her as method of transportation to patrol Republic City. However, when Bolin jumped on her back, the foursome proved to be too heavy for her and Naga bent over, effectively throwing her riders off her back.
During the night, Naga slept in Korra's room, but was woken by her master who needed transportation to City Hall. Although concerned, Naga complied to Korra's order and waited outside.[9]
While Korra was being held captive by Tarrlok, Naga tracked her to the area where she was. Naga found her in the snow after Korra had escaped. She then proceeded to carry an exhausted Korra back to Republic City on her back, where the rest of Team Avatar found her.[10]
When the Equalists attacked Republic City, Naga carried Team Avatar from Air Temple Island as they went into hiding to await the arrival of the United Forces. As they made their escape, Naga hit the Lieutenant as he attempted to attack them, knocking him down a long drop. The polar bear dog then carried the team by swimming to the mainland, where they hid within the city's underbelly.[11]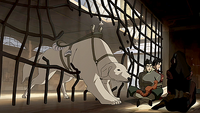 When Mako and Korra split up from Asami, General Iroh, and Bolin underneath the city, Korra let Bolin's group take Naga because she would be handy in the mountains. When Bolin, Iroh, and Asami reached the Equalist biplane base, Naga and Pabu waited on the other side of the fence. Asami was curious why there were fence posts, but no fencing. They walked by the fence posts, only to be electrocuted. When they woke up, the group was in a jail cell in the base. Iroh asked Bolin if he knew how to metalbend, as he was an earthbender. Bolin said no, but soon enough, Naga came to the rescue and knocked down the jail cell bars.
At this point, the Equalist airplanes began to take off. Iroh went after the airplanes while Bolin set off for the runways, destroying them with earthbending. As he was tearing apart the runways, several mecha tanks came and shot rope claws at him. Naga once again came to the rescue, grabbing the ropes and using them to swing the mecha tanks around, destroying them. At that point, another mecha tank battle was also brewing; Asami and her father, both in mecha tanks, were in a duel in one of the airplane shelters. Hiroshi had the upper-hand, but was stopped by Naga and Bolin.
Naga journeyed with Korra and her friends back to the South Pole, where Katara unsuccessfully tried to restore her ability to bend water, earth, and fire. Korra then rode Naga toward a cliffside, where she was contacted by Avatar Aang's spirit, who restored her bending. Naga was later present when Korra used energybending to restore Lin Beifong's earthbending and metalbending.
Abilities
Edit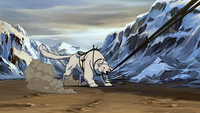 Naga is a fast and strong polar bear dog. She is an adept fighter and has saved the members of Team Avatar on many occasions. Several times, Naga has displayed powerful abilities, such as when she used her fierce strength to destroy the bars of the jail cell at the Equalist biplane base, or when she used her strength to pull three mecha tanks away from Bolin and destroy them. She has displayed her speed many times as well, most notably when she was chasing after the Equalists that took Bolin, and when she was running with Korra outside the Southern Water Tribe compound. Naga also appears to have an exceptional sense of smell, being able to track Korra after Tarrlok had kidnapped her and taken her to the mountains.

Relationships
Edit
Main article: Naga's relationships
Appearances
Edit
The Legend of Korra

Book One: Air (气)
Korra and Naga greatly resemble San from Princess Mononoke and her wolf foster-brothers and foster-mother, the wolf goddess Moro, in both posture and physical traits, especially when the human character rides the mythical creature. Both human characters possess powers beyond ordinary humans. The creators admitted to having been inspired by Hayao Miyazaki's movies when creating Avatar: The Last Airbender.[12]
Naga was based off the original early concepts of an anthropomorphic polar bear dog traveling with Aang that eventually evolved into Appa.

Coincidentally enough, Naga seems to serve a similar role in the Legend of Korra that Appa did in The Last Airbender.

The kangal, which is a breed of dog in the real-world, served as a partial basis for Naga.[13]

Naga also somewhat resembles the Great Pyrenees, a large dog which usually has pure white fur.

Naga is the Sanskrit and Pāli word for the serpentine deities of Buddhist and Hindu mythology.
Naga is an anagram of Aang.
Naga is the first known polar bear dog to ever be tamed.[4]
The symbol on Naga's chest is the same symbol that Tonraq wears on his chest.
Naga is modeled after the creators' dogs, who are brothers.[14]
Naga is the only animal companion of an Avatar introduced that is not able to fly or bend, as well as the only female animal.
Naga is the smallest animal companion to the Avatar shown so far, with Appa and Fang being noticeably larger.
A chibi version of Naga can be seen in Republic City Run and in Super Mini Puzzle Heroes .
References
Edit
↑ 1.0 1.1 "The Revelation". Michael Dante DiMartino, Bryan Konietzko (writers) & Joaquim Dos Santos, Ki Hyun Ryu (directors). The Legend of Korra. Nickelodeon. April 21, 2012. No. 3, Book One: Air
↑ Welcome to Republic City. Nickelodeon (April 20, 2012). Retrieved on April 20, 2012.
↑ 4.0 4.1 Naga from Legend of Korra. Nickelodeon. Retrieved on March 2, 2012.
↑ Evan Narcisse. The Legend of Korra - The Art of the Animated Series, Book One: Air. Retrieved on February 6, 2013.
↑ "Welcome to Republic City". Michael Dante DiMartino, Bryan Konietzko (writers) & Joaquim Dos Santos, Ki Hyun Ryu (directors). The Legend of Korra. Nickelodeon. April 14, 2012. No. 1, Book One: Air
↑ "The Spirit of Competition". Michael Dante DiMartino, Bryan Konietzko (writers) & Joaquim Dos Santos, Ki Hyun Ryu (directors). The Legend of Korra. Nickelodeon. May 5, 2012. No. 5, Book One: Air
↑ "And the Winner Is...". Michael Dante DiMartino, Bryan Konietzko (writers) & Joaquim Dos Santos, Ki Hyun Ryu (directors). The Legend of Korra. Nickelodeon. May 12, 2012. No. 6, Book One: Air
↑ "When Extremes Meet". Michael Dante DiMartino, Bryan Konietzko (writers) & Joaquim Dos Santos, Ki Hyun Ryu (directors). The Legend of Korra. Nickelodeon. June 2, 2012. No. 8, Book One: Air
↑ "Out of the Past". Michael Dante DiMartino, Bryan Konietzko (writers) & Joaquim Dos Santos, Ki Hyun Ryu (directors). The Legend of Korra. Nickelodeon. June 9, 2012. No. 9, Book One: Air
↑ "Turning the Tides". Michael Dante DiMartino, Bryan Konietzko (writers) & Joaquim Dos Santos, Ki Hyun Ryu (directors). The Legend of Korra. Nickelodeon. June 16, 2012. No. 10, Book One: Air
↑ In Their Elements. musogato.com.
↑ Bill Rinaldi (May 13, 2012). Have you ever seen a Great Pyrenees? They somewhat look like Naga!. Bill Rinaldi on Tumblr. Retrieved on May 18, 2012.
↑ Jethro Nededog (April 13, 2012). "Legend of Korra" Creators: Five Things You Didn't Know About the New Avatar. The Hollywood Reporter. Retrieved on April 13, 2012.