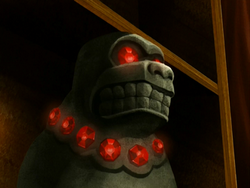 This monkey statue is a stone sculpture resembling a monkey baring his teeth with bejeweled eyes and a necklace of red gems.
History
The monkey statue was one of the many curiosities that a band of pirates offered for sale.
In early 100 AG, Katara caught sight of this statue when she visited the pirate ship boutique. She looked into its bejeweled eyes and briefly fell into an odd, trance-like state. When Iroh and Zuko later entered the pirates' shop, Iroh spotted the small statue. He quickly took interest in the object, buying it along with many other items.[1]
The statue was placed on a table when Iroh was playing the tsungi horn on Zuko's ship,[2] and also sat among Team Avatar's belongings.[3]
References
↑ O'Bryan, John (writer) & Lioi, Anthony (director). (April 29, 2005). "The Waterbending Scroll". Avatar: The Last Airbender. Season 1. Episode 9. Nickelodeon.
↑ DiMartino, Michael Dante, Konietzko, Bryan (writers) & Filoni, Dave (director). (June 17, 2005). "The Blue Spirit". Avatar: The Last Airbender. Season 1. Episode 13. Nickelodeon.
↑ Hamilton, Joshua (writer) & Volpe, Giancarlo (director). (November 2, 2007). "The Runaway". Avatar: The Last Airbender. Season 3. Episode 7. Nickelodeon.
Ad blocker interference detected!
Wikia is a free-to-use site that makes money from advertising. We have a modified experience for viewers using ad blockers

Wikia is not accessible if you've made further modifications. Remove the custom ad blocker rule(s) and the page will load as expected.