"If you're surprised we're here, then the Dragon of the West has lost a few steps."
— Colonel Mongke to Iroh in "The Desert".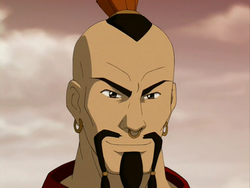 蒙哥
Mongke
Biographical information
Physical description
Personal information
Chronological and political information
Image gallery (3)
Colonel Mongke
was the leader of a
Fire Nation
military
group known as the
Rough Rhinos
; he was the sole
firebender
of the group. His quick wits and ruthless tactics made him a formidable opponent.
[1]
Mongke once served under General Iroh in the Fire Nation Army.[1] Afterwards, he joined and became the leader of the Rough Rhinos. In 91 ASC, he and the group were responsible for the death of Jet's parents and the destruction of their village.[2]
Colonel Mongke encountered Avatar Aang and his friends at their campsite. The Rough Rhinos attempted to kidnap the Avatar; however, their raid was unsuccessful.
That evening, the Rough Rhinos attempted to claim the Earth Kingdom's Chin Village in the name of Fire Lord Ozai. Mongke and his fellow warriors were defeated in combat once again by Avatar Aang and his friends.[3]
The Rough Rhinos also ambushed Iroh and Prince Zuko, seeking to apprehend them for their traitorous actions. While Iroh appeared happy to see them, even complimenting their singing abilities, Mongke was unmoved and ordered his group to arrest the fugitives. After a brief battle, Zuko and Iroh managed to escape.[4]
Abilities
Edit
Colonel Mongke was a capable firebender and a tough opponent to defeat, especially when fighting alongside the other Rough Rhinos. He was a good tactician and had a knack for singling out weaker Earth Kingdom towns. At one point, he nearly captured the Avatar. Mongke and the rest of the Rough Rhinos were also said to be capable singers.
Appearances
Edit
Avatar: The Last Airbender Edit
Book Two: Earth (土)
Edit
Avatar comics Edit
Book Two: Earth (土)
Edit
His name seems to reflect a Mongolian influence. "Mongke" is the name of Genghis Khan's grandson and means "eternal", which makes sense given that Khan himself has been seen as a destructive warmonger.
It has been said that Mongke enjoys jasmine tea.
References
Edit