"On the way, there's a waterfall that creates a never-ending rainbow!"
— Moku dreamily describing a travel route to Team Avatar.[1]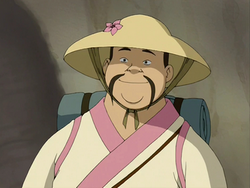 Moku
Biographical information
Physical description
Personal information
Chronological and political information
Moku
was one of the nomads traveling with
Chong
. He was a happy, easy-going, and rather obese young man.
[1]
He played the
djembé
, a small drum which he kept on him at all times so he could make
music
whenever it was needed, and was quite talented at it. Moku wore white robes with pink edges and a cone hat called a
caping
with a small pink flower. He had a fondness for rainbows and was also rather naive.
[3]
Moku traveled with Team Avatar, Chong, and the rest of the nomads into the Cave of Two Lovers. At one point, Appa panicked and brought down the roof of the cave, thus separating them into two groups. Moku's group consisted of the other nomads, Sokka, and Momo. He and the rest of the party were eventually able to escape the cave with the help of some badgermoles. After leaving the cave, Moku was inquired by Aang on whether or not he wanted to visit Omashu with Team Avatar, and politely declined the offer before parting ways with the group.[1]
Appearances
Edit
Avatar: The Last Airbender Edit
Book Two: Earth (土)
Edit
References
Edit