This article is about the pro-bending team. For the sea, see Mo Ce Sea.
The Mo Ce Mongoose Lizards[1] are a pro-bending team that entered the Championship Tournament in 170 AG.
History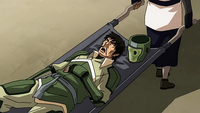 The Mo Ce Mongoose Lizards advanced to the semifinals of the Pro-bending Championship Tournament, where they faced the White Falls Wolfbats. The entire team was defeated in a brutal first round knockout, marking the shortest match of the tournament. Two of the members were carried out on stretchers, the waterbender of the team bearing a hole in his visor.[2]
References
Ad blocker interference detected!
Wikia is a free-to-use site that makes money from advertising. We have a modified experience for viewers using ad blockers

Wikia is not accessible if you've made further modifications. Remove the custom ad blocker rule(s) and the page will load as expected.