Ming (pro-bender)
Comments

12
8,314pages on
this wiki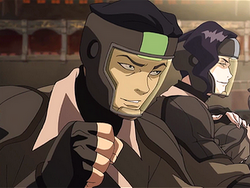 明
Ming
Biographical information
Physical description
Personal information
| | |
| --- | --- |
| Weapon of choice | Earth (formerly) |
Chronological and political information
| | |
| --- | --- |
| Position | Earthbender of the White Falls Wolfbats (formerly) |
| | |
| --- | --- |
| Affiliation | The White Falls Wolfbats |
Ming
is the former
earthbending
member of the
White Falls Wolfbats
. Like the rest of his teammates, he used tactics that violated
pro-bending
rules to win competitions. However, the
match officials
failed to take notice of these violations, and so Ming and the Wolfbats regularly defeated their opponents, making them reigning
tournament
champions four years running.
The members of the team were very popular among Republic City's female citizens and often had a crowd of fangirls following them. Prior to Avatar Korra's arrival in Republic City, the team had won three consecutive pro-bending championships.
Meeting Avatar Korra
Edit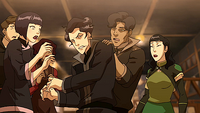 During one of their frequent visits to Narook's Seaweed Noodlery, Ming and his companions noticed Bolin and Avatar Korra, members of the rival Fire Ferrets, while sitting in the section they usually occupied with their fangirls. After being provoked by Korra's glances, Tahno stood up and confronted the two benders. Ming followed his lead and showed the same contemptuous attitude, though he and his friends left the talking to Tahno. However, when Tahno was scared off by Naga and reeled backwards with fright, Ming intervened and caught his captain. Worried about his teammate, Ming tried to help Tahno, but he was pushed away by the team captain, who attempted to regain whatever dignity he could still muster. Ming and his companions then left upon their leader's signal.[1]
The Pro-bending Championship
Edit
As part of their run to a fourth title, Ming and the Wolfbats achieved a brutal victory in their semifinal match, seriously injuring their opponents in the process.[1]
Ming and the Wolfbats' entrance into the championship match was overly extravagant and highlighted by fireworks and pyrotechnic displays. His team won a closely contested but controversially refereed match against the Fire Ferrets. In the first round, Ming and his friends immediately began to use illegal moves, and nearly won with an apparent knockout. However, Korra and Mako were able to hang on to the ring's edge before the Avatar launched Mako onto the ring again. In round two, the Wolfbats resorted entirely to various illegal moves which were completely ignored by the match's official. Ming would earthbend outside of his zone to gain the upper hand. However, they failed to capture the round when Korra defeated Tahno in a tiebreaker match. They continued their use of illegal moves in round three, using tactics such as combining elements, ice, and head-shots. Working together, Ming and Tahno eventually secured victory through a knockout, consisting of an illegal combination of broken earth disks and water to brutally throw Korra and the other Fire Ferrets out of the ring.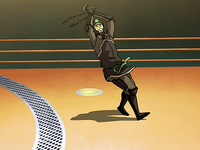 After all three Ferrets were in the drink, Ming and the Wolfbats celebrated their victory, but as they did so, they were surprised to witness the beginning of the Equalist Revolution. As Amon entered the ring, the Wolfbats decided to fight him and his chi blockers. Ming launched several earth disks at the Equalists, and was the last Wolfbat fighting until he was immobilized by bolas. After their defeat, Amon "cleansed" the Wolfbats of their "impurity" and thus Ming lost his earthbending. Afterwards, they were thrown in the water, and managed to swim to the exit. During his speech, Amon referenced his cheating, calling Ming and his teammates "bullies who cheated their way to victory" and admonishing the crowd for celebrating it.[2]
Appearances
Edit
The Legend of Korra Edit
Book One: Air (气)
Edit
Ming is the seventh known person to lose his bending in the Avatar universe, and the fifth to do so in The Legend of Korra.
Ming has gray eyes, unlike other earthbenders, who usually have green eyes.
References
Edit