Michael Dante DiMartino
Talk

17
9,802pages on
this wiki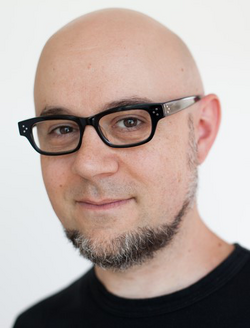 Michael Dante DiMartino
Biographical information
Further information
Michael Dante DiMartino
is an American animation director best known as the co-creator, executive producer, and story editor of the hit television series
Avatar: The Last Airbender
and
The Legend of Korra
, which both air on
Nickelodeon
. He was born in Shelburne, Vermont. He studied at the Rhode Island School of Design with Bryan Konietzko, with whom he created Avatar. Before
Avatar
, Mike worked for twelve years at Film Roman, helping to direct
King of the Hill
,
Family Guy
, and
Mission Hill
in addition to his own animated short,
Atomic Love
, which was screened at a number of high profile film festivals. The dedication to his father's memory can be seen in the last episode of
Avatar: The Last Airbender
. In a 2010 interview the president of Nickelodeon, Cyma Zarghami, confirmed that Michael Dante DiMartino and
Avatar: The Last Airbender
co-creator Bryan Konietzko were developing a new series for the network, called
The Legend of Korra
. The series premiered on April 14, 2012, and is expected to run for two seasons, spanning four books, and a total of fifty-two episodes.
Avatar: The Last Airbender credits
Writer
Director
In addition, there are credits as Creator, Story Editor and Executive Producer for all sixty-one episodes, and (Main) Title Designer for eighteen.
The Legend of Korra credits
Writer
Additional voice
Selected other credits
Television work
Filmography
Other credits
Biographical information
Award-winning film maker Michael Dante DiMartino began his training at the Rhode Island School of Design where he graduated in 1996 with a Bachelor of Fine Arts degree from the Film and Animation Department. His directing credits include the primetime animated series King of the Hill, Family Guy, and Mission Hill. DiMartino wrote, animated, and directed the short animated film Atomic Love which screened at the 2003 Sundance and Los Angeles Film Festivals. The film also aired as part of the Nicktoons Film Festival on Nicktoons.
In 2002, DiMartino teamed up with friend and co-worker, Bryan Konietzko, to create the hit animated Nickelodeon series Avatar: The Last Airbender. DiMartino served as executive producer and story editor on the series, which ran for three seasons on Nickelodeon, from 2005-2008.
DiMartino currently resides in Los Angeles, California.
Trivia
References
↑ Equalist voice roles. Bill Rinaldi (June 11, 2012). Retrieved on June 12, 2012.
↑ SDCC 2013: Legend Of Korra Team Talks Season 2. MTV (July 29, 2013). Retrieved on September 15, 2013.
↑ DiMartino, Michael Dante (2013-07-25). "Creating Mythology: The Search for Zuko's Mother Continues...". MikeDiMartinoStory.com. Retrieved on July 28, 2013. "When I look at sites like Avatar.wikia, I'm amazed at the volume of characters, places, and creatures that now exist in the Avatar universe. And to be honest, I've had to consult it now and then to fact check."