This article is about the character in The Legend of Korra. For the voice actor, see Mako Iwamatsu.
"I did what I had to do to survive and protect my little brother."
— Mako explaining his past to Korra.[1]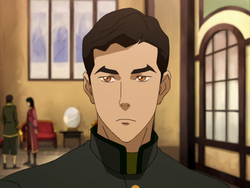 信
Mako
Biographical information
Physical description
Personal information
| | |
| --- | --- |
| Allies | Bolin, his parents, Korra, Pabu, Toza, Asami Sato, Naga, Tenzin, Lin Beifong, Jinora, Ikki, Meelo, Rohan, Tarrlok, Gommu, Iroh, Skoochy, more... |
| | |
| --- | --- |
| Weapon of choice | Fire, lightning |
Chronological and political information
| | |
| --- | --- |
| Position | Fire Ferrets' firebender and captain (formerly) |
Image gallery (95)
Mako
is a
firebender
from a multicultural family who grew up on the streets of
Republic City
as an orphan with his younger brother,
Bolin
. Mako always wears his signature red scarf that was once his father's, who was murdered along with his mother when he was a boy.
[1]
He formed a pro-bending team with his brother and
Hasook
, but eventually
Avatar
Korra
joined the team and took the
waterbending
position from Hasook. Mako, with the help of his teammates, was able to lead the team to second place in the championship. After the pro-bending matches were over, Mako joined Korra in her efforts to stop the
Equalists
.
[4]
Background
Edit
Mako was born to a multicultural family in Republic City; his father being from the Earth Kingdom and mother from the Fire Nation,[5] two years before Bolin. When he was eight, Mako witnessed his parents being killed by a firebending mugger, leaving Bolin as his only family[1] and his treasured red scarf as the sole memento of his father.[6] Being the elder brother, he was forced to take on adult responsibilities from that point on, depriving him of the majority of his childhood.
As an orphan, Mako did whatever was necessary in order to survive along with his brother. He often resorted to his firebending to protect himself and Bolin on the streets.[2] Both of them also ran small-time scams during much of their youth.[5] This attitude brought him in contact with the criminal organization known as the Triple Threat Triad, for whom he was an accountant of sorts, though he never did anything outright illegal during his employment. After a while, the cooperation between the Triple Threats and the two brothers came to an end. Acknowledging the dangerous nature and moral ambiguity of their past, Mako was determined never to return to that life and explicitly forbade Bolin from associating with the Triple Threats in any way.[1]
Mako and his brother first began competing in the Pro-bending Tournament when a former pro-bender, Toza, discovered them fighting in the streets and acknowledged their potential. Toza offered the brothers a place to live in the attic of the Pro-bending Arena and let them work odd jobs to pay rent which allowed them to focus on pro-bending. Mako eventually became the captain of a pro-bending team, the Fire Ferrets, which included his brother and his friend Hasook.[7][8]
Meeting Avatar Korra
Edit
Initially, Mako scarcely acknowledged Korra, assuming she was just another one of Bolin's "fangirls". This caused the two of them to get off on the wrong foot; however, he impressed Korra when he single-handedly defeated the Golden Temple Tigerdillos in the third round of a pro-bending match. Still, he seemed indifferent to Korra's presence even after he learned that she was the Avatar and witnessed her bending abilities.
When Hasook did not show up for the final match prior to the tournament, he rejected Korra's offer to join the team, saying he would rather be disqualified than be made a fool. However, Korra and Bolin ignored Mako's objections and Korra joined the team, much to Mako's annoyance. Korra had trouble picking up on the rules at first and infuriated Mako due to her lack of understanding; however, after Korra held her own against a barrage in round three, enabling them to win the match with a knockout, Mako thanked her, and for the first time he truly accepted and complimented her.[8]
Saving Bolin
Edit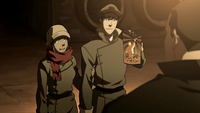 Later, Mako, Bolin, and Korra were practicing for the tournament early in the morning when Butakha, the director of the league, came to give the team their winnings from the last match. However, Mako saw this money disappear as swiftly as it came, as Butakha immediately deducted their arrears and informed the team that they had to pay thirty thousand yuans for the championship pot in order to compete in the tournament, or they would be disqualified. Bolin suggested that he could get Pabu to perform circus tricks at Central City Station, but Mako shot this idea down, commenting that he would figure something out as usual, and found work at a power plant. When he returned to the arena after a hard day's work, he could not find Bolin. Believing he was with Korra, he traveled to Air Temple Island to ask her for his location. At her negation, they decided to go through the city looking for him. Outside Central City Station, they met Skoochy, who told them Bolin had been recruited by the Triple Threat Triad. When Mako and Korra made it to the gang's headquarters, they learned that Bolin had been captured by the Equalists in a raid and then set out to rescue him. However, their encounter with two Equalist chi blockers ended in their defeat. Due to Naga's intervention, they remained unharmed and traveled on to Republic City Park to find the protester, who reluctantly told them that Bolin was likely taken to the Equalist rally called "The Revelation".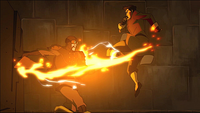 At the rally, they discovered that Amon was going to demonstrate his power to take away bending forever on the kidnapped Triad members and Bolin. In order to save his brother, Mako told Korra to make a large veil of steam erupt from the pipes on the side of the rally hall, which distracted the Equalists and allowed him to rescue Bolin. When the brothers got outside, their escape was thwarted by the intervention of the Lieutenant, who attacked and overpowered them with his electrified kali sticks, but before he could do further damage, Korra disabled him with her earthbending, and helped Mako and Bolin escape on Naga.[1]
Meeting the Satos
Edit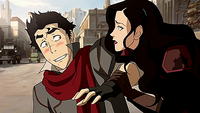 A few days after the events of the Equalist rally, Mako was hit by a moped driven by Asami Sato when he ran across the street without looking. She quickly helped him to stand up and apologized. Although initially angered by the crash, Mako lost his train of thought and anger the moment he laid eyes on Asami. After she recognized him as a pro-bender, she asked him on a date to Kuang's Cuisine as a part of her apology. Initially, Mako was hesitant, stating he did not have the proper attire for such a formal setting. However, Asami assured him that it would be taken care of, and Mako agreed, appearing love-struck as Asami left.
Upon his arrival at the restaurant later that evening, Mako was given suitable clothes. When the waiter attempted to remove Mako's scarf, he immediately stopped him. The waiter complied with the order and showed Mako the table, where Asami was already waiting for him. During their date, Mako learned she was the daughter of the successful industrialist, Hiroshi Sato, and was invited by her to personally meet him, an offer Mako gladly accepted. When Mako met Hiroshi the next day at Future Industries, the industrialist informed Mako that, after hearing Asami about his team and its financial problems, he had decided he would sponsor the Fire Ferrets' bid in the Pro-bending Tournament, provided that they would bear Future Industries' logo on their uniforms.
Mako later went with Asami to a gala that was being held at City Hall in honor of Korra by Councilman Tarrlok. Their relationship continued to blossom afterwards, and one of their dates took them to Republic City Park for a carriage ride. During this ride, Asami wondered why Mako never wore the scarf she had purchased for him. He confided in her the importance of his red scarf, being that it was the last reminder of his father he still possessed.[6]
Romantic issues
Edit
On the eve of their first match of the Pro-bending Tournament, Bolin asked Mako's opinion about the idea of him dating Korra. Mako at first mistook the question as Bolin asking him what he thought of Mako dating the Avatar, and said that she is great, but it made more sense for him to go for Asami. However, when Bolin corrected him and said he meant himself, Mako replied that it was better for Korra to remain as just a friend and that dating teammates is a bad idea. Meanwhile, Mako continued to remain involved with Asami, leaving a training session early to spend time with her.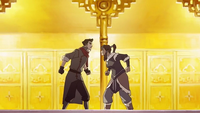 After the Fire Ferrets won the first match of the tournament against the Red Sands Rabaroos, Korra spilled out her feelings to Mako, who apologized and gently refused Korra by stating that he did not feel the same for her. Though she was discouraged, Bolin cheered her up and took her out for a night in Republic City. Mako observed them angrily as his teammates left the dressing room together, even though Asami was with him. Following this, Korra returned to an irritated Mako, and they soon started an argument. Mako claimed that he was only worried about what Korra was doing with Bolin as he was looking out for him and did not want to see his brother get his heart broken. However, Korra accused him of being jealous, and the two departed angrily.
Their conflict almost caused the Fire Ferrets to lose their next match due to lack of teamwork, as neither of them were focused on the task at hand. When the match was brought to a tiebreaker, Bolin overruled Mako's decision to fight it out, stating that his head "wasn't in the game", which proved to be a smart move. After the match, Mako approached Korra and admitted to having feelings for her, but that he was confused because he liked Asami as well. He was interrupted when Korra suddenly lurched forward and kissed him. Although surprised by her actions, Mako sincerely returned the kiss. However, their romantic moment was witnessed by Bolin, who quickly fled the scene tearfully with a broken heart. After blaming Korra for the entire situation as she was the instigator of the kiss, he gave chase.
The next day, Mako discovered that his brother had spent the night at Narook's Seaweed Noodlery. Bolin refused to come home with him, stating that he was no longer his brother, rather a "brother-betrayer". Mako wound up carrying Bolin out of the establishment against his will. The older brother emphasized again that "dating a teammate was a bad idea", to which Bolin weakly responded, "You're a bad idea!"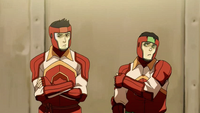 The growing rift and mixed feelings began to divide the team, and they struggled in the semifinals: Mako even inadvertently hit Bolin in round two, and the team lost the first two rounds by a large margin; in round three, Mako was knocked out of the ring early for a second time, and an injured Bolin soon followed. Mako helped his brother out of the water, and as they ascended to the locker room with the elevator, they apologized for letting what happened with Korra divide them. They then watched Korra score an improbable hat trick to advance the team to the finals. When Korra joined them, Mako thanked her sincerely for not giving up on the team, and they all promised each other that they could still be friends despite of all the confusion.[9]

The Pro-bending Championship
Edit
As Mako and his teammates prepared for the final match, they heard Amon interrupt a radio broadcast and threaten the United Republic Council with "severe consequences" if they allowed the tournament to continue. Korra and the team rode to City Hall on Naga to try and stop the Council from making this decision, but by the time they arrived, they learned that the Council had unanimously agreed to do so, much to their disappointment. Fortunately, just before Tarrlok declared the decision final, Lin Beifong entered City Hall. Demanding the Council show backbone and allow the tournament to continue, Lin offered the security of the Metalbending Police Force. The Council agreed to Lin's offer, and to the Fire Ferrets' excitement, the match continued as planned.
The championship proved to be a closely contended but controversially officiated match. The White Falls Wolfbats committed a series of illegal moves, which even prompted Mako to suspect that they had paid off the match's official. The Fire Ferrets lost via knockout in round three. After the match, the Equalists attacked the arena, primarily through use of electrified kali sticks and electrified gloves. These attacks also stunned the still water-bound Fire Ferrets, who were then tied to a wooden post supporting the ring.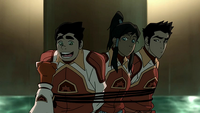 Fortunately for the team, Pabu was lurking in the vicinity. Bolin called the fire ferret over and motioned him to bite through the rope, which Mako initially dismissed as his brother making childish animal sounds. After Pabu's successful rescue, Mako and Bolin made their way to the arena's concourse and anxiously awaited Korra's return from pursuing Amon and the Equalists. When Korra returned following her rescue by Lin, Mako was the first to greet Korra with a big hug, telling her that he was glad she was safe.[10]
A new home
Edit
In the aftermath of the Equalists' attack on the arena, the authorities closed down the building, forcing Mako and Bolin to move elsewhere. Accepting Asami's offer, the brothers moved to the Sato estate, where they got a taste of the high life. However, troubles soon arose when Korra overheard Hiroshi uttering a disturbing message about preparing to "strike", suggesting he could be part of the Equalists. Mako, however, refused to believe Korra and bluntly stated that their friendship would be over if she continued her crusade against Asami's father, as he thought she only did that out of jealousy of his relationship with Asami.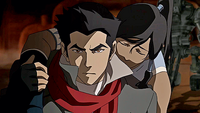 When Korra's accusations proved to hold merit and a search of the Sato estate was carried out, Mako was ordered by Lin Beifong to stay in Hiroshi's workplace together with Bolin and Asami under the supervision of Officer Song, while she with Tenzin, Korra, and several metalbending officers made their way down a tunnel. However, when Mako heard a suspicious noise coming from the underground factory, he tricked the guard and knocked him over with a fire sneeze, and with Bolin, ventured down into the tunnel, discovering that Hiroshi was not only an Equalist, but had also managed to overpower Korra and the others. Knowing that help was needed, he hoisted Korra on his back and was about to drag Lin away when he and Bolin were stopped by Hiroshi. Cornered with no way out, Mako and the others were rescued by Asami, who stunned her father and the Lieutenant.
Once the group escaped via airship, Mako apologized to Korra afterwards for not believing her, and accepted her previous offer to come live with her at Air Temple Island.[11]
Forming Team Avatar
Edit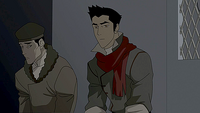 After moving to Air Temple Island with his brother and girlfriend, Mako became a part of what Bolin called the "new Team Avatar" along with Asami, Bolin, and Korra. Using a Satomobile, the four patrolled the streets of Republic City looking for Equalists. They soon found, defeated, and captured several of them, much to Tarrlok's dismay. The next night they went out again only to find that the police were arresting innocent non-benders and accusing them of being Equalists. While trying to defend Asami after Tarrlok's order to arrest her, Mako faced the police and was arrested as well. Korra was about to unleash her earthbending powers on Tarrlok and his policemen, but Mako convinced her that it was not worth it, implying that it would only make things worse. She backed down, and he was taken to prison alongside his brother and Asami.[12]
Searching for Korra
Edit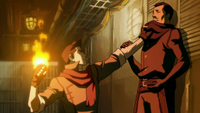 Sometime later, Mako and Bolin, sitting in the same cell, were broken out of prison by Lin Beifong. After learning about Korra's disappearance, Mako seemed very concerned and set out to do everything possible to find her. The two brothers, along with Asami, Tenzin, and Lin, then proceeded to search for Korra, whom they believed was kidnapped by the Equalists. At an Equalist base under the city, the group found and freed Lin's captured officers, and Mako, after pinning one of the Equalists up against the wall and threatening him, learned that the organization had never attacked City Hall, nor did they have Korra, meaning Tarrlok was lying about their attack. Mako and the group then successfully escaped from the base and began making their way to City Hall, despite the Equalist's attempts to stop them.
When confronting Tarrlok in the City Hall, the group discovered that he was a bloodbender. When they were about to attack, the Councilman retaliated, knocking them all unconscious with his dark ability. However, after they regained consciousness, they continued the search, and later found Naga wandering the streets of Republic City, carrying Korra. Tenzin and Lin immediately bombarded her with questions, but Mako pushed them aside, saying that she needed space, and quickly carried Korra to Oogi, commenting how he was so worried about her and assuring her she was safe now while Asami looked upon them sadly.[13] It was these events that led Mako to realize his true feelings for Korra.[14]
The Equalists attack
Edit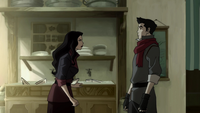 After rescuing Korra, Mako took great care in making sure she recovered from the incident completely. After dinner on Air Temple Island, Mako entered the kitchen and requested more hot water to make tea for Korra. He was met with a sharp response from an irritated and jealous Asami, which prompted Pema to leave allowing the couple to talk. Asami told Mako that she was hurt and upset that he had been spending so much time with Korra, and revealed that she knew he and Korra had kissed and urged Mako to be honest about his feelings for the Avatar. The firebender was not able to come up with a response that satisfied Asami, making her walk away saying they may not have a relationship to speak of, leaving behind a frustrated Mako.
Soon after, the Equalists began attacking Republic City. Mako, along with the rest of Team Avatar, made their way to the city and recovered Asami's Satomobile. Mako burned the tickets the car had acquired since Korra had crashed it into a lamppost, after Bolin stressed about the tickets and he pointed out that the police had more important things to worry about, referring to the city being under attack. Asami assumed her position in the driver's seat and told Mako, who was about to sit down in the passenger's seat, to sit in the back "with Korra", showing she still angry with him. The young Avatar asked Mako if everything was alright, which he sarcastically responded that it was "terrific".
The group collided with a gang of Equalist henchmen, aided by mecha tanks, who had captured Tenzin. Mako aided in freeing the airbender by utilizing a combination of firebending and lightning redirection. When one of Hiroshi's mecha tanks shot out a wire to electrocute him, Mako managed to channel the electricity back to the machine using his bending, thus defeating his opponent. After the encounter, they flew back to Air Temple Island to defend it against Equalist airships. Upon arriving, they found that Lin, along with Tenzin's children, had successfully repelled the attacks and required no further assistance from them. Later that day, the attacks pressed on however, and Mako and his friends were forced into hiding in a water pipeline. He comforted Korra, which did not go unnoticed by Asami.[15]

Stopping Amon
Edit
While hiding under the city, Korra and Mako stole chi blocker uniforms, and infiltrated Equalist rallies to stay up-to-date on Amon's movements. Korra was growing restless and increasingly more agitated at being branded a coward for "running away", but Mako advised her to be patient. The two rejoined Bolin and Asami (who was still acting jealous and agitated around Mako) and ate dinner with Gommu. Later that night, when neither of them could sleep, Mako told Korra that because of everything that has happened, he could not imagine his life without her. He went on to say Korra was the most loyal, brave and selfless person he had ever known. Korra was flattered and reciprocated his feelings, but after a tender moment, quickly opted for them to get some rest for the United Forces' morning arrival.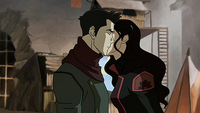 When General Iroh appeared, the United Forces fleet was swiftly destroyed by the Equalists and their newly crafted air fleet. Korra managed to rescue the general, and brought him back to the hideout. Iroh decided that with the Equalist air fleet in power, it would be impossible for the remaining fleet to take back the city. With the group's help, Iroh and Mako deduced where the air fleet hangar was, and everyone prepared themselves to leave. Korra, however, refused to go, as she believed it was her duty to stay in the city and confront Amon. Rather than letting her face Amon by herself, Mako insisted on accompanying her, while Bolin, Asami, and Iroh continued on their path to take down the air ships. Mako and Bolin hugged each other goodbye, and Mako apologized to Asami about how crazy things had gotten between them, and told her that he wanted her to know that he still cared for her. Asami said she still cared for him too, and kissed him on the cheek, ending their relationship.
Mako and Korra returned to Air Temple Island hoping to ambush Amon, but they instead found an imprisoned Tarrlok. He told Mako and Korra that he and Amon were brothers, went on to tell them about their childhood, and that Amon was actually a very powerful bloodbender. Mako realized trying to ambush Amon directly would be a horrible idea, but Korra theorized that if they were able to expose Amon as a bender in front of his supporters, the Revolution would crumble. Tarrlok apologized to Korra for his actions and the duo then left to attend Amon's rally at the Pro-bending Arena.[16]
When Mako and Korra made it to the arena, Korra made an attempt to persuade Amon's supporters that he was really a waterbender and a bloodbender. However, Amon revealed his face and the "scar" he was supposedly given by the firebender who had killed his father, to the crowd, making his supporters believe that Korra was a liar. Mako then opted for the two of them to escape, but Amon revealed that he captured Tenzin and his family, and prepared to take their bending away. Korra distraughtly denied that they were captured, saying "[they] saw them get away". Initially Mako told her that Amon was just baiting her; however when Amon made his way toward the airbenders, Mako fired a bolt of lightning at him, which he barely dodged. Mako and Korra then used their firebending to reach the stage, free Tenzin and his family, and escape out into corridors.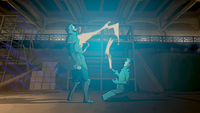 While Tenzin and his children escaped, Mako and Korra retreated and hid in one of the fitness rooms. Amon followed them and began to bloodbend Korra; Mako tried to stop him only to be subdued as well. Amon proceeded to take Korra's bending away, much to Mako's horror. Amon then approached him, still keeping a hold on him. However, Mako managed to fight Amon's grasp and blasted him away with lightning. Mako then picked up a barely conscious Korra and attempted to escape, reassuring her that she would be okay. Amon, though, was able to catch up with them and stop Mako once again with bloodbending. Amon complimented Mako on his ability to "get the better of him", and commented on what a pity it was for him to take away his superior bending skills. Meanwhile, Korra watched, and just when Mako was about to lose his bending, Korra unlocked her airbending and knocked Amon away with an air blast.
Amon tried to bloodbend Korra again, but she managed to knock him out of a window and into the harbor in front of the Equalist mob. Amon's mask fell off and his "scar" (which was only make-up) faded away. Not knowing this, he defensively used waterbending to propel himself out of the water in front of the crowd, losing his supporters. As he sped away toward Air Temple Island, Mako tried to beat him down with fireblasts, to no avail. Mako then embraced Korra, who was still weak from losing her bending.[14]
A new start
Edit
Mako and Korra were reunited with Bolin, Tenzin and his family, Lin, Asami, and Iroh on Air Temple Island, and watched as Commander Bumi arrived. Later, Mako and the rest of the group went to the South Pole so Katara could try to restore Korra's bending. Despite her best efforts, Katara was unable to mend the block that was keeping Korra from bending water, earth, and fire. Korra emerged, and she quietly stepped outside. Mako followed her and tried to console her. Korra told him to go back to Republic City; thinking that without her bending she was no longer the Avatar, and Mako should not do her any favors by staying. Mako told her that he did not care if she was the Avatar or not, and he explained that when she was kidnapped by Tarrlok, he thought he would never see her again, and it made him realize how much he cared for her. Mako told Korra that he loved her, but it was too much for her to handle and she ran away on Naga. Tenzin came to stand behind Mako, who was calling after her, and said that they must give her time to come to terms with what had happened, leaving Mako to stand there and look on sadly after her.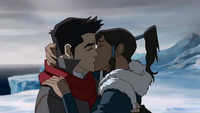 Mako later pursued Korra out into the tundra, and witnessed her going into the Avatar State for the first time at the cliff's edge. He watched in awe and delight, and when Korra came out of the Avatar State, he smiled warmly at her and walked toward her with open arms. Korra jumped into his arms and embraced him, telling him that she loved him too. The two kissed, and eventually returned to their friends and families. Later, while standing beside his brother, he witnessed Korra restoring Lin's earthbending and Tenzin praising her as "Avatar Korra".[14]
Post-revolution
Edit
Sometime during the six months following the defeat of Amon and the end of the Anti-bending Revolution, Mako left the Fire Ferrets and became a policeman. Riding his motorcycle, he patrolled the streets of Republic City in order to apprehend criminals. In one instance, he chased a delivery truck with hostile waterbender thieves trying to evade him. After a lengthy chase which included a jump, he utilized a fire blast, which caused the truck to crash and flip over.[17]
Personality
Edit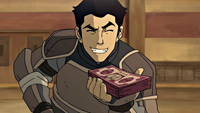 Characteristic of his stoic and brooding personality, Mako is generally aloof and indifferent, though he is not incapable of genuine kindness and a protective demeanor. It is implied that Mako has excellent control over his emotions, as he is able to bend lightning - a technique that requires the user to have a calm and steady mind. He tends to act in a critical and controlling manner, stemming from a life on the streets and a drive to protect his little brother, which forced him to take on adult responsibilities at a young age. In light of the brothers' pasts, he cares deeply for Bolin and is very protective of him.[8] Living on the streets has given him a "hard-edge",[7] though he seems to relax when he is with Bolin, Korra, or Asami, or when he achieves something important. For instance, when Butakha gave him the winnings from their last match, Mako had a large grin on his face.[1]
Going with his hard edge, Mako has a wrathful side to him as well. This is particularly evident when he threatened an Equalist chi blocker when seeking information regarding Korra's whereabouts. This more than likely stems from his fear of abandoning someone close to him due to the loss of his parents to a firebending mugger. His protective attitude toward his younger brother on the street in the years thereafter reflected this side of him as well.
Abilities
Edit
Firebending
Edit
Main article: Firebending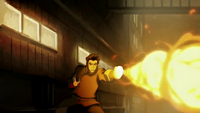 Mako has shown considerable skill in the art of firebending, implementing a modern style of fighting that he uses predominantly in the Pro-bending Arena. Critics of the sport note his use of a distinct "cool under fire" technique, which primarily involves a series of defensive weaving and dodging patterns quickly followed by successive spurts of offense, rendering Mako capable of defeating an entire pro-bending team by himself.[8] Outside of pro-bending, Mako demonstrated great skill in traditional firebending combat. He can maintain his fire streams for a period of time for feats such as propelling himself through the air. He can also perform more advanced techniques such as the breath of fire.[11]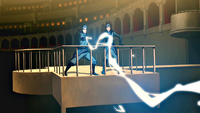 Mako is also skilled enough to generate lightning and redirect it. He has used lightning for a job at a power plant in Republic City[1] and can effectively use it in combat. He is able to generate it quickly with little charging time and no arm movement and is also capable of maintaining the bolt for several seconds. He can also fire it with considerable aim, being able to hit speeding targets and controlling the charge of it to merely stun targets.[12] While fighting several Equalist mecha tanks, Mako redirected the electricity channeled through their metal cables to disable them.[15] When restrained by Amon's bloodbending, he was able to maintain enough focus and calmness of mind to generate lightning and score a direct hit against the Equalist leader. Amon admitted to Mako that he was impressed with his firebending skill, and that it was almost a shame that he would have to remove the bending of "someone so talented".[14]
Other skills
Edit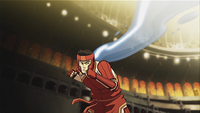 Mako has displayed considerable agility, being capable of both jumping long distances and performing impressive flips, proving himself difficult to hit at a distance. Mako also has considerable raw strength: he effortlessly launched an Equalist agent a great distance, casually carried Bolin over his shoulder, and in anger hoisted an Equalist into the air with a single hand. He can also carry Korra in his arms rather easily and has done so twice: once after she escaped from Amon and Tarrlok and again when her bending was taken away. While under the control of Amon's bloodbending, Mako was able to move his body slightly better than others caught under this technique and managed to aim a bolt of lightning at Amon, something that took the masked man by surprise, considering his great skill in bloodbending.
Mako was also good with maps, as he figured out where the Equalist Rally was located by looking at the maps he and Korra obtained from the Equalist protester. Mako demonstrated his abilities with a map again when he discovered where the Equalist airfield was hidden.
Upon becoming a police officer, Mako uses a motorcycle as his vehicle of choice, displaying great skill with maneuvering it over slick terrain, and even incorporating his firebending as a booster to extend the distance of his jumps and to stabilize after a near crash.
Relationships
Edit
Main article: Mako's relationships
Relatives
Edit
Unknown
Unknown
Mako
Bolin
Appearances
Edit
The Legend of Korra

Book One: Air (气)
Mako is named after the late Mako Iwamatsu, the original voice of Iroh during Book One: Water to Book Two: Earth, as a homage.[3] His name is a shortened form of the Japanese name Makoto (信), meaning "truth" or "faithfulness".
Mako's "cool under fire" style of pro-bending bears similarities to the defensive styles of boxing, and the styles of iconic boxers such as Willie Pep and Muhammad Ali.
Mako's dark childhood is similar to that of Sokka, Katara, Jet, Asami Sato and Aang as all six of them have lost family members to firebenders. However, while Katara, Sokka and Asami only lost their mothers, Mako and Jet's parents were murdered right in front of them, though on the other hand, Aang lost his entire people to firebenders while he was sealed in an iceberg. Jet and Mako also both lost their family at age eight.
Mako's history is similar to Batman's, in the sense that both of their parents were mugged and murdered in front of them at the age of eight. In addition, David Faustino, Mako's voice actor, has previously worked on an episode of the Batman animated series Batman Beyond, in his second voice-over role as the character Sean Miller.
Mako seems to show no regret for his powers, even though his parents were killed by a firebender.
Mako's scarf is very similar to Katara's necklace in the way that it is the sole memento of a deceased parent, although Mako's scarf came from his father while Katara's necklace came from her mother.
He is the first bender shown to stop Amon from taking someone's bending away.
Mako has appeared in every episode except "Welcome to Republic City".
Mako is the fourth known person to break free of a bloodbender's hold by their own doing, and the first non-waterbender known to have done so.
Mako is the only member of the new Team Avatar to have never been seen crying.
Mako is similar to Katara in that both have mothers killed by firebenders, a memento of a parent (Mako's father's scarf and Katara's mother's necklace), both also raised their brothers as a parent would do, a personality contradictory to that of their brothers', and are love interests of their current Avatar.
Mako is the only named male love interest of an Avatar.
References
Edit
↑ 1.0 1.1 1.2 1.3 1.4 1.5 1.6 "The Revelation". Michael Dante DiMartino, Bryan Konietzko (writers) & Joaquim Dos Santos, Ki Hyun Ryu (directors). The Legend of Korra. Nickelodeon. April 21, 2012. No. 3, Book One: Air
↑ 2.0 2.1 Welcome to Republic City. Nickelodeon (May 11, 2012). Retrieved on May 11, 2012.
↑ Mako from Legend of Korra. Nickelodeon. Retrieved on February 25, 2012.
↑ 5.0 5.1 The Legend of Korra — The Art of the Animated Series, Book One: Air, page fifteen.
↑ 6.0 6.1 "The Voice in the Night". Michael Dante DiMartino, Bryan Konietzko (writers) & Joaquim Dos Santos, Ki Hyun Ryu (directors). The Legend of Korra. Nickelodeon. April 28, 2012. No. 4, Book One: Air
↑ 7.0 7.1 The Legend of Korra Press Site - Character descriptions. Viacom International Inc. (March 2012). Retrieved on March 17, 2012.
↑ 8.0 8.1 8.2 8.3 "A Leaf in the Wind". Michael Dante DiMartino, Bryan Konietzko (writers) & Joaquim Dos Santos, Ki Hyun Ryu (directors). The Legend of Korra. Nickelodeon. April 14, 2012. No. 2, Book One: Air
↑ "The Spirit of Competition". Michael Dante DiMartino, Bryan Konietzko (writers) & Joaquim Dos Santos, Ki Hyun Ryu (directors). The Legend of Korra. Nickelodeon. May 5, 2012. No. 5, Book One: Air
↑ "And the Winner Is...". Michael Dante DiMartino, Bryan Konietzko (writers) & Joaquim Dos Santos, Ki Hyun Ryu (directors). The Legend of Korra. Nickelodeon. May 12, 2012. No. 6, Book One: Air
↑ 11.0 11.1 "The Aftermath". Michael Dante DiMartino, Bryan Konietzko (writers) & Joaquim Dos Santos, Ki Hyun Ryu (directors). The Legend of Korra. Nickelodeon. May 19, 2012. No. 7, Book One: Air
↑ 12.0 12.1 "When Extremes Meet". Michael Dante DiMartino, Bryan Konietzko (writers) & Joaquim Dos Santos, Ki Hyun Ryu (directors). The Legend of Korra. Nickelodeon. June 2, 2012. No. 8, Book One: Air
↑ "Out of the Past". Michael Dante DiMartino, Bryan Konietzko (writers) & Joaquim Dos Santos, Ki Hyun Ryu (directors). The Legend of Korra. Nickelodeon. June 9, 2012. No. 9, Book One: Air
↑ 14.0 14.1 14.2 14.3 "Endgame". Michael Dante DiMartino, Bryan Konietzko (writers) & Joaquim Dos Santos, Ki Hyun Ryu (directors). The Legend of Korra. Nickelodeon. June 23, 2012. No. 12, Book One: Air
↑ 15.0 15.1 "Turning the Tides". Michael Dante DiMartino, Bryan Konietzko (writers) & Joaquim Dos Santos, Ki Hyun Ryu (directors). The Legend of Korra. Nickelodeon. June 16, 2012. No. 10, Book One: Air
↑ "Skeletons in the Closet". Michael Dante DiMartino, Bryan Konietzko (writers) & Joaquim Dos Santos, Ki Hyun Ryu (directors). The Legend of Korra. Nickelodeon. June 23, 2012. No. 11, Book One: Air