Mako's relationships
Comments

1k
8,336pages on
this wiki

This page is comprised of Mako's relationships with other characters in the World of Avatar. Though Mako's troubled past has left him emotionally scarred and slightly cynical, he is capable of immense love and sacrifice toward his intimates.
Relatives
Edit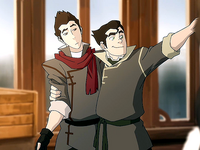 When Mako's parents died, he was left orphaned on the streets along with his younger brother. He began working for the Triple Threat Triad by running numbers so he could survive and provide for Bolin and himself. Later, when questioned by Korra about this, he justified this by saying he was "doing what [he] could... to protect [his] little brother".[1] Eventually, Toza discovered Mako fighting on the streets and invited the brothers to live in the attic of the Pro-bending Arena, and work odd jobs to pay rent. The brothers accepted, and together they formed their own pro-bending team, the Fire Ferrets.
Even though Mako's serious, brooding personality occasionally conflicts with Bolin's goofier, happier nature, the firebender loves his brother, and is very protective of him. Before the quarterfinals of the Pro-bending Tournament, he confronted Korra for admitting her feelings for him and, after being rejected, going on a date with Bolin, as he did not want his brother's heart to be broken. When Bolin witnessed Korra and Mako kiss, a sight that left him devastated, Mako berated Korra and ran after Bolin to find and comfort him. Despite being called a "brother-betrayer", he was able to reconcile with Bolin during the semifinals, restoring their brotherly relationship.[2]
When Mako prepared to depart with Korra to fight Amon after he had taken control of Republic City, the two hugged and said that they loved each other.[3]

It is suggested that Mako was close to his parents, particularly his father. When he was eight, he witnessed a firebender mugger murder both his mother and father, leaving him orphaned on the streets with his then six year old brother Bolin.[1] His only remaining relic of them is his father's scarf that he almost always wears. Asami had bought him a new silk scarf, but Mako never wore it, explaining that he felt as though his father's scarf kept him safe. He has a deep attachment to it.[4]
Love interests
Edit
Asami Sato
Edit
Mako met Asami after she accidentally hit him with her moped. Initially, he was angry at her due to her lack of attentiveness to other people on the road, but immediately forgot his train of thought the moment he laid eyes on her. When she invited him to go on a date as an apology for the incident, he gladly accepted, love-struck. Their relationship hit off immediately and they spent a lot of time together. While enjoying a romantic carriage ride through Republic City Park, Mako entrusted in Asami that his red scarf was the only memento he still had of his deceased father. After Asami told him that she had lost her mother at a young age as well, they locked in an intimate embrace.[4]
Even when training for the big Pro-bending Tournament, Mako made time to go out on dates with Asami, and she was present after every match to congratulate him and the team. When Korra confessed her true romantic feelings to him, Mako turned her down, using his own romantic relationship with Asami as an excuse.[2]
Asami invited Mako and his brother to stay in the Sato estate after the Pro-bending Arena was closed down following the Equalists' attack. When the Satos were investigated on Korra's suspicions, Mako defended Asami against the Avatar, even going so far as threatening to end his friendship with Korra if she continued to berate Asami. After it was proven that Hiroshi Sato was working with the Equalists, Mako comforted the distraught Asami after taking Korra's advice when they left the Sato estate.[6]
After Lin Beifong busted her, Mako, and Bolin out of jail, Asami ran toward Mako, who asked if she was alright. Asami replied yes, and then they kissed. However, after hearing of Korra's capture, Mako barely paid any attention to Asami, and she learned from Bolin that Korra and Mako had kissed, making it hard for her to trust him. While he carried Korra in his arms, he bypassed everybody, even Bolin, and focused his attention solely on Korra in that moment, greatly upsetting Asami.[7]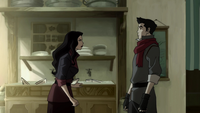 Having knowledge of Mako and Korra's past relationship and her suspicions confirmed, she became upset and jealous. When confronted about his kiss with Korra and his romantic feelings for the Avatar, Mako looked away guiltily and denied her accusation, stating that his reaction to Korra's capture was justified. Asami was left disappointed and hurt when Mako could not reassure her that she was just imagining things. Feeling betrayed, she ignored Mako and even told him to sit in the back seat of the Satomobile with Korra. She felt even more marginalized when Mako's attention was focused on Korra after Amon attacked Republic City, despite the fact her boyfriend was aware of how insecure she was feeling.
During the Battle for Republic City, Mako and Asami separated, but they appeared to reconcile with one another prior to him leaving with Korra to face Amon, as he told her that he would always care about her.[5]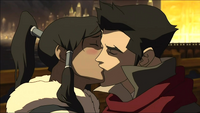 When Mako first met Korra, he thought she was just another one of Bolin's "crazy fangirls" and practically ignored her.[8] Even after he discovered she was the Avatar and joined the Fire Ferrets, he was still rather tough on her. When Bolin went missing, Mako was reluctant at first to accept Korra's help in searching for him, but he eventually complied. The two got along quite well, and when Korra asked about the fate of his parents, Mako felt comfortable to tell her the truth. Later, they fell asleep against each other, and felt embarrassed when they woke up. However, when infiltrating into an Equalist rally, Korra put her arm around Mako's to look more casual, which he only allowed because she stated that they would attract less attention that way. He also allowed Korra to wear his scarf, which was the only thing he had left of his father.[1]
When Bolin asked some time later what Mako thought of Korra as a girlfriend, he thought the question was about him and Korra, and said she was great, but that it made more sense for him to go for Asami. He took it back when he realized that Bolin meant the question for himself, saying that she was not girlfriend material and he should not date a teammate. That night, Korra confessed her feelings for him after they won the game by saying that she thought they were "meant for each other". Unsure, Mako gently rejected her and told her that he did not feel the same way and he was with Asami. However, when his girlfriend walked in and he took her to the side, he darted a sad look while eyeing Korra and Bolin glumly after she had accepted to go on a "romantic date" with the earthbender.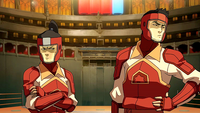 After the end of Korra and Bolin's date, Mako confronted Korra and accused her of playing games with Bolin only to get back at him. Korra saw through his façade and remarked that he was jealous, which he strongly denied, using his relationship with Asami as an excuse. Both of them glared at one another and stormed away. After a particularly rocky match due to their uneasiness with each other, he went out to talk to Korra and confessed his true feelings by saying while she was "infuriating and drove him crazy", he still thought she was "pretty amazing". However, despite admitting that he had deep feelings for Korra, he also had such feelings for Asami, leaving him confused and unsure of how to handle this. Korra immediately followed this statement by impulsively kissing him; he was stunned by this, but kissed her back with equal enjoyment. This moment was disrupted by a heartbroken Bolin, who fled from the scene crying. This led to a quick, heated argument between Korra and Mako. After the pro-bending match, they acknowledged that taking their relationship further was causing friction between them and everyone else, agreeing to for now just maintain a casual friendship, despite their mutual affection for each other.[2]
Mako appeared to be very protective and concerned for Korra's safety throughout the championship match and Amon's sudden attack on the arena, defending her from a three-on-one attack after she was knocked down and asking her to be careful when she set off after Amon during his escape. After being saved by Chief Beifong from falling to her death from the arena ceiling, he was the first to run over to hug her and told her he was "so glad" she was okay.[9]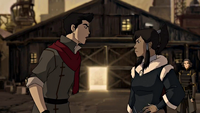 Mako and Korra's relationship hit another snag when Korra began suspecting Asami's father, Hiroshi Sato, of working with the Equalists. Mako threatened to break off his friendship with Korra if she did not drop her investigation against the Satos. When Korra refused to drop her claim and stated that she was sorry, Mako gave her an angry look and walked away with Asami.
When Korra went with Tenzin, Lin Beifong, and members of the Metalbending Police Force to look for Hiroshi's secret factory, he wanted to go with her, but was told to remain with Bolin and Asami, and was watched by a metalbending officer. Before Korra disappeared down the tunnel, she cast a sad look back at Mako. He looked down out of guilt and shame because of accusing her of formulating lies earlier. Mako heard the platinum wall close, and with Bolin, he cleverly tricked the metalbender cop watching the three of them by sneezing out fire. The three made their way underground to save the investigating party. Mako and Bolin found Korra and the others unconscious, about to be taken to Amon on Hiroshi's orders. The brothers attempt to get them to safety. While Bolin went to get Tenzin, Mako made his way to Korra, hoisted her onto his back, and started to help his brother drag Chief Beifong, but they were discovered by Hiroshi and some Equalists. It was only when Asami intervened, electrocuting her father with a glove which allowed them to escape to the police airship.
On board the airship, making their way to the Republic City coast, Mako apologized to Korra and admitted that she was right. Korra accepted the apology and invited Mako, Bolin, and Asami to live on Air Temple Island in addition to advising him to comfort his girlfriend in her time of need, despite her feelings for him.[6]
When Korra was crying while feeling like the "worst Avatar ever", Mako and Bolin were the ones trying to look for her along with Asami on Air Temple Island. Mako tried to comfort her by telling her, Aang did not learn all the elements right away and that he, Bolin, and Asami had her back. The four later formed Team Avatar and started to patrol Republic City's streets in order to fight crime. Before getting into the car when another police report aired from the Satomobile radio, Mako let Korra in first and smiled at each other in the car, much to Asami's displeasure. Later, when Mako, Bolin, and Asami were put into the police vehicle after defying Tarrlok, Mako darted Korra a sad look, which Korra returned with a sad expression and saying, "Tenzin will get you out".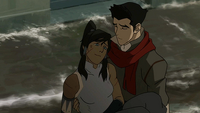 When Mako learned that Korra was missing, he grew angry and refused to believe that she was gone and led the expedition to find her. After coming to his senses, he became very determined to find her, almost beating up an Equalist in order to obtain a lead to Korra's whereabouts. When Naga returned with Korra on her back, Mako pushed Lin and Tenzin out of the way, demanding that they should "give her some space". Asami watched with a sad look as Mako carried Korra in his arms and told her how worried he was about her and how relieved he was that she was okay. Korra responded by telling him that she was okay, then she smiled, and rested her head against his chest while he carefully carried her atop Oogi. He laid her down, and gently brushed her face and the mark on her cheek to reassure her that she was safe. Korra responded to Mako's touch by relaxing and closing her eyes.[7]
Once Korra was back at Air Temple Island, Mako sat at her bedside with a worried look on his face. He held her hand and curled his fingers around it softly, waiting for her to wake up. Asami witnessed this with an angry and hurt expression, though her presence was unknown to Mako. He later asked Asami to boil some water for Korra and she responded to Mako by telling him to heat it up himself because he was a firebender. This led to an argument and Asami storming out of the kitchen. When Republic City finally fell, Mako was the one who comforted Korra, as she sadly watched Air Temple Island fall. He told her that they had to keep moving, and wrapped his arm around her. They walked together into the water pipeline, seeming oblivious to Asami, who appeared to have little emotion showing, and left her trailing behind everyone else.
After attending an Equalist rally disguised as chi blockers, Korra, frustrated by one of Hiroshi Sato's accusations, stated that they should "go back up there and knock some heads!" Mako told her to relax, assuring her that General Iroh would arrive in a few days and that when he arrived, Amon would be the one who was running. Later that night, Korra was sitting awake by Naga when Mako sat down next to her, asking if she could not sleep either. She replied by telling him that she had a pit in her stomach, presumably from nervousness. The two continued to talk, and after Korra reminisced on the past, contemplating that a few months ago she was in the South Pole practicing for her firebending test, and now she was in the middle of an "all-out war". Mako responded by telling her that "we didn't even know each other then, and now [he couldn't] imagine [his] life without [her] in it". He continued to describe her as the most loyal, brave, and self-less person he has ever known. Korra answered this by telling him that she also thought that he was "pretty incredible". The two shared a smile, and Mako leaned in closer to her, just as Korra told him she should get some sleep. He then looked away ruefully and moved back, stating that he should too.
When Korra said that she was going to face Amon by herself, Mako volunteered to go with her. Korra said, "You don't have to do that", in somber tone. He replied back in a strong, but soft manner, "Yes, I do." When Korra and Mako infiltrated the Equalist rally at the former Pro-bending Arena, Mako continued to be very protective of Korra, as he demonstrated by moving to stand in front of her when a pair of Equalist chi blockers cornered them. After Amon taunted Korra by showing her the "main event", Tenzin and his family, handcuffed to poles on the stage, Mako touched her arm and stated that Amon was just "trying to bait" her. Later, when Amon bloodbent Korra, Mako risked himself by coming out of his hiding spot, angrily demanding Amon to let her go. After she got her bending taken away, he ran through the hallways of the arena with a barely conscious and weak Korra in his arms. She told him that her bending is gone, and he replied that everything would be all right and that they just need to get out of there. When he almost got his firebending taken away, Korra, although unable to bend, was able to airbend for the first time defending him. Mako looked in amazement as Korra blasted Amon out the window with her newly discovered airbending. Mako put his arm around Korra as she leaned on him, watching as Amon rose into the air on his water spout. After failing to stop his escape, he turned around to comfort Korra with a hug.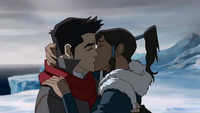 Later, at the South Pole, Katara attempted to restore Korra's bending, but to no avail. A distraught Korra walked out of the room, and brushed past Mako, leaving him stunned and causing him to run out of the room after her, yelling after her to wait. Korra told him to go away, and after saying that he would, he let her know that he would always be there for her. After Korra stated that she was not the Avatar anymore, and he did not need to do her any more favors, Mako told her that he did not care if she was the Avatar or not. He proceeded to explain that when Tarrlok took her, he was "losing his mind" at the thought of never seeing her again, and that he realized that he loved her. Korra responded to him by stuttering out the words "I can't", and running out of the compound atop Naga, leaving him looking saddened and shocked. Tenzin approached him and advised him, saying that they needed to remain patient with her, and that it would take time for her to accept what happened. After witnessing Korra in the Avatar State, Mako looked up at her in awe, opening his arms as she ran toward him and embraced him. She then admitted that she loved him as well and they shared a passionate kiss, establishing their new relationship.[3]
Pabu is the pet of Mako's younger brother, Bolin. When Bolin was kidnapped by the Equalists, Mako allowed Pabu to ride and sleep on his shoulder.[1]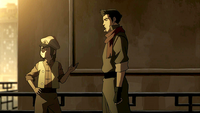 When Mako and Bolin were living on the streets, they became friends with Skoochy around the time he escaped his second orphanage. Skoochy and his friends quite often hang around the Central Station. When Bolin was missing, Mako and Korra went to Skoochy for information, and he did help them, at the cost of a few yuans on Mako's part. He told Mako that Bolin was paid a lot of yuans to help the Triple Threat Triad, which disturbed Mako.

Tenzin and his family
Edit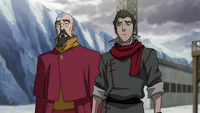 After Hiroshi was discovered to be an Equalist, Tenzin and his family did not mind when Korra invited Mako, Bolin, and Asami to live on Air Temple Island. When they arrived on Air Temple Island, Jinora, Ikki, and Meelo gave Mako and Bolin a tour. Pema even encouraged Korra to confess her feelings to Mako.
Toza is a former pro-bender and current gym manager at the Pro-bending Arena. One day Toza discovered Mako fighting on the streets and invited him and Bolin to live in the attic of the arena. The brothers had to work strange jobs to pay their rent, which helped them focus on pro-bending. Overall, he was very good to them.
Amon and the Equalists
Edit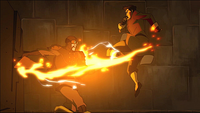 Mako, alongside Korra, first encountered the Equalists when they were searching for Bolin, who had been kidnapped while working for the Triple Threat Triad. Mako and Korra, on their search for Bolin, saw him being taken away in a truck and followed it. They lost track of the truck when two Equalists turned around and fought them. The two Equalists, after blocking Mako and Korra's chi, took off. After this, Korra and Mako went to the park in search of the protester Korra had met when she had arrived at Republic City. They met the man and found out about a rally Amon was having that night, where he would disclose a "revelation". Using the fliers the protester had, Mako and Korra found out where the rally was taking place. They went to the building and witnessed Amon taking people's bending away. Bolin was in line to get his bending taken away, but Mako, with Korra's help, managed to grab Bolin in time and the three of them managed to escape.[1]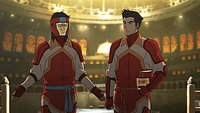 Hasook is the former waterbending member of the Fire Ferrets. During the tournament-qualifying match against the Golden Temple Tigerdillos, Hasook was continually attacked by his opponents, being slow to react. In the third round of the match, he was hit early and knocked into Bolin. Both were eventually sent out of the ring, and although Mako won the match with a hat trick, he chastised Hasook for his poor play. The waterbender, frustrated by Mako, threw his helmet on the floor and walked out of the arena. He then failed to show up for the final qualifier, nearly forcing the Fire Ferrets to forfeit before Korra took Hasook's place.[8]
Hiroshi Sato
Edit
"Sponsoring our team, supporting the Avatar, it was all just a big cover."
"Yes, and the most difficult part was watching my daughter traipse around with a firebending street rat like you!"
―Mako and Hiroshi Sato.[6]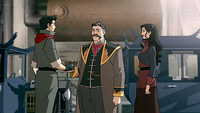 When Asami nearly ran Mako over with her moped, she invited him to dinner, where he discovered she was the daughter of Hiroshi Sato, the creator of Satomobiles. After Asami told her father about Mako's situation, he told Mako that he too came from "humble beginnings" as a shoe shiner with just an idea: the Satomobile. He agreed to finance the Fire Ferrets, giving them the thirty-thousand yuans the team needed to compete in the tournament, only under the condition that they agreed to wear the Future Industries logo on their uniforms.[4]
Mako later learned that Korra was suspicious that Hiroshi was helping the Equalists, but originally thought that it was not true, and Korra was just thinking this out of jealousy. He even went as far as threatening to end their friendship if she did not stop with the accusations. Later, however, he discovered that Hiroshi was in fact an Equalist, upsetting him deeply. After Tenzin, Korra, and Lin and her officers were defeated by Hiroshi's mecha tanks, Mako, along with Bolin, confronted him, claiming that everything Hiroshi had done for them was just a cover-up. Hiroshi confirmed this, stating that the most difficulty he had with it was witnessing his daughter fall for a "firebending street rat" and prepared to attack. After intervention from Asami, they managed to escape. Mako then apologized to Korra about not believing her, claiming that Hiroshi as an Equalist was hard to believe, even at that time.[6]
References
Edit
↑ 1.0 1.1 1.2 1.3 1.4 1.5 1.6 "The Revelation". Michael Dante DiMartino, Bryan Konietzko (writers) & Joaquim Dos Santos, Ki Hyun Ryu (directors). The Legend of Korra. Nickelodeon. April 21, 2012. No. 3, Book One: Air
↑ 2.0 2.1 2.2 "The Spirit of Competition". Michael Dante DiMartino, Bryan Konietzko (writers) & Joaquim Dos Santos, Ki Hyun Ryu (directors). The Legend of Korra. Nickelodeon. May 5, 2012. No. 5, Book One: Air
↑ 3.0 3.1 3.2 3.3 "Endgame". Michael Dante DiMartino, Bryan Konietzko (writers) & Joaquim Dos Santos, Ki Hyun Ryu (directors). The Legend of Korra. Nickelodeon. June 23, 2012. No. 12, Book One: Air
↑ 4.0 4.1 4.2 "The Voice in the Night". Michael Dante DiMartino, Bryan Konietzko (writers) & Joaquim Dos Santos, Ki Hyun Ryu (directors). The Legend of Korra. Nickelodeon. April 28, 2012. No. 4, Book One: Air
↑ 5.0 5.1 "Skeletons in the Closet". Michael Dante DiMartino, Bryan Konietzko (writers) & Joaquim Dos Santos, Ki Hyun Ryu (directors). The Legend of Korra. Nickelodeon. June 23, 2012. No. 11, Book One: Air
↑ 6.0 6.1 6.2 6.3 "The Aftermath". Michael Dante DiMartino, Bryan Konietzko (writers) & Joaquim Dos Santos, Ki Hyun Ryu (directors). The Legend of Korra. Nickelodeon. May 19, 2012. No. 7, Book One: Air
↑ 7.0 7.1 "Out of the Past". Michael Dante DiMartino, Bryan Konietzko (writers) & Joaquim Dos Santos, Ki Hyun Ryu (directors). The Legend of Korra. Nickelodeon. June 9, 2012. No. 9, Book One: Air
↑ 8.0 8.1 8.2 "A Leaf in the Wind". Michael Dante DiMartino, Bryan Konietzko (writers) & Joaquim Dos Santos, Ki Hyun Ryu (directors). The Legend of Korra. Nickelodeon. April 14, 2012. No. 2, Book One: Air
↑ "And the Winner Is...". Michael Dante DiMartino, Bryan Konietzko (writers) & Joaquim Dos Santos, Ki Hyun Ryu (directors). The Legend of Korra. Nickelodeon. May 12, 2012. No. 6, Book One: Air