"Happy birthday, my son. If only I could have helped you."
— Iroh talking to his son's picture.[1]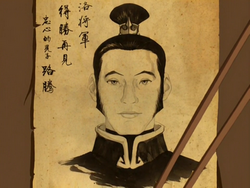 路騰
Lu Ten
Biographical information
Physical description
Personal information
Chronological and political information
| | |
| --- | --- |
| Position | Prince of the Fire Nation |
Affiliation

Fire Nation
Fire Nation military
Image gallery (3)
Prince Lu Ten
was the son of General
Iroh
, and a soldier in the
Fire Nation Army
. While serving his nation in combat, he was killed during his father's famous six-hundred-day
Siege of Ba Sing Se
.
Lu Ten's death had a traumatic impact upon his father, causing him to abandon the siege, ultimately providing an opportunity for Ozai to usurp the birthright of Fire Lord from his brother.[2]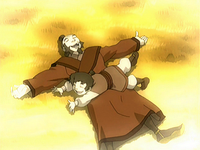 Lu Ten lost his life in combat against the Earth Kingdom five years before the end of the Hundred Year War during the Siege of Ba Sing Se. When he learned of his son's death, Iroh was so heartbroken that he abandoned the siege of the city, claiming that he and his men were exhausted from the extensive time away from home.[3] When his brother, Prince Ozai learned of Lu Ten's death and Iroh's subsequent actions, he petitioned their father, Fire Lord Azulon, to appoint him as heir to the throne, claiming that Lu Ten's death meant that the royal bloodline would end with Iroh, since he had no other heir. Azulon was enraged at such a request, but because of his mysterious death soon after, Ozai was able to take the throne.[2] Iroh did not challenge Ozai's claim, even though he was the elder brother, and did not attempt to secure the throne for himself.
Lu Ten and Iroh had a strong relationship during Lu Ten's childhood, and they remained close during his adulthood.[4] His death had a profound effect upon Iroh, whose personality shifted more toward a calm acceptance of life, rather than continuing to participate in the current war.
Relatives
Edit
Main article: Fire Nation Royal Family
Appearances
Edit
Avatar: The Last Airbender Edit
Book Two: Earth (土)
Edit
Book Three: Fire (火)
Edit
The picture on the altar that his father Iroh set up in "Tales of Ba Sing Se" had his name as

路騰

which translates as "road to gallop over".[1]
Lu Ten was first mentioned during the Siege of the North when Iroh informed Zuko that after Lu Ten's death, he began treating Zuko like his own son. A younger Lu Ten was then seen in "Bitter Work" and a picture of an older Lu Ten was displayed at Iroh's altar for him during "Tales of Ba Sing Se". Zuko had a flashback showing himself, Iroh, and a young Lu Ten during "The Beach".
When seen in the flashback in "Bitter Work", Lu Ten was voiced by Mae Whitman, who voiced Katara.
Lu Ten's mother has neither been seen nor mentioned.
The Avatar Extras bonus commentary for "Tales of Ba Sing Se" misspelled Lu Ten's name, spelling it as Lu Tin.
The words in top left of Lu Ten's portrait could be roughly translated as: "To General Iroh: See you after we win the War. Your loyal son Lu Ten."
References
Edit
↑ 1.0 1.1 "Tales of Ba Sing Se". Joann Estoesta, Lisa Wahlander, Andrew Huebner, Gary Scheppke, Lauren MacMullan, Katie Mattila, Justin Ridge, Giancarlo Volpe (writers) & Ethan Spaulding (director). Avatar: The Last Airbender. Nickelodeon. September 29, 2006. No. 15, Book Two: Earth
↑ 2.0 2.1 "Zuko Alone". Elizabeth Welch Ehasz (writer) & Lauren MacMullan (director). Avatar: The Last Airbender. Nickelodeon. May 12, 2006. No. 7, Book Two: Earth
↑ "Winter Solstice, Part 1: The Spirit World". Aaron Ehasz (writer) & Lauren MacMullan (director). Avatar: The Last Airbender. Nickelodeon. April 8, 2005. No. 7, Book One: Water
↑ "Bitter Work". Aaron Ehasz (writer) & Ethan Spaulding (director). Avatar: The Last Airbender. Nickelodeon. June 2, 2006. No. 9, Book Two: Earth