Love Is a Battlefield
Comments

36
8,322pages on
this wiki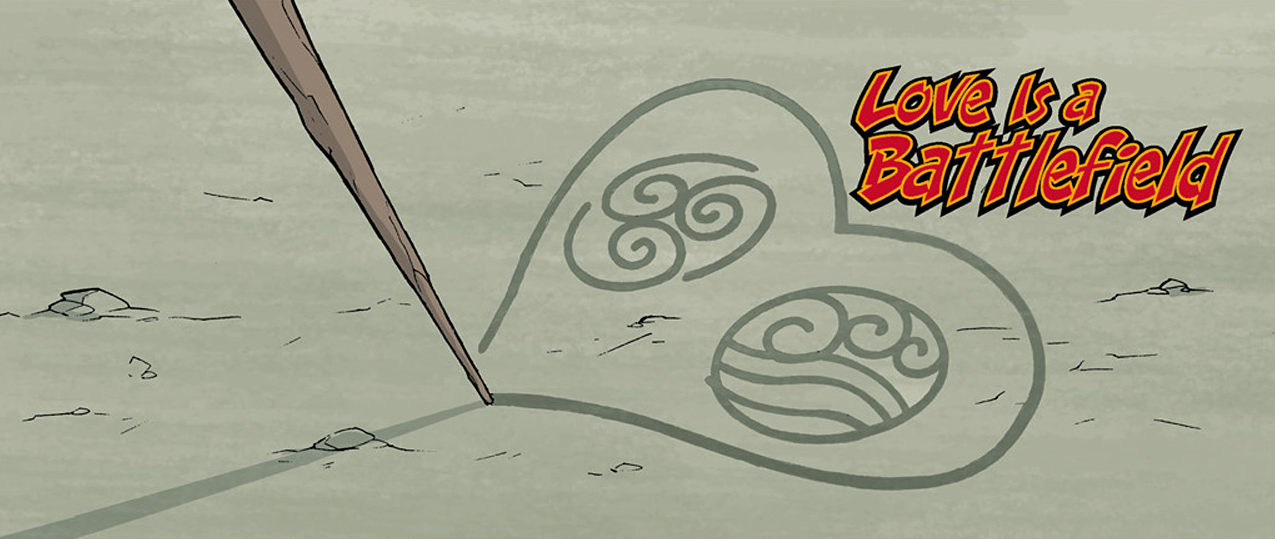 "Love Is a Battlefield"
Creative
Publication
"
Love Is a Battlefield
" is a comic that was released by
Nickelodeon Comics Club
magazine and reprinted in
Avatar: The Last Airbender - The Lost Adventures
.
Overview
Edit
At the Western Air Temple, Aang wishes to speak to Katara about the kiss the two shared during the Day of Black Sun, but she is hesitant and pretends to have no idea what he is talking about.
Synopsis
Edit
At the Western Air Temple, Aang is drawing a heart in the dirt, containing the symbols of waterbending and airbending. As he is drawing, Katara walks by and asks him what he is doing. Aang hides the heart behind his back, claiming to be doing nothing. Katara tells Aang she has something very important to say to him. Aang tells her that he does too, but he does not know she has a sphere of water behind her back.
Katara throws the sphere at him, telling him to think fast, soaking Aang and confusing him. While Katara is laughing, Aang tells her he thought she wanted to talk about something else. Before he can say what this is, Katara cuts him off and tells him he needs to practice firebending. She tells him, "Watch out or you might get another one in the kisser." Upon hearing the word "kisser", Aang remembers the kiss they shared on the submarine just prior to the Invasion of the Fire Nation.
She sends a column of water his way, and Aang earthbends a rock shield in the shape of a tent over himself, which surprises Katara. She compliments him on his earthbending, but points out that he is supposed to be training his firebending. He says he is not feeling up to practicing. Katara tells him he needs to be training to defeat Fire Lord Ozai, not playing "Hide-Aang-Seek".
He asks her who is really playing games and indirectly questions her about the kiss they shared before the invasion. She becomes flustered, changes the topic, and tells him to bring the heat. Aang tells her that she is the one who cannot tolerate when things "get a little too hot". Katara shoots icicles at his earth shield, saying it is not about them, it is about Aang preparing for the Fire Lord. As water seeps through Aang's shield, he asks her to stop. She refuses, however, and again demands that he bring the heat.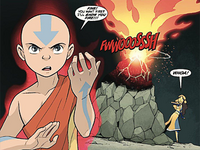 Growing frustrated, Aang tells her if she "want[s] fire, [he] will show [her] fire", and proceeds to conjure a fire and earthbending move resembling a volcano, destroying his rock shield. Aang sees Katara shielding herself and runs over to her, asking if she is okay, fearing that he had hurt her with his firebending. She then compliments him on the "volcano move" and tells him they should practice more so he can show Zuko later, and Aang then walks off. As he is walking away, Katara asks him if he is scared about burning her again, to which he tells her that he is afraid about being the one burned and kicks the dirt, destroying the heart.

Continuity
Edit
See also
Edit