Lizard crow
Comments

9
8,290pages on
this wiki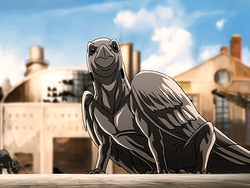 Lizard crow
General information
Chronological information
The
lizard crow
is a
creature
found in
Republic City
. This hybridized animal is a scavenger that can be seen scouring the city for scraps, especially around industrial and coastal areas.
[1]
The lizard crow has the wings and beak of a crow, but the general body and tail of a lizard. The creature is completely dark gray in color, with a black dot on either side of its neck.[2]
Connection
Edit
As the name implies, this creature is a hybridization of a crow with a lizard.
This species strongly resembles the gargoyle which adorn the edges of many rooftops in traditional gothic architecture.
References
Edit