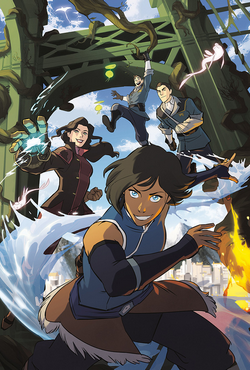 The Legend of Korra comics are visual publications that depict events and situations unseen during the series' run.
Graphic novel trilogies
Turf Wars (2017)
Main article: Turf Wars
Following their trip to the Spirit World, Korra and Asami Sato discover that Republic City has fallen into a state of utter chaos. In the aftermath of the devastation caused by the battle with Kuvira's forces and the opening of a spirit portal in the middle of the city, a developer has moved to turn the portal and the surrounding area into an amusement park. In addition, as evacuees filter back into the city and discover the devastation, the regrouping of the city's triads creates yet another problem for the Avatar and her friends.[1]
Free Comic Book Day minicomics
Friends for Life (2016)
Main article: Friends for Life
As a child living in the Southern Water Tribe, Korra finds a polar bear dog cub which has become separated from its pack during a storm. After naming it Naga, Katara convinces Korra's parents, Tonraq and Senna, to allow her to keep Naga, believing that Korra has found her animal guide.
Untitled comic (2018)
Story: Michael Dante DiMartino
Art: Jayd Aït-Kaci and Vivian Ng
Avatar Korra pairs up with an unlikely sidekick. When Meelo shirks his duties at the refugee camp, Korra recruits him for a top-secret, super-important mission: tracking down a pack of lost pets![2][3]
Trivia
Comics for The Legend of Korra were initially announced by co-creators Bryan Konietzko and Michael Dante DiMartino during the 2015 San Diego Comic-Con, but due to delays in the development, a date was not announced until October 2016,[1] which was pushed back again later.[4]
The Dark Horse Comics panel during the 2016 New York Comic Con offered the first concept art for the comics featuring Korra and Asami in the Spirit World.[5]
References
↑ 1.0 1.1 Holub, Christian (October 4, 2016). First The Legend of Korra graphic novel coming in June 2017. Entertainment Weekly. Retrieved on October 4, 2016.
↑ Amazing story for all ages (December 19, 2017). Retrieved on December 21, 2017.
↑ FCBD 2018 LEGEND OF KORRA & NINTENDO ARMS (December 19, 2017). Retrieved on December 21, 2017.
↑ Turf Wars Part One delayed. Dark Horse Comics on Twitter (March 17, 2017).
↑ Korra and Asami in the Spirit World. Owldee on Tumblr (October 8, 2016). Retrieved on October 11, 2016.
See also