Lion vulture
Comments

5
8,322pages on
this wiki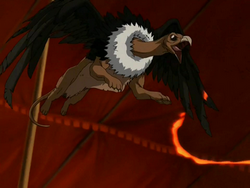 Lion vulture
General information
Chronological information
The
lion vulture
is a hybridized
creature
that is used for
entertainment
in the
Fire Nation
circus
.
[1]
The lion vulture is a large bird that has the head and wings of a vulture and the body of a lion. Its head and neck have no feathers, while its wings and upper body have black feathers and its neck has white. Its feet and under-body are that of a lion, with tawny colored fur.
Behavior
Edit
The lion vulture appears to be a vegetarian, or at least appreciates cabbage, which is contradictory to both of its inspirational animals. They can be trained to perform in circus performances.[1]
Connection
Edit
The lion vulture takes many of its qualities from the mythological griffin, as well as the vulture.
References
Edit
See also
Edit