Lion turtle (species)
Comments

25
8,276pages on
this wiki

This article is about the species. For the creature met by Aang, see lion turtle.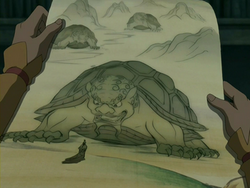 Lion turtle
General information
| | |
| --- | --- |
| Status | One last known specimen remaining |
Chronological information
The
lion turtle
is a chimerical hybrid of a lion and a turtle and is the largest known
animal
in the
World of Avatar
. The largest known
specimen
was the size of a small island.
[1]
The lion turtle is an ancient species; the only specimen known to be alive is known as the oldest living thing on the planet.[2]
When Sozin's Comet returned in 100 ASC, there was only one known member of the species to be alive. However, paintings in Wan Shi Tong's Library depict a much smaller lion turtle without vegetation growing on its shell being followed by two others. This shows there were once more lion turtles than the one known that survived to the end of the Hundred Year War.[3][4]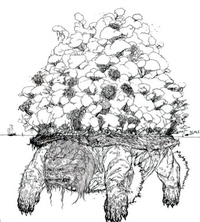 Most of the lion turtle's body is that of a turtle; however, it has the face and paws of a lion. It has webbed feet, and its finger joints are made of soft tissue that is the same as a real-life crab's joint cover. Its rheum is not sticky or soft, and its pupil is slightly blurry, as if it has a cataract.[2] Lion turtles can attain a great age if they are not harmed, with the oldest one being the oldest known creature on Earth. If a lion turtle is allowed to age for many eras, it becomes as large as an island, and its shell becomes covered with plant life and certain animal life.[1] At a younger age, the lion turtle is not much bigger than a flying bison, with no plant or animal life covering it.[4]

Connection
Edit
The lion turtle, as its name suggests, has the body of a giant turtle and the head and forelegs of a lion.
According to Avatar Extras, a lion turtle's heart equates to "twelve Appas", who weighed more than ten tons.[5]
The lion turtle is one of the few animals that can understand human speech and is the only one that is known to be able to speak human language. However, it does so telepathically.[1]
While appearing in "person" only during the season three finale, the lion turtle was referenced several times before appearing:

It was seen in a scroll in Wan Shi Tong's Library.[4]
A fountain at the Northern Air Temple was in the shape of a lion turtle.[6]
Piandao compared Sokka's courage and heart to those of a lion turtle.
Piandao's manor contained many lion turtle statues.[7]
Admiral Chan's home had a lion turtle door knocker.[8]
General Fong and General Sung both had pauldrons representing the head of a lion turtle as did one of Aang's battle "options".[9]
Aang and Sokka hid behind a lion turtle statue outside the Earth Kingdom royal palace while coming up with a plan to enter the party.

Images of a lion turtle have also been observed in Republic City.
A lion turtle appeared in the beginning of the unaired pilot as a statue behind Aang.
A giant turtle-like being with an island, or the entire world, growing from its shell is quite popular in several mythologies.

In Hindu mythology Vishnu's second avatar is a giant turtle (Kurma) who holds the entire world on its back. Moreover, Vishnu's fourth avatar is a half-man, half-lion (Narasimha) who helps a pious little boy (Prahlad) destroy an evil king (the Buddha too is considered an avatar of Vishnu). In that sense, the lion turtle can be a reference to a god-like or buddha-like figure explaining to Aang how to defeat the Fire Lord.
References
Edit
↑ 1.0 1.1 1.2 "Sozin's Comet, Part 2: The Old Masters". Aaron Ehasz (writer) & Giancarlo Volpe (director). Avatar: The Last Airbender. Nickelodeon. July 19, 2008. No. 19, Book Three: Fire
↑ From older Avatar: The Last Airbender official site, originally on Nick.com (link). No longer updated.
↑ 4.0 4.1 4.2 "The Library". John O'Bryan (writer) & Giancarlo Volpe (director). Avatar: The Last Airbender. Nickelodeon. July 14, 2006. No. 10, Book Two: Earth
↑ Avatar Extras for "Sokka's Master" on Nicktoons Network.
↑ "The Northern Air Temple". Elizabeth Welch Ehasz (writer) & Dave Filoni (director). Avatar: The Last Airbender. Nickelodeon. November 4, 2005. No. 17, Book One: Water
↑ "Sokka's Master". Tim Hedrick (writer) & Giancarlo Volpe (director). Avatar: The Last Airbender. Nickelodeon. October 12, 2007. No. 4, Book Three: Fire
↑ "The Beach". Katie Mattila (writer) & Joaquim Dos Santos (director). Avatar: The Last Airbender. Nickelodeon. October 19, 2007. No. 5, Book Three: Fire
↑ "The King of Omashu". John O'Bryan (writer) & Anthony Lioi (director). Avatar: The Last Airbender. Nickelodeon. March 18, 2005. No. 5, Book One: Water
↑ "Avatar Day". John O'Bryan (writer) & Lauren MacMullan (director). Avatar: The Last Airbender. Nickelodeon. April 28, 2006. No. 5, Book Two: Earth
↑ "Welcome to Republic City". Michael Dante DiMartino, Bryan Konietzko (writers) & Joaquim Dos Santos, Ki Hyun Ryu (directors). The Legend of Korra. Nickelodeon. April 14, 2012. No. 1, Book One: Air
See also
Edit