"Choose well. A sky bison is a companion for life."
— Sister Iio to the Air Nomad children.[1]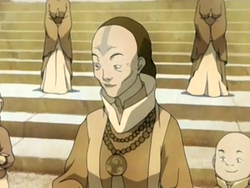 Iio
Biographical information
Physical description
Personal information
Chronological and political information
Position

Mother Superior of the Eastern Air Temple
Airbending master
Image gallery (2)
Sister Iio
was an
Air Nomad
nun, as well as the Mother Superior of the
Eastern Air Temple
during
Aang
's childhood. She always knew best, but she was so unaffected and cheerful that no one really minded.
[2]
In 6 BSC, Iio guided a group of young Air Nomad children through the tradition of choosing a flying bison. She met the group of youngsters, among which was Aang, and led them to an open area. She gave each of them an apple to lure a bison calf, and advised them to choose carefully when picking out their bison, as "a sky bison [was] a companion for life."[1]
Along with the rest of the airbenders, Sister Iio was killed during the Air Nomad Genocide.
Appearances
Edit
Avatar: The Last Airbender Edit
Book Two: Earth (土)
Edit
References
Edit