Lightning Bolt Zolt
Comments

290
8,311pages on
this wiki
"You're gonna regret doing that, pal!"
— Lightning Bolt Zolt accepting Amon's challenge to a duel.[1]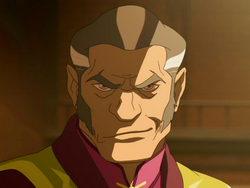 "Lightning Bolt" Zolt
Biographical information
Personal information
| | |
| --- | --- |
| Weapon of choice | Fire, lightning (formerly)[1] |
Chronological and political information
| | |
| --- | --- |
| Profession | Criminal gang leader |
"Lightning Bolt" Zolt
is the leader of the
Triple Threat Triad
.
[2]
He is infamous in
Republic City
for crimes against
non-benders
; he is also known to solicit recruits for his triad operations at
Central City Station
. Being one the most notorious crime bosses in the city, he was the first known victim of
Amon
's ability to
take a person's bending away
.
[1]
After becoming their leader, it was Lightning Bolt Zolt who was responsible for bringing the Triple Threats into an organized crime syndicate, using fear and violence to extort shopkeepers, steal shipments, and blackmail public figures.[2]
At the beginning of the Anti-bending Revolution in autumn 170 ASC, Lightning Bolt Zolt was among five bending mobsters taken after the Equalist raid on the Triple Threat Triad's headquarters. During an Equalist gathering, Amon, who recounted Lightning Bolt Zolt's many acts of oppression over non-benders, presented the bound crime boss to the booing crowd of non-bending Equalist supporters. Zolt, unmoved and annoyed by the situation, simply said that the non-benders should "boo [themselves]." Much to his surprise, an Equalist then released him, while Amon challenged him to a duel to keep his bending. At first Zolt was confused that someone, especially a non-bender, would face him out of free will, but he then grinned and accepted the challenge. Self-confident, he predicted that Amon would regret freeing him.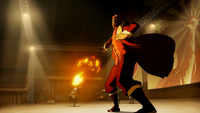 Lightning Bolt Zolt started the duel by sending multiple rounds of fire blasts at Amon, who dodged every attack to get closer to Zolt. Realizing that he needed more to kill the Equalist leader, Zolt then attacked Amon with a steady stream of lightning. However, the revolutionary easily overpowered him while evading all of his attacks. Amon caught Zolt's arm to control his lightning, and then placed two fingers on his forehead, and his other hand on the back of Zolt's neck, stripping him of his bending. In an impressive spectacle, Zolt's stream of lightning degraded into firebending and finally extinguished. After taking his bending, the Equalist leader let go of Zolt, who collapsed onto the ground. The crime boss, however, quickly regained his consciousness. Refusing to give up, he attempted to firebend at Amon to no avail. Shocked of the loss of his bending abilities, the Triple Threat Triad leader asked Amon what he had done to him. The revolutionary leader told Zolt, "Your firebending is gone. Forever."[1]
Personality
Edit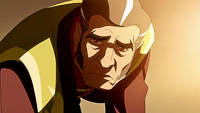 Lightning Bolt Zolt is known to be a blunt and often merciless man who does not hesitate to cut his enemies down. Tremendously self-confident, he is unconcerned of what others think of him; this is evidenced by his callous attitude toward the booing non-bender crowd that gathered at Amon's rally. He also showed to be courageous and unyielding, as he accepted Amon's challenge without hesitation and even tried to attack the Equalist leader when he was defeated and lying on the ground. However, Zolt was deeply shocked when realizing that his firebending was gone, hinting that much of his self-confidence depended on his powerful bending.[1]
Abilities
Edit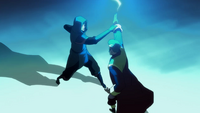 Zolt was skilled in the art of firebending. During his duel with Amon, he employed quick bursts of fire before resorting to lightning. He was able to maintain a steady stream of lightning, using it to cut through multiple metal structures with ease. He was also physically relatively strong as he is one of the few who could stand up immediately after Amon's removing of bending and he also regained his consciousness very quickly.[1]

Appearances
Edit
The Legend of Korra Edit
Book One: Air (气)
Edit
Zolt's line after Amon removed his bending was the same as Ozai's when Aang removed his bending: "What did you do to me?"
Zolt's voice actor, Kevin Michael Richardson, also provided the voices of Butakha and the doorman. This supplements his previous roles as Tyro, The Big Bad Hippo, Flopsie, and the lion turtle in Avatar: The Last Airbender.
Zolt is the third known person to lose his bending in the Avatar universe, but the first to do so in The Legend of Korra, and the first known person to have his bending taken away by someone who is not an Avatar.
Zolt is also the first person besides Ozai who has shown the ability to be able to generate lighting at a fast speed, even in a fight with a foe with superior speed and agility like Amon. Mako has also displayed fast lightning generation, and doing so in a speeding car, successfully hitting a fast-moving target, which could imply most firebenders have learned to bend lightning faster.
Zolt's physical appearance somewhat resembles Yakone's pre-plastic surgery appearance.
Zolt possesses an accent like that of an Italian mobster.
Zolt is shown on a most wanted poster along with Amon in the police headquarters in the Welcome to Republic City game.
References
Edit