"No! Not my Cabbage Corp!"
— Lau Gan-Lan upon hearing that his company will be closed.[1]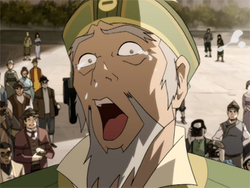 Lau Gan-Lan
Biographical information
Physical description
Personal information
Chronological and political information
Lau Gan-Lan
is the current owner of
Cabbage Corp
, the rival company of
Future Industries
in
Republic City
. He was framed by
Hiroshi Sato
as the manufacturer of
Equalist
weaponry
.
[1]
In 170 ASC, the Metalbending Police Force was alerted of Lau Gan-Lan's alleged Equalist ties. After finding sufficient evidence, the police came to Cabbage Corp's headquarters and arrested him. Despite his claims that the allegations were false, authorities proceeded with taking Lau Gan-Lan away, who began to cry after hearing his assets would be frozen and that Cabbage Corp was to be closed. It was later discovered that Hiroshi Sato had framed Lau Gan-Lan.[1]
Appearances
Edit
The Legend of Korra Edit
Book One: Air (气)
Edit
Lau yelled "No! Not my Cabbage Corp!" when he was taken into custody by the metalbending police. This phrase is strikingly similar to the cabbage merchant's famous phrase, "My cabbages!".
Lau Gan-Lan is a pun on the Chinese words

老

, which is a respectful title meaning "old man" or "Mr." and

甘藍

, meaning "wild cabbage": his name could therefore be translated as "Old Man Cabbage" or "Mr. Cabbage".
Lau's voice actor, James Sie, also voiced the cabbage merchant in the original series, in addition to voicing Oyaji.
Lau's clothing consists of various green and gold colors, much like the cabbage merchant from Avatar: The Last Airbender.
References
Edit