"The Avatar has kidnapped my daughter. I want you to do whatever it takes to bring her home."
— Lao Beifong to Xin Fu and Master Yu.[1]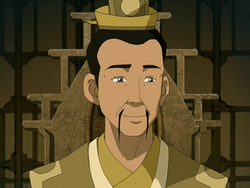 北方老
Lao Beifong
Biographical information
Physical description
Personal information
Chronological and political information
| | |
| --- | --- |
| Position | High class Earth Kingdom citizen |
| | |
| --- | --- |
| Affiliation | |
Image gallery (4)
Lao Beifong
was a wealthy
figure
in the
Earth Kingdom
town of
Gaoling
. He was the husband of
Poppy Beifong
and the father of
Toph
. Caring deeply for his daughter and only wishing for her safety, he was extremely overprotective of her, and hid her existence from the rest of the
world
.
After it was discovered that Toph was an earthbender, Lao enrolled her in earthbending classes with Master Yu, though he only allowed her to learn basic forms and breathing techniques. Lao loved his only child dearly but failed to recognize what his daughter truly wanted, believing her blindness made her weak, helpless, and frail. As a result of this, he had her guarded and cared for the majority of the time. However, unbeknownst to him, Toph had superb earthbending skills. When Toph revealed her earthbending prowess by defeating the Earth Rumble VI competitors who were holding Avatar Aang captive, his fear for her safety increased rather than diminished. He resolved to guard her even more closely, claiming that she had too much time for leisurely activities. This drove Toph to run away from the confines of her home at the age of twelve to teach Aang earthbending. Upon realizing she was missing, Lao assumed Aang had kidnapped her and commissioned Xin Fu, the host of the Earth Rumble VI tournament, and Master Yu, Toph's earthbending teacher, to do "whatever it [took] to bring [her] home", with a chest of gold as a reward.[1]
Personality
Edit
Lao was a caring and kind man who sought the best for his family, though he could be extremely overbearing, notably to his only daughter, Toph. Ignorant to Toph's true earthbending abilities, he perceived her as helpless and fragile, an image to which, in reality, Toph did not compare in the least. This view remained unchanged even after seeing first hand Toph's undeniable skill. Toph's blindness resulted in his overprotectiveness of her, and she was placed under strict surveillance. His wish to keep his daughter safe often influenced his decisions and contradicted Toph's own desires.[2] It was the culmination of his overprotective nature and his blindness to the truth which galvanized Toph to leave, but even following this, rather than admitting his error, his attitude did not change, as he believed Aang had kidnapped her.
Relatives
Edit
Appearances
Edit
Avatar: The Last Airbender Edit
Book Two: Earth (土)
Edit
According to Toph's passport[3] and the fake letter from her mother,[4] Beifong is written as

北方

and when succeeding

老

, his full name translates to Old North or Mr. North.
References
Edit