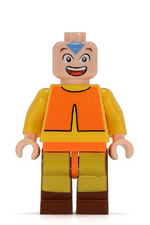 Lego Avatar: The Last Airbender was a series of LEGO sets manufactured by the LEGO company, based on the television series of the same name. However, due to competition between Avatar and SpongeBob SquarePants, this LEGO theme had to be discontinued. This made it one of the shortest LEGO theme runnings in history, having only two sets.
Background
The two sets debuted as part of the first wave of Nickelodeon-themed LEGO sets following a partnership between the popular kids' network and the Danish toy company in late 2005. In this wave, Nickelodeon decided to include two of its most popular franchises: Avatar: The Last Airbender and SpongeBob SquarePants. In August 2006, the first five Nickelodeon LEGO sets hit retail shelves: two based on Avatar and the other three on SpongeBob.[1] The Avatar product line never lasted beyond its first LEGO outing. Its SpongeBob counterpart, however, performed slightly better and remained a theme until 2009, then reintroduced from 2011-2012, followed by Teenage Mutant Ninja Turtles.
The discontinuation of the theme is partly due to the belief that Avatar: The Last Airbender would become obsolete, as only three seasons were planned and it was originally set to end the year after the first wave. Nevertheless, the sets produced are based only on Book One, and therefore recreate events solely from this time frame. The series had not yet introduced Toph, and Zuko was still bent on capturing Aang. There were only two new piece molds introduced in this theme, those for Momo and the wings of Aang's glider.
Aang is the only individual character from the series that appears in both sets. Sokka and Momo only appear in "3828 Air Temple", and Katara and Zuko only appear in "3829 Fire Nation Ship". Other mini-figures merely portray generic Fire Nation soldiers. Important recurring characters that were already present in Book One and are not represented in any way in this theme are Appa, Iroh, and Zhao.
Sets
| | | | | | |
| --- | --- | --- | --- | --- | --- |
| No. | Set name | Pieces | Price | Minifigures | Release date |
| 3828 | Air Temple | 400 | US $29.99 / £24.99 | | 2006 |
| 3829 | Fire Nation Ship | 722 | US $49.99 / £39.99 | | 2006 |
Gallery
References
See also
External links