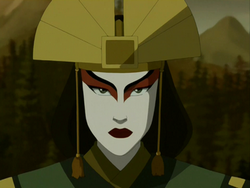 虛子
Kyoshi
Biographical information
| | |
| --- | --- |
| Predecessor | Kuruk (as Avatar) |
| | |
| --- | --- |
| Successor | Roku (as Avatar) |
Physical description
Personal information
| | |
| --- | --- |
| Enemies | Chin the Conqueror, Chin's sympathizers |
Chronological and political information
Profession

Avatar
Earthbending instructor
| | |
| --- | --- |
| Position | Fully Realized Avatar |
Image gallery (19)
Avatar Kyoshi
was the
Earth Kingdom
-born
Avatar
immediately succeeding Avatar
Kuruk
and preceding Avatar
Roku
. She died at the age of 230, earning her the title of oldest known human and Avatar.
[3]
Kyoshi was a very tall woman, possessing the largest feet of any Avatar.
[4]
Her traditional weapons were golden metal fans which, in addition to her manner of dress and style of fighting, were adopted by the
Kyoshi Warriors
of
Kyoshi Island
, her homeland.
[5]
Unlike her successors, Roku and Aang, Kyoshi was determined that only true justice could bring peace, and had no qualms about killing enemies to achieve this goal. Employing these methods, she was a generally effective Avatar. However, Kyoshi founded the Dai Li, a decision she deeply regretted due to their power, control, and eventual corruption.[6]
Early life
Edit
Kyoshi was born in the year 312 BSC on a peninsula off the tip of the southwestern Earth Kingdom that would one day become Kyoshi Island. She, like all Avatars, mastered all four elements and the Avatar State.
Stopping Chin the Conqueror
Edit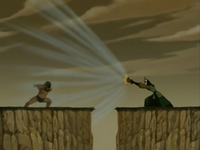 During Kyoshi's life, the 46th Earth King's rule was unpopular among the populace of the Earth Kingdom. Using this to his advantage, a warlord named Chin launched a war to conquer the continent. He was successful until he reached the peninsula where Kyoshi lived. When he refused to listen to Kyoshi, she confronted him and separated the peninsula from the mainland through a combination of all four bending arts, forming Kyoshi Island and thereby protecting her homeland from subsequent threats such as the warlord. An indignant Chin was left standing on the edge of a cliff, which then crumbled beneath his feet, causing him to fall into the sea, where he subsequently drowned. His death ushered the world into a great era of peace.
Because of Kyoshi's act, the people of Chin Village on the mainland founded Avatar Day to vilify Kyoshi, and all the other Avatars after her, for the death of their leader. The people of Kyoshi Island, meanwhile, founded "Kyoshi Day" on the same day as Avatar Day, to honor her creation of the island and the restoration of peace to their village. They also erected a large totem, topped with a statue of Kyoshi in her memory.[4]
History with the 46th Earth King
Edit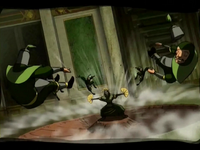 Sometime after her confrontation with Chin, Kyoshi was summoned to Ba Sing Se at the request of the Earth King, since his unpopular rule had led to a peasant uprising in the city. By the time Kyoshi reached the city, the peasants had already destroyed everything that represented the "old government", including ancient and valuable historical and cultural artifacts. The King demanded that she stop the uprising by whatever means necessary. However, Kyoshi staunchly refused, stating that it would not be right for her to do so. Incensed by her defiance, the Earth King ordered for her arrest, but a display of the Avatar's power and a warning intimidated him into a compromise. The Earth King agreed to give the peasants a voice in his ruling, while Kyoshi in turn agreed to protect Ba Sing Se's cultural heritage from further desecration. She then proceeded to train an elite platoon of earthbenders, though their subsequent corruption weighed heavily on Kyoshi in her afterlife.[6]
Kyoshi died in the year 82 BSC at the age of 230, making her the oldest Avatar and human in history.[2] Her daughter Koko succeeded her as the leader of Kyoshi Island, and the Avatar Spirit passed on to the Fire Nation native Roku.
Appearances throughout Aang's life
Edit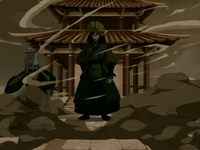 During his trip to Kyoshi Island, Aang observed the statue erected in her honor.[7] She thereafter appeared in a vision as the most recent Earth Kingdom Avatar when Avatar Roku was explaining the nature of the Avatar State to Aang.[8] Kyoshi manifested herself through Aang, as Roku had done on the winter solstice, to testify in a trial proving the Avatar's innocence, though she confessed to killing Chin while doing so.[4]
Before the arrival of Sozin's Comet, Aang summoned Kyoshi's spirit, seeking advice on how to defeat Phoenix King Ozai without killing him. Kyoshi reminded him that her forceful ending of Chin the Conqueror's war for dominance brought a great era of peace. Aang pointed out that she was not directly responsible for Chin's death, arguing it was a result of his own arrogance. Kyoshi said she saw no difference in this, and told him that she would have done anything to stop Chin. Aang regretted consulting Kyoshi on this complex matter after hearing this.[1]
Appearance in Korra's life
Edit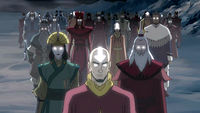 Kyoshi, alongside many other past Avatars, appeared to Korra after she lost her bending to Amon. This appearance was representative of Korra establishing a connection with her spiritual side and for the purpose of having her bending restored.[9]
Abilities
Edit
As the Avatar, Kyoshi was able to bend all four elements and enter the Avatar State at will. Her most spectacular feat was using the Avatar State to separate her home peninsula from the Earth Kingdom mainland, and push it far out to sea to create Kyoshi Island. To do so, she first cut down to the earth's mantle with earthbending to sever the landmasses, then used a combination of all four elements to push the island out to sea.[4] This is one of the two known instances in which Kyoshi used the Avatar State; the other was when she levitated two massive badgermole statues in a flashback.[8]
Relatives
Edit
Appearances
Edit
Avatar: The Last Airbender Edit
Book Two: Earth (土)
Edit
Escape from the Spirit World Edit
Book Three: Fire (火)
Edit
The Legend of Korra Edit
Book One: Air (气)
Edit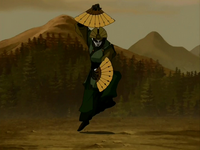 Preceded by
Position established
Head of the Dai Li
Unknown - before 82 BSC
Succeeded by
Unknown, eventually Long Feng
References
Edit
↑ 1.0 1.1 "Sozin's Comet, Part 2: The Old Masters". Aaron Ehasz (writer) & Giancarlo Volpe (director). Avatar: The Last Airbender. Nickelodeon. July 19, 2008. No. 19, Book Three: Fire
↑ 2.0 2.1 2.2 Welcome to Republic City. Nickelodeon (April 6, 2012). Retrieved on April 7, 2012.
↑ 4.0 4.1 4.2 4.3 4.4 "Avatar Day". John O'Bryan (writer) & Lauren MacMullan (director). Avatar: The Last Airbender. Nickelodeon. April 28, 2006. No. 5, Book Two: Earth
↑ From older Avatar: The Last Airbender official site, originally on Nick.com (link). No longer updated.
↑ "The Warriors of Kyoshi". Nick Malis (writer) & Giancarlo Volpe (director). Avatar: The Last Airbender. Nickelodeon. March 4, 2005. No. 4, Book One: Water
↑ 8.0 8.1 "The Avatar State". Aaron Ehasz, Elizabeth Welch Ehasz, Tim Hedrick, John O'Bryan (writers) & Giancarlo Volpe (director). Avatar: The Last Airbender. Nickelodeon. March 17, 2006. No. 1, Book Two: Earth
↑ "Endgame". Michael Dante DiMartino, Bryan Konietzko (writers) & Joaquim Dos Santos, Ki Hyun Ryu (directors). The Legend of Korra. Nickelodeon. June 23, 2012. No. 12, Book One: Air
↑ Pencil test of the opening credits for Legend of Korra, showing three distinct bending styles of movement.. KorraNation (March 8, 2012). Retrieved on March 8, 2012.