This article is about Aang and Katara's daughter. For Katara's mother, see Kya. For Katara in the pilot episode, see Kya (pilot).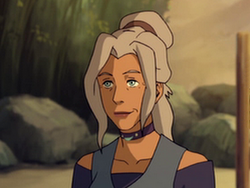 琪亞
Kya
Physical description
Personal information
Chronological and political information
Image gallery (1)
Kya
is the first of
Avatar
Aang
and
Katara
's three children and their only daughter, as well as the only
waterbender
that the couple had.
[1]
Personality
Edit
According to Katara, both Kya and Bumi were rambunctious as children, whereas Tenzin was always rather serious.[2]
Relatives
Edit
Kya was named after her maternal grandmother, Kya.
Kya was the name given to Katara's character in the pilot episode.
Kaya, similar to Kya, is the name of a young girl in the movie Princess Mononoke which has already inspired the creators many times before.
Bryan Konietzko described Kya as a proficient healer and a "hippie". She is said to share a special bond with her niece Jinora.[3]
By the end of the first book of The Legend of Korra, Kya is the only one of Aang and Katara's children who has not appeared.
Kya is the first known child of an airbender to be a waterbender.
Kya's favorite song is "Secret Tunnel".[3]
Kya is the first known person to have a parent with Air Nomad heritage and have been born after the Air Nomad Genocide.
References
Edit