Kya (waterbender)
Talk

0
9,292pages on
this wiki
This article is about Aang and Katara's daughter. For Katara's mother, see Kya. For Katara in the pilot episode, see Kya (pilot).
"You think you're the responsible one? Where were you after Dad died and Mom was all alone? Because I was the only one who packed up and moved my whole life to be with her."
— Kya to Tenzin.[1]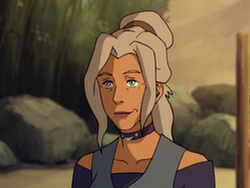 琪亞
Kya
Biographical information
Physical description
| | |
| --- | --- |
| Hair color | Brown (gray in old age) |
Personal information
| | |
| --- | --- |
| Allies | Southern Water Tribe, Aang, Katara, Bumi, Tenzin, Pema, Jinora, Ikki, Meelo, Rohan, Korra |
| | |
| --- | --- |
| Fighting style(s) | Waterbending (Southern and Northern style) |
Chronological and political information
| | |
| --- | --- |
| Position | |
Image gallery (29)
Kya
is the second of
Avatar
Aang
and
Katara
's three children and their only daughter, as well as the couple's only
waterbending
child.
[2]
History
Early life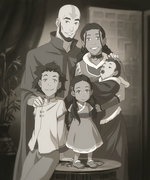 Growing up, Kya and her older brother, Bumi, enjoyed teasing and roughhousing their younger brother, Tenzin. Although the three siblings maintained a relatively healthy relationship, Kya and Bumi became distant with their father due to his fixation on saving the world, preserving the Air Nomad culture and training Tenzin, the only other airbender in the family. Consequently, Kya developed a stronger connection with Katara, who taught her waterbending.[3] In the process, Kya had developed her waterbending and healing abilities to proficiency.
As she became older, Kya traveled around the world, which Tenzin described as "finding herself". However, after Aang's passing in 153 ASC, Kya returned to the Southern Water Tribe to tend to her grieving mother, as her brothers were occupied by their professions.[4]
Reuniting the family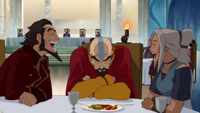 In 171 ASC, Kya attended the Glacier Spirits Festival in the Southern Water Tribe. She awaited the arrival of her brothers at the dock, eagerly greeting her niece, Jinora, while stating that Tenzin did not bring his family around nearly enough. As she greeted her younger brother, she playfully put forward Tenzin's fear of her as the reason why they never visited. She later attended the royal banquet in honor of Chief Unalaq, during which she seemingly came to Tenzin's rescue when Bumi was teasing him, though used the opportunity to jab at him as well. That night, Kya was awoken by the attack of a dark spirit, though by the time she arrived, the entity had already been calmed by Unalaq. She witnessed how Korra thanked Tenzin for his tutelage thus far, though decided that she no longer required his services. Some time later, Kya, together with Bumi and Katara, came to see Tenzin off as he prepared to take off toward the Southern Air Temple. She ended up accompanying her younger brother at the insistence of their mother, joyously expressing her eagerness to see the "laid back vacation Tenzin".[5]
Family troubles
Arriving at the Southern Air Temple, Kya and Bumi were not treated with the same respect as Tenzin and his family, as one Air Acolyte did not even know that Aang had any other children, believing Kya and her brother to be the servants. They grew even more annoyed when the woman apologized to them for their lack of airbending abilities.[6]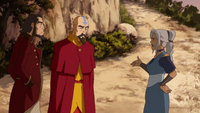 During her stay at the Southern Air Temple, Kya used her time to relax and joke around with her brothers. However, when Tenzin expressed his joy over having his siblings around, as it reminded him of all the vacations they took as children with their dad, Kya grew annoyed, as she and Bumi where never part of those vacations. However, her mood brightened when Jinora and Meelo arrived as well. When it was discovered that Ikki had run away, she suggested that she and her two brothers would search for her together. However, by dusk, they still had not found any trace of the young airbender. When Tenzin mused that Ikki's disappearance was probably his fault, Kya was quick to agree with him, explaining that he had likely been too busy with his duty to Republic City that he had forgotten to spend time with his children, just like Aang had been with them. She chided Tenzin for being under the false impression that they all had had a happy-go-lucky childhood, when that had not been the case for her and Bumi. As Tenzin attempted to avoid talking further about the subject, she mocked him for his "classic airbending technique" of evading things when they get tough.
Even after the night had fallen, the trio continued their search for Ikki, with Bumi entertaining his siblings with grandiose stories over his past search and rescue missions. As her brothers began to bicker, an annoyed Kya left them to it and walked on, finding the first trace of her niece, namely footprints leading down a trail next to a waterfall. As Kya and Tenzin moved to follow the prints, Bumi suggested that they descend via the waterfall as that would be much quicker. Kya opposed the idea initially, stating that the darkness and the slippery rocks would make it a very dangerous journey, but after Bumi confidently stated that if he, a nonbender, could make his way down, it should not be any trouble for two benders, she and Tenzin swiftly made their way down, using their respective bending arts. Reaching the bottom way before her older brother, she mocked him for his slow pace, though grew worried as the retired commander slipped and fell the entire way down into the water.
Kya started to heal the injured Bumi, though quickly got into an argument with him over his immaturity over their bending abilities. However, when Tenzin stated that he had to be the responsible one of the trio, Kya grew annoyed with him as well, refuting his claim by stating that she was the only one who had taken on the responsibility of taking care of their mother when their father had died, though Tenzin minimized that responsibility by pointing out that she had moved all over the world for years before that, arguing it had been time for her to settle down anyway. The argument quickly escalated, turning back to the core issue that Tenzin was heavily favored by Aang and made it his sole responsibility of carrying on Aang's legacy, as opposed to doing that with his siblings. Irritated, she stated that she never should have accompanied Tenzin on his vacation, something her brothers swiftly agreed to. Kya and Bumi curtly agreed to go back to the temple to see if Ikki had returned, while Tenzin kept looking on his own.[4]
The next day, Kya found Bumi in the air temple sanctuary, looking at their father's statue. Hearing her brother's unanswered search for their father's approval, she hugged him, assuring the ex-commander that Aang would most definitely be proud of him.
After Tenzin returned with Ikki, she apologized for dumping her frustrations about their dad on him and showed her siblings a picture of them with their parents when they were younger that she had received from Katara before they left the Southern Water Tribe.[1] A few days later, she witnessed in awe as her oldest nephew orchestrated a ring-tailed winged lemur air show.[7]
Eastern Air Temple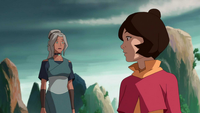 Having arrived at the Eastern Air Temple, Kya engaged in a discussion with her older brother, calling him out to be a liar for claiming that he once won a rock-throwing contest against an earthbender. Their conversation was cut short when Tenzin announced their itinerary for the day. However, before they could embark on the tour of the temple, Korra arrived, pleasantly surprising everyone. She was shocked to learn the events they had missed by being closed off from the outside world. When it became apparent that Korra needed to enter the Spirit World, Kya tried to help out as much as she could, and followed Tenzin's instructions carefully when placing incense sticks. However, she got blamed by the airbending master for his failure to cross over to the Spirit World. She did not press the matter and was distracted by Jinora who ran off, seemingly chasing something. However, when Kya asked about it, Jinora brushed her off and left, leaving Kya to her own suspicions.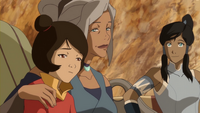 Kya returned to the air temple, where she was shocked to hear Tenzin's confession that he had never been to the Spirit World before. When Korra emphasized her urgency to get to the Spirit World, Kya acted upon her suspicions and pushed Jinora to reveal her secret, namely that she had been conversing with spirits. Following the dragonfly bunny spirits to an ancient meditation circle, Kya reassured her eldest niece that Tenzin was not mad at her, but was merely suffering from a bruised ego.
As they arrived at the location, Kya witnessed Tenzin perform a cleansing ceremony. However, the ritual drew out a swarm of bat-like dark spirits that promptly attacked them. She protected Jinora with her body until Korra used Unalaq's purification technique to calm them down.
Kya spent the remainder of the day waiting with the others while Tenzin attempted to cross over to the Spirit World through meditation. When it became apparent that it was not going to work, she told her brother to stop being so stubborn and let Jinora fulfill her destiny by guiding Korra into the Spirit World. As Korra and Jinora crossed over, Kya and her brothers remained behind to keep their bodies safe until they returned.[8]
As they sat around a campfire next to the girls' bodies, Kya tried to comfort her younger brother, who was worrying about Jinora being in the Spirit World, by pointing out that his daughter was smart and had a strong connection to the spirits. After Bumi took offense to Tenzin's suggestion that Korra and Jinora would be defenseless without their bending, Kya interjected that Bumi's situation was different due to his positive attitude. She and Bumi were subsequently advised by Tenzin to get some rest, who offered to take first watch. Before lying down, Kya told him to wake them up if he needed some company. The next morning, she was awoken by Korra's sudden return to the physical world.[9]
Personality
Kya has a personality somewhere between those of her two brothers: she can be serious and responsible at times, but enjoys joking around and teasing others as well.[10] According to Katara, Kya was rambunctious as a child.[11] She retains a cool and clear head during times of distress, but around her brothers she can become "as unpredictable as a raging river".[3] She has a close relationship with both of her brothers, although they often get into arguments.
Abilities
Having been trained by her mother, Kya is proficient in the use of waterbending. Particularly, she excels in healing, partly due to honing and developing her abilities during her travels around the world prior to Aang's death.
 Her healing abilities allowed her to keep Jinora's energy flowing, and sense that her energies are slipping. However, she has yet to develop her healing abilities to her mother's level. Kya uses a waterskin in combat. With a small amount of water, she is able to fend off multiple dark spirits.
Relatives
Appearances
The Legend of Korra

Book Two: Spirits (神靈)
Trivia
Kya was named after her maternal grandmother, Kya.
Bryan Konietzko described Kya as a proficient healer and a "hippie". She is said to share a special bond with her niece Jinora.[12]
By the end of the first book of The Legend of Korra, Kya was the only one of Aang and Katara's children who had not appeared.
Kya shares her mother's skin tone, and is as such the only one of Aang and Katara's children to share the same skin tone as one of their parents.[13]
Kya is the first known child of an airbender to be a waterbender.
Kya's favorite song is "Secret Tunnel".[12]
Kya is the second known person with Air Nomad heritage to have been born after the Air Nomad Genocide.
Kya was originally identified as the oldest of Aang and Katara's children in a family tree released by Animation Insider.
References
↑ 1.0 1.1 DiMartino, Michael Dante (writer) & Graham, Ian (director). (September 27, 2013). "Civil Wars, Part 2". The Legend of Korra. Season 1. Episode 16. Nickelodeon.
↑ Aaron H. Bynum. Animation Insider. Retrieved on March 26, 2012.
↑ 3.0 3.1 Kya. Nickelodeon (August 28, 2013). Retrieved on August 29, 2013.
↑ 4.0 4.1 DiMartino, Michael Dante (writer) & Heck, Colin (director). (September 20, 2013). "Civil Wars, Part 1". The Legend of Korra. Season 1. Episode 15. Nickelodeon.
↑ Hedrick, Tim (writer) & Heck, Colin (director). (September 13, 2013). "Rebel Spirit". The Legend of Korra. Season 1. Episode 13. Nickelodeon.
↑ Hamilton, Joshua (writer) & Graham, Ian (director). (September 13, 2013). "The Southern Lights". The Legend of Korra. Season 1. Episode 14. Nickelodeon.
↑ Hedrick, Tim (writer) & Heck, Colin (director). (October 4, 2013). "Peacekeepers". The Legend of Korra. Season 1. Episode 17. Nickelodeon.
↑ Hamilton, Joshua (writer) & Heck, Colin (director). (November 1, 2013). "The Guide". The Legend of Korra. Season 1. Episode 21. Nickelodeon.
↑ Hedrick, Tim (writer) & Graham, Ian (director). (November 8, 2013). "A New Spiritual Age". The Legend of Korra. Season 1. Episode 22. Nickelodeon.
↑ Legend of Korra - mobile trivia game (September 10, 2013). Retrieved on September 10, 2013.
↑ DiMartino, Michael Dante, Konietzko, Bryan (writers) & Dos Santos, Joaquim, Ryu, Ki Hyun (directors). (April 14, 2012). "Welcome to Republic City". The Legend of Korra. Season 1. Episode 1. Nickelodeon.
↑ 12.0 12.1 Andrew Sims (July 13, 2012). Legend of Korra San Diego Comic-Con fan panel – live blog. Andrew Sims on hypable. Retrieved on July 13, 2012.
↑ Bryan Konietzko (July 2, 2013). Bryan Konietzko on skin tone. Tumblr. Retrieved on July 4, 2013.