Koalaotter
Talk

0
10,889pages on
this wiki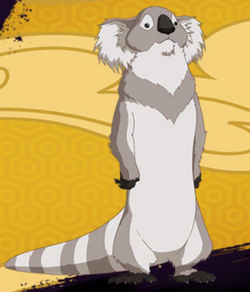 Koalaotter
General information
Chronological information
The
koalaotter
[1]
is a furry, aquatic
mammal
native to the arctic waters surrounding the
North Pole
.
[2]
Anatomy
This creature has rounded furry ears, a black nose, and small black eyes. It also has four legs and a wide flat tail. The koalaotter's back and head are light gray, while its underbelly is a creamy white.
Behavior
The koalaotter enjoys backstroking through the icy waters of the Northern Water Tribe and the surrounding area of the North Pole.
Connection
The face of the koalaotter strongly resembles that of the koala, a marsupial native to Australia. The rest of the koalaotter's body closely resembles a sea otter, though the principal connection to the sea otter seems to be the creature's preference for the backstroke and its playful demeanor.
References
See also
External links