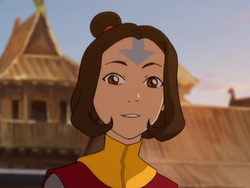 Jinora
Biographical information
Physical description
Personal information
| | |
| --- | --- |
| Allies | Tenzin, Pema, Ikki, Meelo, Rohan, Korra, Katara, Mako, Bolin, Asami Sato, Lin Beifong, Bumi, Order of the White Lotus, Air Acolytes, Kya |
Chronological and political information
Position

Civilian
Airbender-in-training
| | |
| --- | --- |
| Affiliation | |
Image gallery (22)
Jinora
is the first child and eldest daughter of
Tenzin
and
Pema
, and granddaughter of
Katara
and
Avatar
Aang
.
[2]
She lives on
Air Temple Island
with the rest of her family.
[3]
She has three younger siblings,
Ikki
,
Meelo
, and
Rohan
. Besides being taught
airbending
by her father, Jinora has an avid interest in books, and is a rather quiet girl in general.
[3]
History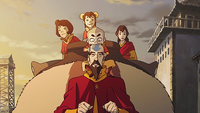 When Korra was allowed to begin her airbending training with Tenzin, Jinora and her family traveled to the Southern Water Tribe on Oogi to meet the Avatar. Once they arrived Jinora happily greeted her grandmother, Katara, and told her that she had been reading all about her old adventures, and had been "dying" to ask her what happened to Zuko's mother. Katara began to explain, calling it "an incredible tale", but was interrupted by Ikki, which greatly annoyed Jinora. The next day, the ten-year-old and her family had to leave the South Pole to return to Air Temple Island, as Tenzin had only come to inform Korra about his duties in Republic City, which made it impossible for him and his family to stay long.
After Avatar Korra escaped from her compound and traveled to Republic City, she finally convinced Tenzin to allow her stay on his island so he could teach her airbending. At this decision, Jinora and her siblings excitedly hugged Korra, celebrating her stay.[4]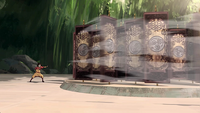 When Korra began her training, Jinora demonstrated the proper way to navigate through the spinning gates, afterwards speeding them up with a blast of air. She tried to offer advice to the Avatar, but ultimately Korra failed to make it to the other side. After destroying the training relic in a fit of frustration, the Avatar snapped at Tenzin, calling him a bad teacher and storming away. Jinora and Ikki responded by hugging and comforting their father as their little brother kicked around the remains of gates.
At dinner, Jinora was reading a book when a frustrated Tenzin demanded that his kids promise that they would not grow into hot-headed teenagers like Korra, to which Jinora replied that she would make "no such promises" and continued to read her book.[5]
While helping Korra out in her bending training, she and Ikki asked her about her personal feelings toward the approaching Mako, which prompted the embarrassed Avatar to launch them into the air with earthbending, though the girls used airbending to land softly, giggling afterwards.[6]
Jinora sat quietly at her family's dinner table as Councilman Tarrlok entered and offered Korra to join his task force. Along with her family, Jinora later attended the party Tarrlok threw in honor of Korra.[7]
After delivering fruits for the ring-tailed winged lemurs to eat, Jinora pressed Korra if she pursued her potential feelings for Mako, observing that they spent "a lot of time together". While Korra hurriedly denied this, she asked what she could do, pretending for a second she was interested in him. Jinora gave Korra advice on how to approach Mako based on a historical saga she had read, namely how the heroine, while riding a dragon, burned down the entire country and jumped into a volcano. After Ikki's advice involving a love potion, the Avatar was more inclined to take Jinora's suggestion, believing that it made more sense. However, all three girls thought Pema's advice was the best alternative.[8]
When Mako, Bolin, and Asami arrived on the island, she welcomed them and shared facts about the fire ferret species. She later showed Mako and Bolin to the boys' quarters.[9]
When the island was attacked by Equalists, Jinora, along with Ikki and Meelo, battled the Equalists and successfully took them down after Lin was briefly incapacitated by the Lieutenant, all three showing impressive bending skills. Jinora was the first to attack, flying down into the midst of the Equalists using her bending staff and shouting at the chi blockers to "stay away from [her] dad's ex-girlfriend". After the battle, Jinora and her siblings met their new baby brother. Jinora was curious if her parents had chosen a name yet and if not, could she name him. Her parents then told the kids that their brother's name was Rohan. Soon enough, more Equalist airships started invade the island, so Jinora and her family then tried to flee Air Temple Island to a safer location, in order to protect the last airbenders.[10]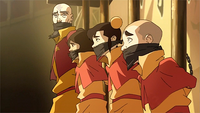 However, Jinora and the rest of her family were captured by Amon, who intended to publicly remove their bending and destroy the last airbenders at a rally in the Pro-bending Arena. Avatar Korra and Mako swiftly came to their aid, and Korra led Jinora and the rest of her family out into the hallways of the Pro-bending Arena. Tenzin led his children to find Pema and Rohan while Korra and Mako defeated Amon.
Once Republic City was safe again, Jinora returned to Air Temple Island with her family. She witnessed her boisterous Uncle Bumi enter the Harbor with the rest of the United Forces, much to Ikki's enjoyment and Tenzin's embarrassment. Jinora traveled with her family, and the rest of Avatar Korra's friends and family to the Southern Water Tribe to have Katara attempt to restore Korra's bending. When Katara was unable to heal Korra, Jinora stood by her family who tried to tell her it would be all right.
Jinora witnessed Korra use energybending to restore Lin Beifong's earthbending, and watched Tenzin praise Korra for her accomplishments as the Avatar.[11]
Personality
Jinora is a quiet and studious girl, much different from her younger, more rambunctious siblings. Out of Tenzin's four children, she is the calmest and most mature. She enjoys reading historical fiction as well as her father's journals which chronicle his adventures with Aang. She is just starting to find boys interesting, which troubles her father greatly.[1]
She also seems to enjoy playing Pai Sho with her sister, Ikki,[7] although she does plug her ears at her sister's squealing.[9]
Abilities
Even though Jinora is still an airbender in training, she has displayed an excellent variety of airbending skills. This was evident when Korra earthbent Jinora and Ikki into the air and she used airbending to glide down and later when she defeated the Equalist Lieutenant when Air Temple Island came under attack. Also, she is able to use a glider and has mastered the air scooter, a move invented by her paternal grandfather, Aang. Her skills in combat and natural agility allow her to go toe-to-toe with even the most agile of Equalist chi blockers. Her airbending abilities also supplement her fighting skills by giving her the element of surprise, in which to gain the first strike, and extreme mobility.
Relatives
Appearances
The Legend of Korra
Book One: Air (气)
Trivia
Her attire is similar to the common clothing of young airbenders, which Aang wore in Books One and Two of Avatar: The Last Airbender.
Jinorasa is a Sanskrit name meaning "essence of victory", and was the name of a lesser-known Buddhist writer and poet. Coincidentally Jinora is also a well-read girl, have encyclopedic knowledge on various subjects, such as being able to identify a fire ferret on the spot and recite its natural habitat.
Jinora is the first female airbender to be born after the Air Nomad Genocide and she is also the first airbender known to have a non-bender parent.
Unlike her father and siblings, Jinora has brown eyes.
Jinora is more serious and mellow, unique among her two siblings whose personalities are known.
Jinora is also known to have a special relationship with her aunt, Kya.
References
↑ 1.0 1.1 The Legend of Korra: Welcome to Republic City. Nickelodeon (April 6, 2012). Retrieved on April 6, 2012.
↑ Farley, Christopher (March 7, 2011). 'The Last Airbender: Legend of Korra': Exclusive Cast Announcement. The Wall Street Journal. Retrieved on June 12, 2011.
↑ "Welcome to Republic City". Michael Dante DiMartino, Bryan Konietzko (writers) & Joaquim Dos Santos, Ki Hyun Ryu (directors). The Legend of Korra. Nickelodeon. April 14, 2012. No. 1, Book One: Air
↑ "A Leaf in the Wind". Michael Dante DiMartino, Bryan Konietzko (writers) & Joaquim Dos Santos, Ki Hyun Ryu (directors). The Legend of Korra. Nickelodeon. April 14, 2012. No. 2, Book One: Air
↑ "The Revelation". Michael Dante DiMartino, Bryan Konietzko (writers) & Joaquim Dos Santos, Ki Hyun Ryu (directors). The Legend of Korra. Nickelodeon. April 21, 2012. No. 3, Book One: Air
↑ 7.0 7.1 "The Voice in the Night". Michael Dante DiMartino, Bryan Konietzko (writers) & Joaquim Dos Santos, Ki Hyun Ryu (directors). The Legend of Korra. Nickelodeon. April 28, 2012. No. 4, Book One: Air
↑ "The Spirit of Competition". Michael Dante DiMartino, Bryan Konietzko (writers) & Joaquim Dos Santos, Ki Hyun Ryu (directors). The Legend of Korra. Nickelodeon. May 5, 2012. No. 5, Book One: Air
↑ 9.0 9.1 "When Extremes Meet". Michael Dante DiMartino, Bryan Konietzko (writers) & Joaquim Dos Santos, Ki Hyun Ryu (directors). The Legend of Korra. Nickelodeon. June 2, 2012. No. 8, Book One: Air
↑ 10.0 10.1 "Turning the Tides". Michael Dante DiMartino, Bryan Konietzko (writers) & Joaquim Dos Santos, Ki Hyun Ryu (directors). The Legend of Korra. Nickelodeon. June 16, 2012. No. 10, Book One: Air
↑ "Endgame". Michael Dante DiMartino, Bryan Konietzko (writers) & Joaquim Dos Santos, Ki Hyun Ryu (directors). The Legend of Korra. Nickelodeon. June 23, 2012. No. 12, Book One: Air