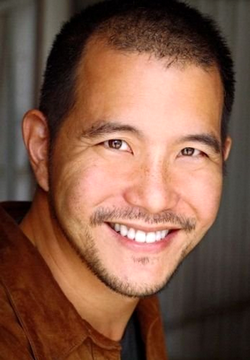 James Sie
Biographical information
Born

December 18, 1962
Summit, New Jersey
Further information
James Sie
is an American voice actor. He has provided voices for numerous animated television series, including
Danny Phantom
as Kwan,
King of the Hill
,
Jackie Chan Adventures
as Shendu and animated Jackie Chan, Chen Lin in
W.I.T.C.H.
, and
Marvel: Ultimate Alliance
as Fin Fang Foom and Radioactive Man. He provided the voices of the
cabbage merchant
,
Oyaji
, and additional characters in
Avatar: The Last Airbender
, and later voiced
Lau Gan-Lan
in
The Legend of Korra
.
Avatar: The Last Airbender credits Edit
Cabbage merchant
Edit
Character information: Cabbage merchant
Character information: Oyaji
Additional voices
Edit
The Legend of Korra credits Edit
Lau Gan-Lan
Edit
Character information: Lau Gan-Lan
Selected other credits
Edit
Television work
Edit
Filmography
Edit
Other credits
Edit
Biographical information
Edit
Sie starred on-camera, opposite Suzy Nakamura in the 1997 independent film, Strawberry Fields, directed by Rea Tajiri.
Sie wrote and performed the autobiographical one-person stage show, Talking With My Hands in 1999, about growing up in a Chinese/Italian household.
Sie voiced the main antagonist Dennis Isenberg from Capcom's video game Lost Planet: Extreme Condition and plays various characters in its sequels. Sie is also the voice of antagonist Eddy Raja in Uncharted: Drake's Fortune and is part of the cast of Metal Gear Solid 4: Guns of The Patriots providing his voice as Jonathan, a hulking soldier who helped Solid Snake.
Only the second and third appearances as the cabbage merchant are credited as such; the first and last one are as an "additional voice".