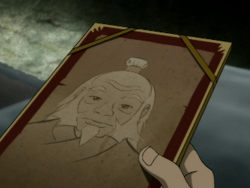 The painting of Iroh was a personal possession of Zuko's.
History
When leaving his home in the Fire Nation on the Day of Black Sun, Zuko took this painting with him.[1] When he did not know the location of his uncle, Iroh, after the latter's escape from prison, this painting and a sandal[2] were the only physical reminders the prince had of his uncle.[3]
After joining Team Avatar and being given a room in the Western Air Temple, Zuko placed this painting on a side table.[4]
References
See also