This article is about the character in The Legend of Korra. For the earthbender in "New Recruits", see Hiroshi.
"These people... these benders... They took away your mother, the love of my life. They've ruined the world. But with Amon, we can fix it and build a perfect world, together. We can help people like us everywhere!"
— Hiroshi Sato attempting to persuade Asami to join the Equalists in "The Aftermath".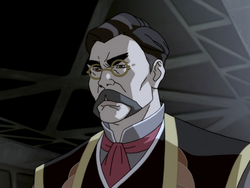 Hiroshi Sato
Biographical information
Physical description
Personal information
| | |
| --- | --- |
| Enemies | Benders, Team Avatar, Tenzin, Lin Beifong, Agni Kai Triad, Cabbage Corp, Metalbending Police Force, Saikhan, Iroh, Bumi, United Forces |
Chronological and political information
Profession

Businessman (formerly)
Industrialist (formerly)
Equalist
Position

Upper-class United Republic citizen (formerly)
Founder of Future Industries
Chief Executive Officer of Future Industries (formerly)
Pro-bending sponsor (formerly)
Equalist technology provider (formerly)
United Republic prisoner
Image gallery (18)
Hiroshi Sato
is a non-
bending
, barrel-chested businessman and the founder of
Future Industries
. His family lineage extends back to the first
Fire Nation
colonists
.
[2]
His idea for the
Satomobile
caused him to become the captain of industry in his era. During a police search of his
secret factory
, he revealed himself to be an
Equalist
, creating high-tech weaponry to fight against benders,
[3]
and later became one of their most recognizable leaders.
History
Background
Hiroshi Sato was born to a poor family from the Dragon Flats borough. A child with big dreams, he worked at a very young age shining shoes to help support his family. When he was eighteen, he convinced a wealthy businessman to invest in the idea of automobiles for the common man. Before long, he was producing Satomobiles in his first "Future Industries" factory. By the time he was twenty-five, the ingenious industrialist had made his first million yuans.[2] Realizing that not everyone in Republic City could afford their own Satomobiles, but needed transportation nonetheless, he created a taxi cab for the less wealthy to get around in the city.[1]
At some point, he married and had a daughter named Asami, but in 158 ASC, his wife was killed by a member of the Agni Kai Triad after they broke in and robbed the Sato estate.[4]
Sponsoring the Fire Ferrets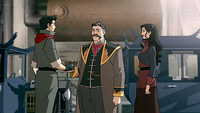 In 170 ASC, Asami brought Mako to Hiroshi's factory where he explained his humble beginnings, and then announced that he would sponsor the Fire Ferrets in the Pro-bending Tournament, provided they would bear the Future Industries logo on their uniforms. Hiroshi later attended a gala hosted by Councilman Tarrlok in honor of Avatar Korra. There, he saluted Korra, saying that everyone was expecting "great things" from her.[4]
As the Fire Ferrets' sponsor, he and his daughter attended the Pro-bending Tournament final, which, along with the Equalists' ambush, they spectated from a private balcony.[5] After the Equalists attacked the Pro-bending Arena, Hiroshi was asked to come to police headquarters to be questioned about what he witnessed during the attack. When he was finished, Hiroshi was led out by Tenzin and Lin Beifong and was told to come back if he remembered anything else, to which he accepted, demanding that the Equalists pay for their crimes.[3]
Equalist ties
While Korra visited his home, she overheard Hiroshi talking on the phone and began to suspect that he was working with the Equalists. Lin and Tenzin interrogated him in his home and communicated to him their suspicion, to which Hiroshi came up with the excuse that it was all a misunderstanding and he was just talking about business and an opportunity to strike the market with a new line of Satomobiles, but at the obvious doubts of the benders, he offered his factories to be investigated. The Metalbending Police Force searched all of his warehouses but they were unable to find any evidence. After receiving a tip from a worker about Hiroshi being part of the Equalists by manufacturing their weapons and creating an underground factory beneath his mansion, Korra, Tenzin, Lin, and some metalbending officers searched the house and found the factory underneath his workshop. However, this was a trap laid by Hiroshi to ambush the benders; he and several Equalists, using mecha tanks, attacked the group and eventually overpowered them. After his victory, he took Chief Beifong's metalbending officers captive and ordered them to be sent to Amon.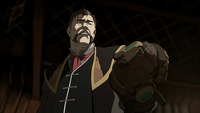 When Hiroshi spotted Mako and Bolin trying to save the now unconscious Lin, Tenzin, and Korra, he prepared to thwart them. However, he was confronted by his daughter right as he approached the group, who questioned his actions. He tried to convince her to join the Equalists, stating that his reason for being part of the revolt was to get revenge on all benders due to the death of his beloved wife, who had died at the hands of a firebender. Hiroshi offered Asami an electrified glove and asked her to join him and the other Equalists. However, after telling her father she loved him, Asami took the glove and stunned him and the Lieutenant, allowing the benders and herself to escape to safety.[3]
Final battle
Alongside Amon and the Equalists, Hiroshi later took part in the Battle for Republic City, where he observed the operation's progress through a telescope on board an Equalist airship with Amon. He expressed his disgust at the fact that his daughter was fighting alongside benders, to which the Equalist leader replied that Hiroshi would have his daughter back soon.[6]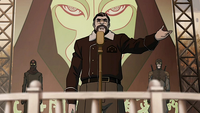 Once the Equalists had conquered Republic City, Hiroshi was present at a rally of Equalist supporters, giving a speech of how Amon would create a "perfect" world. When the United Forces fleet finally arrived, the Equalists met them with biplanes designed by Hiroshi and destroyed the first wave.[6]
Sometime later, Bolin, Asami, and General Iroh were captured in an attempt to destroy the Equalist airfield. Hiroshi visited his daughter in her prison cell, expressing his hopes that she would join the Equalists, to which she flatly refused, stating that her mother would hate him for what he had become. A chi blocker arrived and informed Hiroshi that the airplanes were ready for takeoff; he responded with an order to annihilate the incoming United Forces fleet. Hirsohi then turned to Iroh and revealed that he intercepted the wire sent to Commander Bumi and he knew exactly where his fleet was hiding. However, as soon as he left, Naga and Pabu freed the prisoners.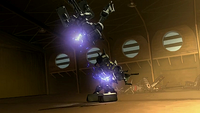 As Asami hijacked a mecha tank and began destroying aircraft, Hiroshi confronted his daughter in another mecha tank. He scolded her for going against him and exclaimed that she was beyond saving. He then proceeded to attack her, but Asami fought earnestly. Hiroshi was knocked down by his daughter, but she was very hesitant to hurt him. Hiroshi used this momentary distraction to knock Asami back down. As the businessman prepared to finish her off, Bolin rode in on Naga and flung earth projectiles at Hiroshi's mecha using his bending and yelling that he was a horrible father. This attack combined with a blow from Asami's mecha put his vehicle out of commission. Hiroshi vainly tried to escape on foot, but Asami launched an electric disk and effectively stopped her father by knocking him out, sadly agreeing that he was indeed a horrible father.[7] Following the revolution, Hiroshi was arrested, and control of his company transferred to his daughter.
Personality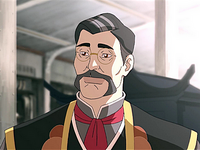 As a successful business man, Hiroshi has developed an arrogant side to himself, always telling new people the story about how he came from humble beginnings. He takes great pride in his inventions, always eager to test them out for whatever goal they may have. When first introduced, Hiroshi was seen to be a very kind-hearted generous man with great respect for anyone who showed true dedication in their goals. As such, he was willing to sponsor Mako's pro-bending team, the Fire Ferrets, so they could enter the tournament. Later however, Hiroshi revealed a much darker side to himself that he had been hiding for years. Having lost his beloved wife to a murderous firebender, Hiroshi took his anger out on the very concept of bending itself, viewing it as the cause of all problems in the world, especially hating the idea of his only daughter associating with benders.
As noted by Asami, Hiroshi became so consumed by anger and hatred that he no longer cared about family and loved ones anymore, only unleashing his rage wherever he felt justified. This view was proven right as ultimately, Hiroshi turned on his only remaining family to accomplish his goals of revenge. His hatred of bending fueled his ruthlessness and desire to avenge his wife's death on all benders, not just the one who took her life.
Abilities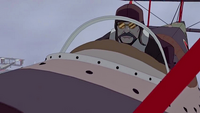 While not a bender, Hiroshi Sato has proven himself a very dangerous man. With his intellect as his greatest attribute, he has considerably helped in the development of the world's technology, having created, almost single-handedly, many remarkable inventions like cars and planes, as well as inventing all the Equalists' weapons, such as the mecha tanks. He has shown no difficulty in piloting a biplane. Since aligning himself with Amon, Sato has focused the majority of his talent toward making various powerful weapons of war, which usually overwhelm benders in their first encounter. Hiroshi has also shown himself to be a capable actor. For over twelve years, he was able to effectively hide his hatred toward benders by using various subtle tactics like sponsoring a pro-bending team and allowing his daughter to date a bender.
Relationships
Main article: Hiroshi Sato's relationships
Relatives
Appearances
The Legend of Korra
Book One: Air (气)
Trivia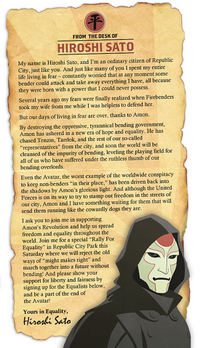 Hiroshi Sato's voice actor, Daniel Dae Kim, previously voiced Fong in the original series.
Hiroshi is a common Japanese male name, though its meaning depends on the particular Kanji used. Sato (

佐藤

) is the most common Japanese surname.
Hiroshi can be compared to Henry Ford, who was the first person to mass produce cars for the common man in America. However, similar to how Ford was a supporter of the Nazis, Sato is a supporter of the Equalists. Sato also has a large amount of control over his workers, as shown when he used one to lure the benders to his factory, and Ford also had a large amount of control over his laborers.

Despite some fan misconception, Hiroshi did not invent the automobile in-universe, but was the person to develop it into a viable technology for everyday use. Furthering the parallels, Ford is also frequently mistaken as the inventor of the automobile, but was instead the first person to create a truly viable version of it.

Hiroshi was modeled after former U.S. President Theodore Roosevelt, Japanese industrialist Keita Gotō, and Mitsubishi founder Yatarō Iwasaki.[8] His mustache is based on Iwasaki's.
He shares a name with a character from the non-canonical Avatar: The Last Airbender related comic, New Recruits.
Hiroshi is similar to the mechanist in many ways. They both served to provide machinery to the series antagonist, although Sato did so to avenge his wife and the mechanist did so to protect his son and his home. They are also similar in way that both their children resented them for their aiding the enemy. Also, Hiroshi and the mechanist both lost their wives, though Hiroshi lost his wife to a firebender, while the mechanist lost his wife to a flood.
A letter written by Hiroshi after the Equalists' takeover of Republic City can be found on Nick.com. It applauds the success of the attack and encourages citizens to join the Equalists. It also reveals that Amon and Hiroshi are aware that the United Forces are on their way to the city and have prepared something that will "send them running".
In the Avatar universe, Hiroshi Sato is credited for the invention of the airplane, which was a biplane model.
References
↑ 1.0 1.1 Welcome to Republic City. Nickelodeon (April 20, 2012). Retrieved on April 24, 2012.
↑ 2.0 2.1 2.2 The Legend of Korra Press Site - Character descriptions. Viacom International Inc. (March 2012). Retrieved on March 17, 2012.
↑ 3.0 3.1 3.2 "The Aftermath". Michael Dante DiMartino, Bryan Konietzko (writers) & Joaquim Dos Santos, Ki Hyun Ryu (directors). The Legend of Korra. Nickelodeon. May 19, 2012. No. 7, Book One: Air
↑ 4.0 4.1 "The Voice in the Night". Michael Dante DiMartino, Bryan Konietzko (writers) & Joaquim Dos Santos, Ki Hyun Ryu (directors). The Legend of Korra. Nickelodeon. April 28, 2012. No. 4, Book One: Air
↑ "And the Winner Is...". Michael Dante DiMartino, Bryan Konietzko (writers) & Joaquim Dos Santos, Ki Hyun Ryu (directors). The Legend of Korra. Nickelodeon. May 12, 2012. No. 6, Book One: Air
↑ 6.0 6.1 "Turning the Tides". Michael Dante DiMartino, Bryan Konietzko (writers) & Joaquim Dos Santos, Ki Hyun Ryu (directors). The Legend of Korra. Nickelodeon. June 16, 2012. No. 10, Book One: Air
↑ "Endgame". Michael Dante DiMartino, Bryan Konietzko (writers) & Joaquim Dos Santos, Ki Hyun Ryu (directors). The Legend of Korra. Nickelodeon. June 23, 2012. No. 12, Book One: Air
↑ Bryan Konietzko Tumblr. Bryan Konietzko (June 4, 2012). Retrieved on June 4, 2012.