"Now listen, friend, I know you're from the colonies, so I'll say this slowly: On Ji. Is. My. Girlfriend. Don't forget it."
— Hide to Aang.[1]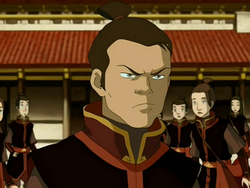 Hide
Biographical information
Physical description
Personal information
Chronological and political information
Image gallery (3)
Hide
was a bullying student at a
Fire Nation school
who fancied himself to be
On Ji
's boyfriend. He was highly possessive of her, although whether she shared this belief was not made clear.
Hide tried to draw fights and during them, easily weaseled his way out of trouble. He was a star example of what the Fire Nation school system could produce: a muscular build and a weak mind. He was destined to grow up to become a strict Fire Nation military officer who would be hated by his subordinates.[2]
When Aang, who was calling himself Kuzon after his old friend, came to the Fire Nation school, everyone assumed he was a new student from the Fire Nation colonies. After dismissal, Aang met On Ji, who was friendly to him. Hide, seeing "Kuzon" and On Ji together, made sure Aang knew that she was his girlfriend by starting a brief confrontation.
During a band class, Aang got in trouble for dancing, which was not allowed. On Ji, however, was amused by the dance and he offered to show it to her during recess. Hide heard this remark and exclaimed that "nobody [showed his] On Ji anything, especially movements". He then attempted to hit Aang; however, the latter skillfully evaded every attempted blow, eventually causing Hide to lose his balance and fall over, without utilizing any bending or even touching him - which got Aang into trouble for "beating up" another student.
Later, Hide informed the Headmaster of a dance party Aang was throwing. Hide, along with the Headmaster and two truant officers, tried to catch Aang, but the Avatar hid within a crowd of his classmates. Aang and his friends then managed to slip away in the opening behind the cave.[1]
Appearances
Edit
Avatar: The Last Airbender Edit
Book Three: Fire (火)
Edit
Hide was one of the few Fire Nation citizens who did not have the standard black hair and amber eyes.
References
Edit