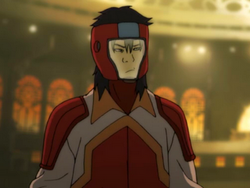 Hasook
Biographical information
Physical description
Personal information
Chronological and political information
| | |
| --- | --- |
| Profession | Pro-bender (formerly) |
| | |
| --- | --- |
| Position | Fire Ferrets' waterbender (formerly) |
| | |
| --- | --- |
| Affiliation | Fire Ferrets (formerly) |
Hasook
is a rather prideful and temperamental
waterbender
who lives in
Republic City
. He is a former waterbending member of the
Fire Ferrets
pro-bending
team.
[1]
During the Fire Ferrets' match against the Golden Temple Tigerdillos, Hasook quickly became a main target of his opponents and proved too slow to retaliate. As the match continued, the Tigerdillos made Hasook their primary target, as he was always the first Fire Ferret to be pushed back a zone and got thrown into the moat in the first round.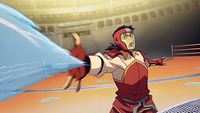 At the start of the second round, he was admonished by Mako to get his act together, and the Ferrets managed to win the round. However, in the third and final round, Hasook stumbled across the arena and collided into Bolin, knocking them both to the ground. An easy target, they were both knocked out of the ring. Mako eventually managed to win the match with a knockout, but he accused Hasook of doing "more harm than good", blaming him for nearly costing the team the match. Brushing off the accusations by replying that they won anyway, Hasook left the dressing room in anger.
When it was time to start the final match to gain a spot in the Championship Tournament, Hasook did not appear, nearly disqualifying the team. Korra volunteered at the last minute and replaced him, both in the final match and as a member of the Fire Ferrets.[1]
Appearances
Edit
The Legend of Korra Edit
Book One: Air (气)
Edit
Hasook has a lighter skin tone than most waterbenders, similar to Tahno who is also a waterbender.
References
Edit