"Oh, here it comes. Any moment now... dinner for the masters. [...] What? Everyone is thinking it."
— Ham Ghao talking to himself but being overheard by his chief.[1]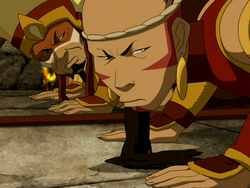 Ham Ghao
Biographical information
Physical description
Personal information
Chronological and political information
Ham Ghao
was one of the most disliked men of the
Sun Warriors
. He was a gossip, and was viewed as the most annoying person in the tribe because he always seemed to know about everyone else's business. Several times, other Sun Warriors had secret meetings with the
chief
to discuss their dislike for Ham Ghao.
[2]
Ham Ghao joined the other Sun Warriors in bowing to Ran and Shaw, eagerly awaiting the masters' murder of Aang and Zuko, for which the chief chastised him. Upon witnessing the masters' acceptance of the two, Ham Ghao cast an angered look off to the side.[1]
Personality
Edit
Ham Ghao was a severely disliked man, mainly due to his gossiping nature as he would always find out everyone's business somehow and spread the word.[2] Ham Ghao also had no faith or trust in visitors to the Sun Warriors' ancient city. This was proven when he stated that he would have taken delight in seeing Aang and Zuko being destroyed by Ran and Shaw.[1]
Appearances
Edit
Avatar: The Last Airbender Edit
Book Three: Fire (火)
Edit
He was one of three Sun Warriors to speak; the others were the Sun Warrior chief and the man who announced Aang and Zuko's meeting with Ran and Shaw.[1]
References
Edit