Hair loopies
Talk

39
10,894pages on
this wiki

For a hairstyle used by male members of the Water Tribes, see warrior's wolf tail.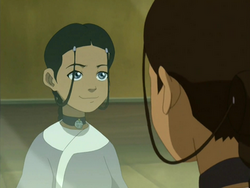 Hair loopies are a type of hairstyle worn in the Northern and Southern Water Tribes. Sokka used the term when he asked Katara how she would feel if she lost something meaningful to her, such as "her hair loopies".[1] In the Northern Water Tribe, Yue wore a similar style, but consisting of more elaborate braids instead of regular loops.[2]
After the end of the Hundred Year War, hair loopies were still a big trend among the women in the Water Tribes, as Yakone's wife donned the hairstyle three decades later.[3]
History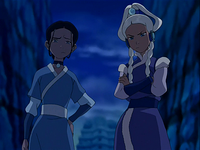 Katara considered hair loopies an important part of her identity, having sported the hairstyle since she was a little girl,[4] though there were times when she lost her trademark look. During her fight with Pakku for her right to learn waterbending, her hair fell out of place,[2] and later, when she and Aang battled Azula and Zuko in the Crystal Catacombs, her hair once again came out of place during the struggle.[5] While her hair loopies returned for a short time after that fight,[6] Katara altered her appearance while traveling in the Fire Nation in order to blend in with the locals. She removed her hair loopies and wore her hair down, although she still tied two strands of hair behind her ears, though the loops no longer framed her face.[7]
During the invasion of the Fire Nation, Katara began incorporating her Water Tribe hairstyle once again.[8] It was reminiscent of her Fire Nation style, with her hair unbraided at the back, but saw the return of her hair loopies, albeit slightly thicker than before.
Kanna, Katara and Sokka's Gran Gran, also wore hair loopies.[9] In a hallucination, Katara remembered Kya, her mother, with them,[10] but during the final raid on the Southern Water Tribe, Kya did not bear the hairstyle.[4]
After the defeat of Fire Lord Ozai, Sokka attempted to do a painting of the heroes in the Jasmine Dragon. When Katara looked at Sokka's rendition of her, she accused him of giving her Momo's ears. He reassured her that they were her hair loopies. Katara had misinterpreted the hair loopies because of their round, hanging shape that resembled the winged lemur's ears.[11]
References
See also